This spicy Sri Lankan red chicken curry is a must for every Sri Lankan food lovers and spicy curry lovers. This broth can literally transfer anything bland into something really really good. I know this looks really hot. Well, it actually is. Sri Lankans looove their food hot. But you can always tone down the amount of chili powder you use or not use it at all and get the same flavors without all that heat. Once you perfected this recipe, you get to enjoy so many dishes like Chicken kottu, Chicken and coconut roti, milk rice, rice and curries, bread, noodles, and whatnot. 
Ingredients info and Substitutions:
Buy

chicken

with bones if you can. The bones add so much flavor to the broth and they help to keep the meat moist. Or if you don't like chicken with bones, boneless chicken thighs would be the next best option.

I use

whole cardamom and whole cloves

. But if you want you definitely can use the powder too. Just use about ⅛ of a tsp each. 

There is no substitute for

curry leaves and pandan leaves

. It's a very popular ingredient in South Asia. You can always find these in Indian grocery stores if these aren't common where you live. Check the frozen aisle for pandan leaves.

Lemongrass

adds a unique citrusy taste and aroma to the dish. (I did not have this at the time I made the curry, so you won't see it in photos)

For the

curry powder

, you have to use Sri Lankan curry powder. Any other curry powder wouldn't work. If you don't have it or can't find it, take 20g of coriander seeds, 10g of cumin seeds, and 5g of fennel seeds. Grind them together. Store the extra for later use. You can change the amount of curry powder you want. Just follow the ratio.

I use Sri Lankan

chili powder

which is quite hot. But you can substitute with paprika with no problem. Or reduce the amount. 

Tamarind paste

adds a unique sourness to the dish that you cannot find in any other sour ingredient. But if you don't have this just substitute with white vinegar. It works just fine.

If you'd like to have a creamy curry, replace ½ cup

water

 (at the second time) with

coconut milk

. 

If you're not in a hurry, you can marinate the chicken overnight in the fridge with some Sri Lankan roasted curry powder, roasted chili powder, pepper, salt, and a bit of vinegar. This is the quick version so I'm not going to marinate the chicken.
Pin this to your favorite Pinterest Boards
Serve this chicken curry with bread, Coconut roti or with rice and curries.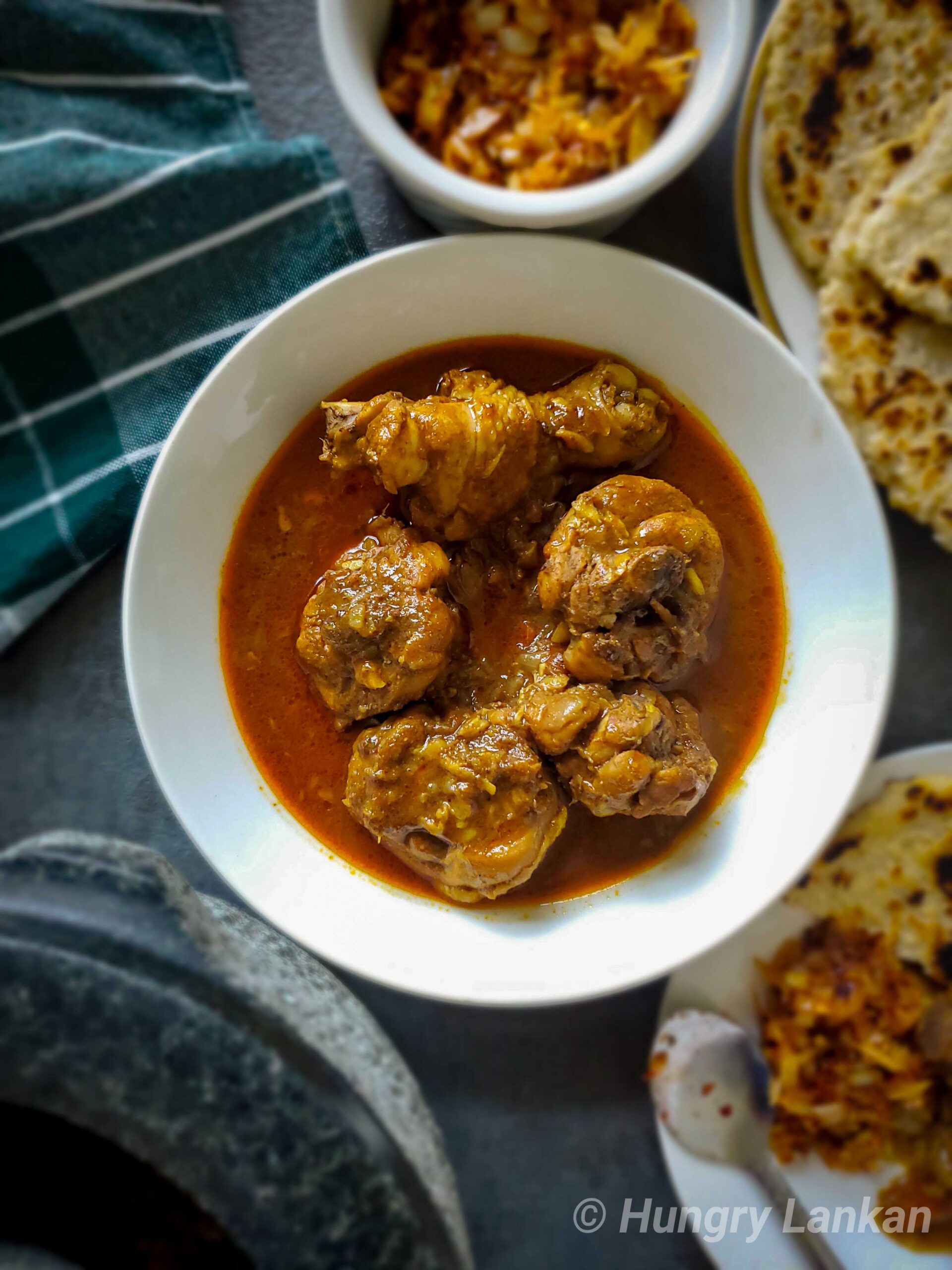 Sri Lankan Red Chicken Curry
Description
This extremely popular Sri Lankan spicy and delicious chicken curry is a must-try for every curry lovers.
Instructions
Grind cardamom and cloves using a mortar and pestle. This does not have to be super fine.

Heat a pan, add oil and lower the heat. Add red chili powder first and then add curry powder and a bit of salt. Fry the spices until dark brown and fragrant. This can produce some smoke so make sure to turn on your ventilator or open the windows. Frying red chili in oil makes the curry red so this step is very important. Add your crushed cardamom and cloves too. Mix well.

Add the rest of the ingredients except tomatoes, tamarind, chicken and water. Stirfry for about 2 mins until onions are soft. Add a bit more oil if it looks really dry.

Now add the chicken and turn the heat to medium-low and fry for 3 - 4 mins. Turn chicken pieces in-between. You need to get a good searing on the chicken.

Add tomatoes, mix, add tamarind along with ½ cup of water. Stir well and cover and cook for 20mins. Stir in between. (if you're using a clay pot, add a bit more water)

After 20mins, add ½ cup more water (or coconut milk if you want the curry to be creamy), ½ tsp salt (adjust the amount according to your taste). Cover and simmer for 20 more mins. (The image is before adding water for the second time)

You can decide how much sauce/gravy you need at this point and adjust the amount of liquid you use and the simmering time.
chicken, chicken curry, curry, spicy, sri lankan, sri lanka, red chicken curry, spicy chicken curry, sri lankan chicken curry, mas curry, kukkul mas curry