The only recipe you need for the best Sri Lankan coconut roti/flatbread. Coconut rotis are a favorite of every Sri Lankan. It doesn't need yeast or any kind of a leavening agent. You only have to mix the dough, make balls and toast it on a pan. Honestly, I think this is the easiest flatbread in the world. it's so so good. creamy coconut inside with the toasted charred coconut outside.. my mouth is watering even when I'm writing this down. Ohh and not to forget, your house would smell wonderful with those toasting coconut.
Also, it's super versatile. You can have it for breakfast with some butter/jam or any kind of a sweet or savory filling. My favorite way to have them is with a spicy meat curry and freshly ground chili paste (aka "Lunu Miris" in Sri Lanka). Usually for dinner.
The basic Sri Lankan coconut roti only needs flour, coconut, salt, and water. If you're going to make coconut flatbread for breakfast to have with something sweet like jam or Nutella, then definitely skip the savory ingredients like green chilies and onions and curry leaves. And go for the basic coconut roti recipe with added butter. But for savory breakfast or for a savory dinner, adding some extra ingredients like onion, green chilies, curry leaves add tons of flavor.
Follow these few tips before you start to begin:
Use good grated coconut that hasn't dried out and has a good creamy flavor.
Once you knead the dough to a ball it's hard to add salt back in. So here's what I do. I always add salt and all other ingredients to the coconut first and mix everything well using my hands. And then I taste the coconut to see it has enough salt. It should taste pretty salty. Don't worry it's going to balance out perfectly once you add the flour and mix the dough.
Add a bit of butter to the roti dough adds some moisture and flavors.
Onions, chilies, and curry leaves also add some amazing flavors to the roti. Make sure to cut the onions very thin so they crisp up when toasting the rotis. Believe me, those roasted onions and chilies on the outside of the roti taste so so good.
Do not add all the water at the time. Add a little by little and mix them in a circular motion to get large lumps. And then you can make it to a ball.
The roti dough should not be either tough or soft. It should be nonstick and easily pliable.
The coconut to flour ratio has to be pretty close (about 1:1) by the volume. Too much flour would make the dough tough and hard to eat while too much coconut would make it harder to get the dough together.
When you make rotis, do not stack them while they're hot. The steam would soften the lovely crust and it would also make them a little soggy. So make sure to use a cooling rack. The crispiness would last a little longer this way.
Can you freeze the coconut rotis/coconut flatbreads? 
yes, you can. You can freeze these rotis at three stages.
you can freeze the roti dough balls. So whenever you're ready to make rotis, thaw them, flat them out and cook on the pan.
You can flat the roti dough balls, stack them with plastic sheets in between each rotis and freeze them. This way you don't even have to thaw them completely. Leave them out for few minutes and cook them medium-low heat until they're cooked all the way through.
The above two methods are the best methods to freeze. But you can also freeze the cooked rotis. Make sure to wrap them tightly with a foil and put them in an airtight container. You'll see they get flimsy when they thaw. So roast both sides for a couple of minutes using a pan.
Can you make the dough ahead of time?
Yes, Once you knead the dough, make the balls and put it into the fringe, covered. It can last in the fridge for one to two days with no problem. Take them out and make the roti whenever you're ready. The dough can also stay on the counter for 1 -2 hours depending on the room temp with no problem.
Serving suggestions:
Rotis are best served hot. And they lose the lovely crusty skin after a while. My favorite way to have Sri Lankan coconut roti/coconut flatbread is with Red pork curry or red chicken curry with a freshly grounded chili, onion and lime paste. The coconut sambol also goes so well with coconut roti. With this amount, you can make 6 medium size rotis.
Pin this to your favorite Pinterest Boards
Some items that are mentioned in the recipe (Affiliate Links)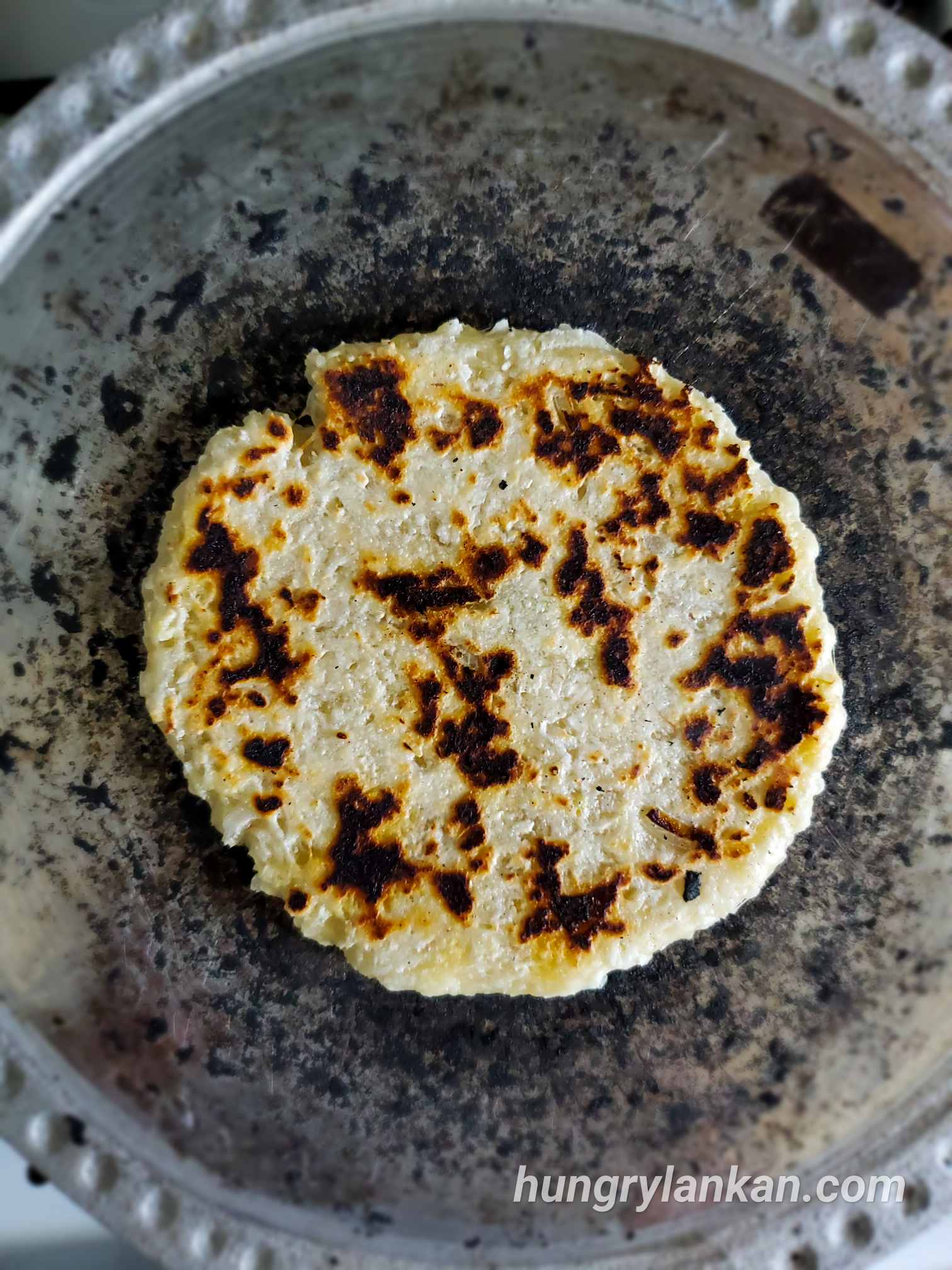 The Best Sri Lankan Coconut Roti
Description
This is the only recipe you need for the best Sri Lankan coconut roti/flatbread. It's so easy to prepare and I have also included the freezing options, serving suggestions, and really good tips to get the flavors right. Go check it out!
Instructions
Put the shredded coconut into a large bowl. Add softened butter, thinly sliced onion/shallot, green chili, sliced curry leaves, and salt. crush and mix well with your hands. Taste. It should taste a little salty. If not add a bit more salt and mix again. ( The basic coconut roti only needs coconut, flour, water, and salt. You can skip all the other ingredients or use some but they add really good flavors)

Add flour to the mix and carefully mix the flour with coconut mixture to coat all the coconut with flour. You can just run your fingers in a circular motion to mix them. no need to knead.

Then add water, a little by little and gently mix with your fingers to make big lumps.

When you enough water to foam some big lumps them knead the dough for about two minutes. No need to be vigorous like you make other bread varieties. You only need to make a pliable, nonsticky dough. It doesn't have to be smooth.

Now divide the dough into 6 equal balls. If you want smaller Rotis divide the dough to 8 balls.

Using your two hands, make them into a round ball. One at a time. With this amount, you can make 6 balls. Keep them covered until you make them. (see the description for storing/freezing options)

Now, on a clean flat surface, apply some coconut oil. You can a flat plate, a tray, a banana leaf, or even your clean countertop. Put one ball in, flat it out until you get about 3/4cm to 1cm thickness. Don't make it too thin, the Rotis would dry out and turn into a biscuity texture. If you roll them thick, then you might end up with a raw middle.

Heat a roti pan, or a cast-iron skillet (these are the best options but any other pan would also work). Lay a roti and cook about a minute or until you get nice char marks.

Then flip and cook again until it's cooked all the way through. When it's done transfer into a cooling rack. While one roti is cooking you can flat out the next roti.
bread, coconut, roti, coconut roti, flat bread, coconut flat bread, pol roti, rotis, polroti, sri lankan, sri lanka