These crispy, spicy Sri Lankan egg rolls are the best treat you'd ever find. Filled with a vegetable and tuna filling and half of a boiled egg. Perfect for a savory breakfast on the go or as an evening snack.
Egg rolls are my all-time favorite snack food or as Sri Lankans call "Short eat".  One of those foods that makes me miss living outside of Sri Lanka. In fact, whenever I visit SL egg rolls are the first thing I want to eat. I remember the first time I visited Sri Lanka after three years of living in the US. I couldn't wait until I go home, we stopped on the way in a food stand and bought egg rolls for me. That's how much I love these snacks. I mean how could you not love egg rolls. They are crunchy on the outside, spicy and savory inside and you also get a half of an egg to round up all the flavors and textures.
The recipe I'm sharing is my very own that I came up with after trying out numerous recipes. There are so many ways this could go wrong. So it's really important to read and follow the tips I'm giving you below.
Helpful Tips (Must Read)
The most crucial part of the Sri Lankan egg rolls recipe is to get the pancake right. If the batter is too thick, it's hard to swirl the batter around the pan to get a nice thin pancake. and if the pancake it thick, it's not flexible and it would definitely break when you fold. If you see that your pancake breaks, then add water to the batter, a tablespoon at a time, and whisk. There is no fixed water ratio for pancakes since the absorbency level of flour is very different from brand to brand. even batch to batch. Use the following amount as a guideline and troubleshoot as you make the pancakes. What you're looking for here is a very thin and flexible pancake.
Use a small nonstick skillet or a nonstick hopper pan (that's what I use) to make the pancakes. And it's okay if the pancake gets some brown spots when you make them. Just don't take the pancake out when it's raw. because it's going to be very sticky that way. So wait until it's cooked all the way through.
When you wrap the egg roll, don't leave any large air pockets in. What happens here is, when you fry them the air trapped inside expands and it can break open the pancake. So try not to leave air in when you wrap them.
If your breadcrumbs are super fine and powdery, definitely do another coating of breadcrumbs. If your breadcrumbs are somewhat thick, then you don't have to do this process.
Be generous with oil when you fry the egg rolls. And do not dump all the rolls at once to the oil. It can reduce the oil temp significantly which makes the egg rolls absorb more oil and become soggy.
Visit my Sri Lankan fish rolls recipe for more tips.
Here's how your timeline/steps for egg rolls look like.
First, you got to boil the potatoes for the filling. Meanwhile, boil your eggs and peel them, peel and chop garlic, onions, and get other veggies ready. Also, open up your tuna cans.
Peel and mash your potatoes into somewhat small chunks. Then you make the filling. and let it cool. You can even make this filling the day before.
While the mixture is cooling down, make your pancake, and get it ready.
Then make the pancake one by one, put the filling in, and wrap and arrange them on a  tray which is dusted with flour. You can do this like a production like. make one pancake then transfer that to a plate and pour batter to another pancake. While the second pancake is cooking, wrap the first one and put it on the tray.
After that make another batter for coating or you can simply add some more flour and water to the leftover pancake batter, which is what I do. Get the breadcrumbs ready.
Next step, coat the egg rolls with the batter and then breadcrumbs, and arrange them on a tray, as one layer.
Then refrigerate for an hour or until you want to fry them.
Finally, fry on medium heat until golden brown.
Affiliate Links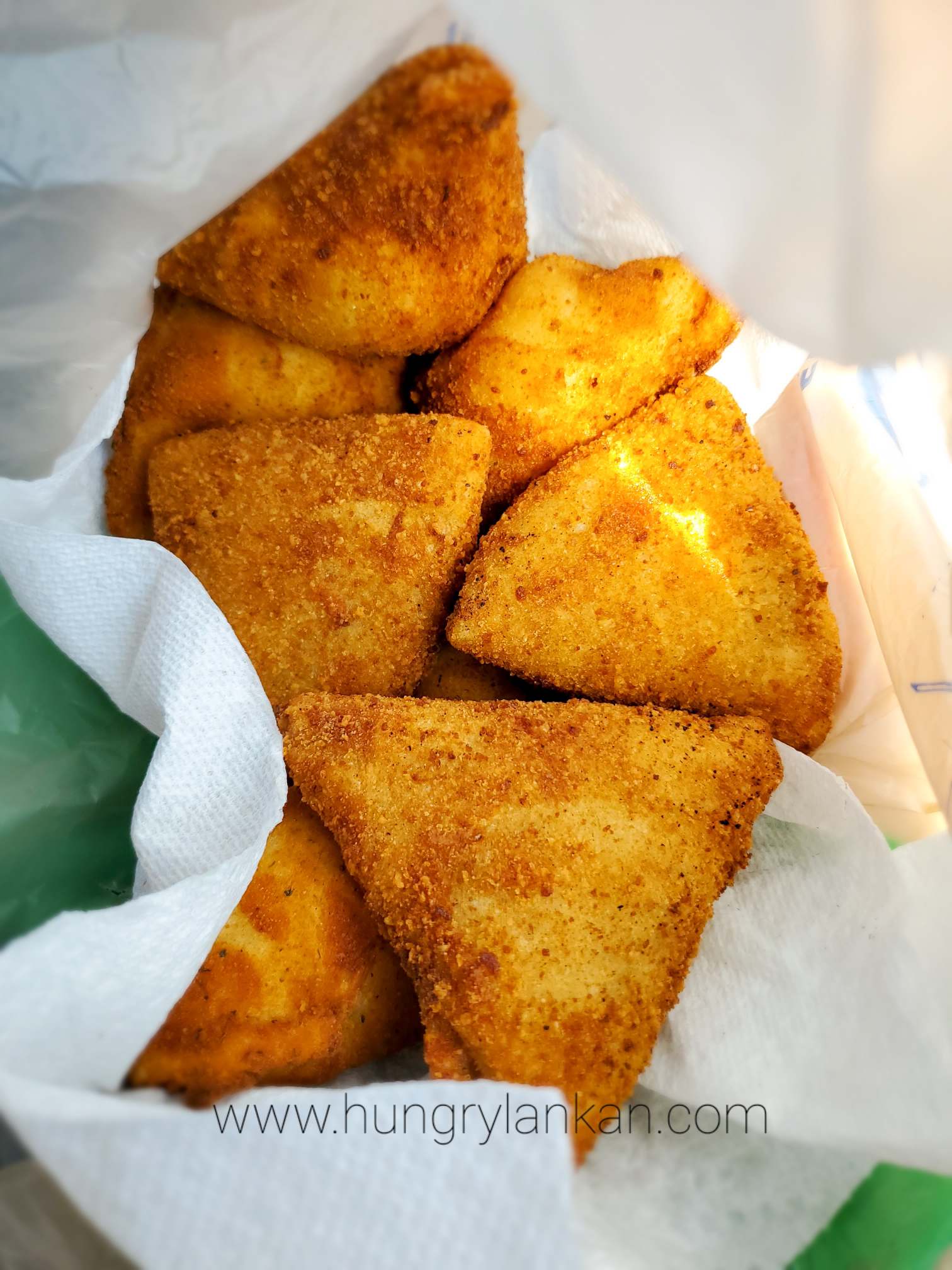 Sri Lankan Egg Rolls
Description
These crispy, spicy Sri Lankan egg rolls are the best treat you'd ever find. Filled with a vegetable and tuna filling and half of a boiled egg. Perfect for a savory breakfast on the go or as an evening snack.
For the Filling
For the pancake
For coating and frying
Instructions
Make the filling
Heat a tbsp of coconut oil. Add chopped garlic, chopped onion, green chilies and fry until onions get sweaty. Then add the diced carrot and some salt. Cook on medium until carrots are cooked all the way through. Then move the veggies to a side of the pan and add the chili flakes. mix and toast a bit and add the onion and carrot mixture. Add your potatoes. stir fry a bit and add the drained tuna. (You can use canned mackerel too but the taste and smell would be different.) Break with the spoon and stirfry for about a minute. Add the chopped leeks. Mix and well. If you feel like the mixture is too dry, add about a tsp of water and stir. Turn off the heat. Let the mixture cool down.
Making the pancakes
Whisk flour water and salt together and make a smooth somewhat thin batter (a little thinner than heavy whipping cream). You can use your blender too to mix the batter.

Heat a nonstick skillet or nonstick hopper pan (which is what I use). Brush a thin coating of oil using a paper tissue. Add about 1/3 cup of batter and swirl the pan to spread it evenly. Cook for about 30seconds to a minute or until it's cooked all the way through. (cover the pan if you use a nonstick hopper pan. If you feel like the pancakes are thick and not flexible, add a bit of water, a tbsp at a time, and thin it out. What you need is a very thin and flexible pancake.

Carefully transfer the pancake into a plate. Do not flip. Add 3 - 4 tbsp of filling in the middle. Also, place half of a boiled egg on the top. If you can roughly arrange the filling as a triangle, it would be easier in the next step. (Meanwhile, you can make another pancake too. Then you can do this whole process like a production line)

Fold from three corners to the middle to make it into a triangle. Check out the photo. Try not to leave much air inside the roll when you fold it. (why? read the tips on the recipe description)

Dust a tray/plate with flour and place the roll. Do this whole process to all the rolls. Do not stack them.
Coating
add a cup of flour and a little less than a cup of water, and a bit of salt to a bowl and make another batter. If you have any leftover batter from the pancake making, you can use the same batter for coating too. Also, put breadcrumbs into a plate.

Now using tongs or one hand, dip one egg roll in the batter. And lift and hold it to remove any excess dripping batter. Transfer the eggroll to the breadcrumb plate, and coat well with breadcrumbs. Lift the roll and shake to remove any excess breadcrumbs and pat with your hand so that breadcrumbs stick to the pancake very well. Place it back on the tray/plate. If the breadcrumbs you're using are very fine and powdery, do this coating process one more time to double coat the egg rolls.

Now if you have time, refrigerate the egg rolls in the fridge for about an hour or up until you're ready to fry them. If you're out of time, at least let them rest until the batter you use to coat dries out. As the batter dries out, the breadcrumbs stick to the pancake pretty nicely.

Heat oil in a deep vessel/pot. put a piece of a batter+breadcrumb piece and see if it floats immediately. If it floats then the oil is ready. Fry the egg rolls in hot oil. Make sure to flip them frequently to ensure even heat distribution. Also, be generous with the oil. Do not overcrowd the pan as the rolls drop the oil temp significantly. And add one roll at a time and let it fry for about 30 seconds before you add the next one. Put them on a paper towel after frying to remove excess water. Let them cool down on a cooling rack if you want to keep them crispy for longer.
egg rolls, egg roll, egg, rolls, roll, sri lankan egg rolls, sri lankan, sri lanka, tuna, tuna filling