32 Views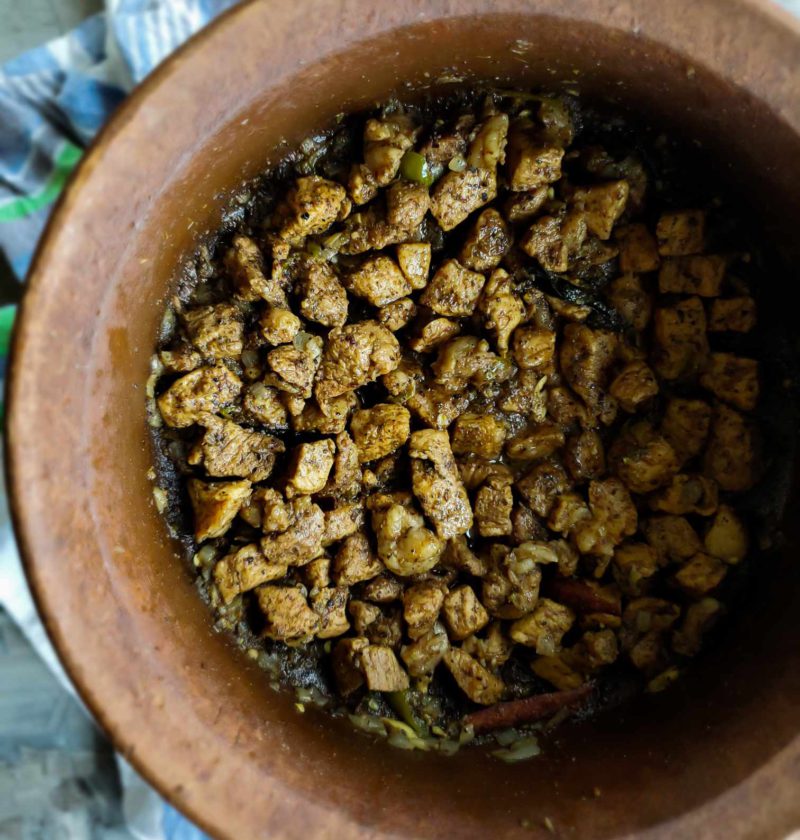 Yields:

5 Servings
Difficulty:

Easy
Prep Time:

10 Mins
Cook Time:

30 Mins
Total Time:

40 Mins
This Sri Lankan black pepper pork curry is the perfect marriage between black pepper and vinegar flavors. Perfectly balanced super easy to make.
Do you love black pepper and vinegar flavors together? They're one of my favorite flavor combinations. Pepperiness and the sour vinegar taste goes so well in savory dishes. If you haven't tried yet, this is the high time for you to try these flavors together. Especially with meat and fish. This Sri Lankan black pepper pork curry is one of the favorite pork curries at my house. I also make black pepper chicken and black pepper fish the same way. They're all super delicious.
My pepper pork curry is very popular in my house and it's something I make at least two-three times a month. The reason is it's very versatile and goes so well with yellow rice and curries, which make this curry a great addition for a Sri Lankan themed party menu. Another reason why I love black pepper pork curry is that it's very easy to make. The flavors are easy to balance and you can make with gravy or without gravy as you prefer.
Here are a few important tips:
There are varieties of pork cuts available in the market. For this particular recipe, I'd like to go with a cut that has a decent ratio of fat and meat. My preferred pork cut is pork shoulder (which is actually the pork butt even though they call it pork shoulder).
I cut my pork very small. They pick up flavors very well and easier to use in sandwiches and such.
You can marinate the chicken earlier and keep that in the fridge. The Garcinia Cambogia (goraka) helps to tenderize the meat. But I have to admit I never remember to marinate meat earlier so what I do is I add a bit of water to the curry and cook it for longer until most of the water evaporates. The longer cooking time helps the meat to tenderize
If you don't have Garcinia Cambogia (goraka), you can use some vinegar instead. For the given amount of pork in the recipe. use 2 tsp of vinegar to substitute Garcinia when you marinate.
Use a good brand of Sri Lankan roasted curry powder. I would not recommend any other curry powder for this recipe. If you can't find Sri Lankan roasted curry powder, you can also use my special pork curry powder that I made for my red pork curry recipe (exclude black pepper when you make the curry powder mix as we're going to use them separately in this recipe).
If you're going to use homemade curry powder, use only about 1 tsp as freshly made curry powders are strong. If you use store-bought roasted curry powder increase the amount to 2 tsp.
Use freshly made ginger and garlic paste as it gives out the best flavors and aroma.
Finally, please don't get intimidated by the long list of ingredients. The steps are really easy. The important part is to balance the pepper, vinegar, and salty flavors at the end.
Serving Ideas:
Some items that are mentioned in the recipe (Affiliate Links): 

Marinate the pork pieces with roasted curry powder, roasted chili powder, Garcinia Cambogia, turmeric powder, and salt. Set it aside.

Heat oil in a pan. Add curry leaves, pandan leaves, cinnamon stick, opened cardamom pods, cloves. Fry in oil for few seconds until aromatic. (I didn't have curry leaves and pandal leaves at the moment. But definitely add if you have them. they add a really good aroma to the curry)

Now add your freshly made ginger and garlic paste, onions and sliced green chilies. Saute until onions turn translucent and the raw ginger and garlic smell go away.

Add the marinated pork pieces. Turn the heat medium-high and saute with onions mixture for about a minute.

Then lower the heat. Add water, mix, cover and cook until about 1/3 cup of water left. (even if you double the recipe, you don't have to increase about of water. You get plenty of water to the curry from the meat itself). We are adding a bit of water to increase the cooking time as it helps to tenderize the meat.

Add freshly ground black pepper and vinegar. Mix well. Taste and adjust salt and vinegar if needed. and cook for 2 - 3 mins more or until you get the desired consistency.