Green bean coconut milk curry which is called "Bonchi Kiri Hodi" is a classic Sri Lankan curry dish that is so popular among Sri Lankans. The common way of eating this is with rice and a few more spicy curries, salad, and stir-frys. Sri Lankan food is really hot and spicy so they use these types of coconut curries to smooth out the spiciness and to add more sauce to bind everything together with rice. But this vegan green bean curry with coconut milk is so creamy and delicious, you can definitely eat this on its own over some rice. 
Let's talk about Ingredients: 
I know, not all of you have access to Sri Lankan unroasted curry powder and fenugreek seeds. 
The basic Sri Lankan unroasted curry powder recipe I use is so easy is to make. Take 20g of coriander seeds, 10g of cumin seeds, and 5g of fennel seeds and grind them together. There are so many variations of curry powders that Sri Lankans use. I'll upload those recipes later as I  go.
If you don't have fenugreek, don't worry. I've made this same dish many times without fenugreek and it doesn't make a big difference in terms of flavor. 
Everything else here is pretty common, so I'm sure you'd be able to find them in your local supermarket. 
More notes:
You really need to have thick coconut cream for this recipe. Otherwise, the gravy would be too watery. If you use freshly squeezed coconut milk, refrigerate it the day before or for a few hours. You'll get cream on the top and water below.
for thin coconut milk, dilute some coconut cream with some water or if you're using freshly squeezed coconut milk, use the second squeeze. I hope you enjoy the Vegan green bean curry with coconut milk recipe. I would love to hear back from you in the comments.
Pin this to your favorite Pinterest Boards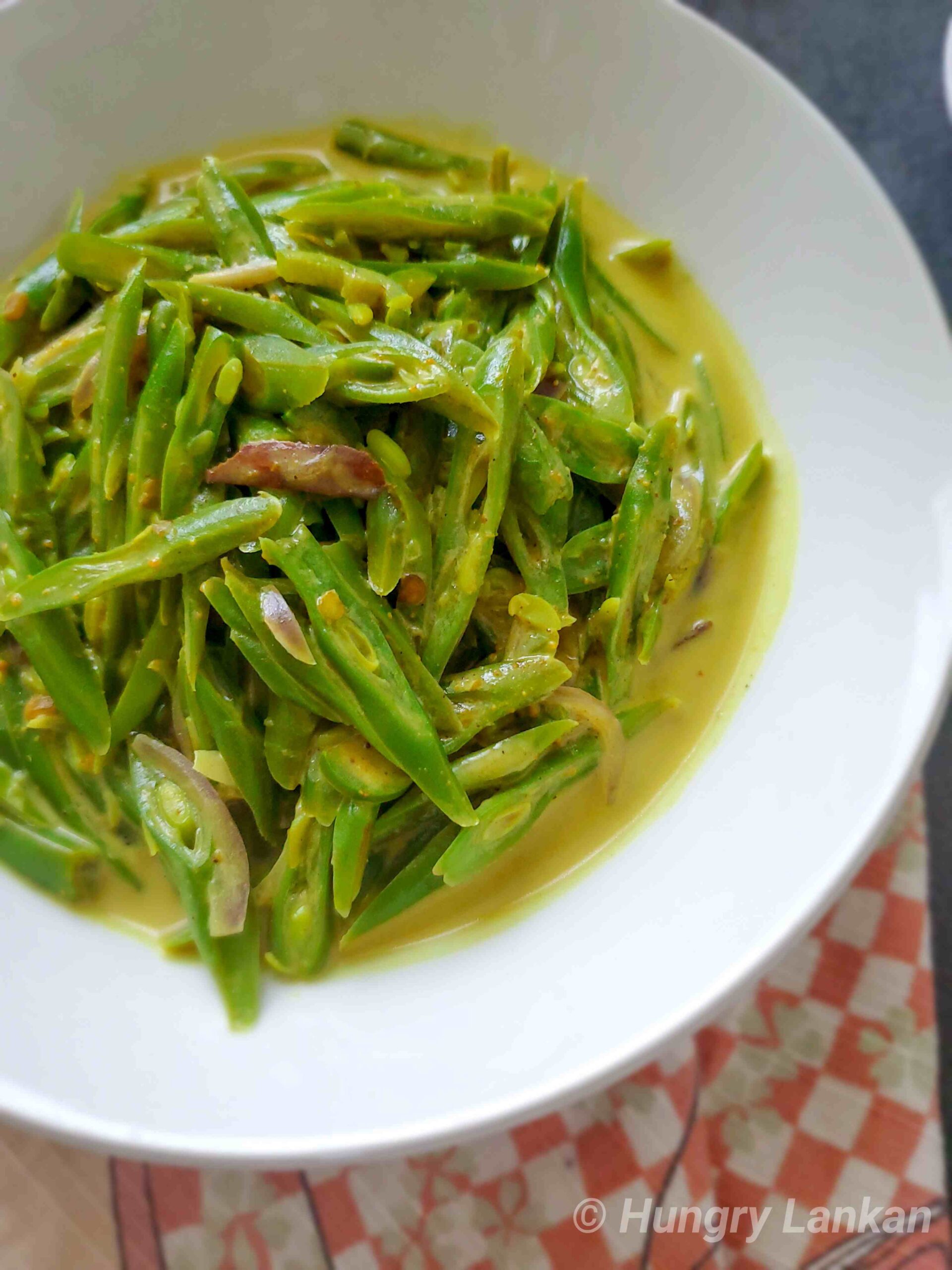 Vegan green bean curry with coconut milk
Description
A classic Sri Lankan vegan curry that is healthy and creamy with coconut milk, serves with rice.
Instructions
Add everything together except thick coconut cream and lemon juice.

Mix everything up and cook on medium heat uncovered until beans are tender. Stir in between.

When beans are tender, add thick coconut cream and stir continuously until the raw smell of coconut cream disappears. Fix salt. Turn off the heat.

Now add few drops of lemon juice and mix well.
vegan, bonchi curry, curry, vegan curry, green bean, coconut milk, green bean curry, vegetarian, sri lanka, sri lankan, kiri hodi, bonchi kiri hodi