Chicken kottu – The best and the most popular Sri Lankan street food and probably the most popular Sri Lankan food in the world. Wherever you go in Sri Lanka you're definitely going to find a kottu stand (or "koththu kade" as we Sri Lankans call it) for sure.  If you google to find a list of Sri Lankan food that you must eat, I'm 100% sure that you're going to find kottu in it. Or even if you visit a Sri Lankan restaurant anywhere in the world, you're gonna find this dish on the menu. I'm telling you all this because I wanted to let you know how much we, Sri Lankans love and adore this amazing dish. Do you know there are songs written about Kottu?  lol.
Kottu is basically a mix of roti pieces (Godamba roti specifically), some veggies, eggs, and a curry sauce. So in this case, it's chicken curry. There are so many different varieties of kottu now. Beef kottu, egg kottu, vegetable kottu, string hopper kottu (which uses string hoppers instead of roti pieces) are some of the very popular ones. And there are also some less popular ones now like bacon kottu, nayi miris kottu (nayi miris = hot peppers like habaneros), bread kottu. Even though I make chicken kottu here, you can make any kottu you like with the same steps.
Few tips and suggestions:
The key to a good Sri Lankan chicken kottu, in my opinion, is a good chicken curry. I'm using my chicken curry here for this recipe. When I make the chicken curry for this one, I always make sure to add a bit more spices and leave more gravy. Because you need a lot of curry sauce/gravy for the kottu as roti pieces absorb a lot of it. Plus you need some more to serve on side.
You can make kottu without curry too. Some people like to have the kottu without any curry added to it. My tip is to add a bit of butter at the end.
The Rotis I'm using here not Sri Lankan Godamba roti but it's identical to the flavor and texture. This one is called "Ceylon Parotta" and available in Indian Grocery stores. So if you live outside of Sri Lanka, you can find these flatbreads in the freezer section of Indian grocery stores. If you can't find Godamba roti or Ceylon Parotta, then you can use any Indian parathas, or even tortillas would work.
Do not make a very large batch at once. If you want to make a large batch of kottu, I highly recommend you make that in a few small batches.
Also, use the largest pan you can get. You don't want to make an unpleasant soggy Kottu that clumped up together. In Sri Lankan restaurants they use a large metal sheet to make these Kottu and use two dough scraper kind of a tool to mix and break the ingredients. It's hard to make that setting at home. So a large wok is your best solution. A large frypan would work too. Again, make sure to make them in small batches.
You can use any vegetables you like. But I only like to add carrots and leeks as they give the closest taste of Sri Lankan restaurant-style Kottu. Cabbage is also another common vegetable some people uses.
Serving options: 
Serve kottu with more chicken curry on the side. You can also serve with curries like Sri Lankan creamy potato curry, Red lentil curry. Sri Lankan chili paste is also another condiment that people serve this kottu with.
The amount of kottu I'm making is enough for two small servings or one large serving.
Pin this to your favorite Pinterest Boards
Affiliate links for products mentioned in the blog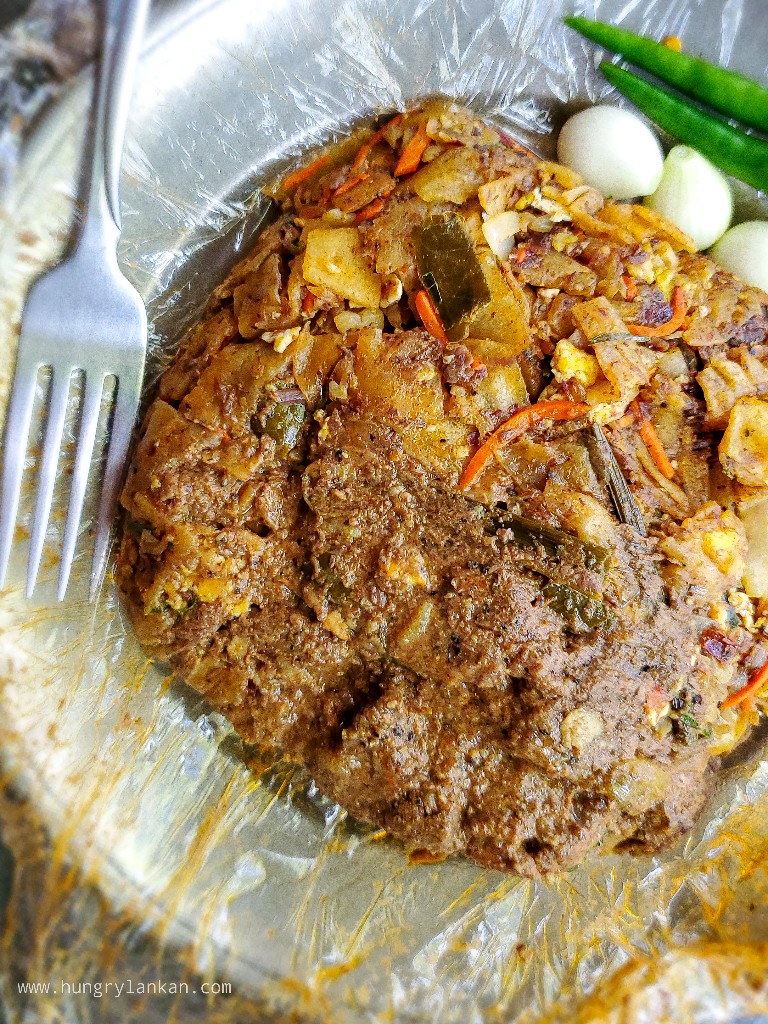 Sri Lankan Chicken kottu
Description
Chicken kottu - The best and the most popular Sri Lankan street food and probably the most popular Sri Lankan food in the world. It's a mix of roti pieces, some veggies, eggs, and a curry sauce. Chicken curry in this case.
Instructions
Heat oil in a wok and add minced ginger, garlic, and leek rings. (White part or light green part only)

Add the chicken pieces you took from the chicken curry to the wok. Break them using your wok spatula. You can also cut them beforehand if it's hard to break the chicken pieces with the spatula.

Mix with the rest of the ingredients and let the chicken get brown a little bit.

Move everything to a side and crack an egg to the middle of the wok. Let it fry for few seconds and then scramble the egg. When the egg is almost cooked, mix with the rest of the ingredients on the wok.

Move the mixture aside and add your chopped onion and sliced chilies. You can substitute chilies with chili flakes or you can use both fresh chilies and chili flakes for some extra heat.

Mix everything well together. Keep mixing.

Again, move everything to aside and add the julienned carrots. Mix only the carrots to fry them a little bit.

Mix everything together and add your diced tomatoes.

Mix and add salt as you per to your taste. Mix again to distribute salt. Do a taste test and adjust the salt if needed. (You can add pepper too at this point if you want.)

Add the Roti pieces and sliced leeks (green part)

Mix on high heat for about a minute.

Add the chicken curry. You can add more or less according to the texture you want. If you like a dry kottu you can add less than that.

Turn the heat to low. Mix all the roti pieces with the curry. Break the roti pieces and vegetables with the wok spatula while mixing.
chicken koththu, chicken kottu, sri lankan kottu, koththu recipe, kottu, koththu, kottu roti, koththu roti, parotta, spicy, chicken, sri lankan