Sri Lankan Coconut Sambol (pol Sambola/ pol sambal) is the unofficial national dish in Sri Lankan in my opinion. It's so popular that you wouldn't find any Sri Lankan who hasn't love this. This is my ultimate comfort food. And definitely a food that I cannot live without. When I went for vacations or even after a long flight, or whenever I feel sick and when I have no appetite, coconut sambol/sambal and warm rice is the only thing I want to eat. The best thing about coconut Sambol/Sambal is, it doesn't take 10mins to make this. Seriously. You can make this even before your rice is cooked.
Serving Ideas
There is an endless number of dishes you can pair up with coconut sambal. It's impossible for me to write a list of meals that goes well with this. Here are my top five favorite meals that accompany Sri Lankan Coconut Sambol.
There are so many variations of coconut sambol too.. There is white coconut sambal where we only add green hot peppers/ habanero and make it white without any red chilies. You can also add Maldive fish flakes, garlic, finely chopped tomatoes, Curry leaves, or black peppers. The one I'm giving you here is my basic version of coconut sambol. Even the habanero is optional. But I'm adding it since I really love the nice aroma it gives in to the Sambol.
Ingredients and Equipments
I'm using my mortar and pestle to make coconut sambal. Which makes it even tastier (btw I love my 4 cup mortar and pestle, a really good investment if you're looking for one. I'll link it below). But you can use your food processer too. If you don't have both, then chop everything super finely and mix well with your hands. This recipe is very forgiving, you can make it any way you like, and any quantities you like. The basic recipe only needs shredded coconut, salt, lime, and something hot. It could be either red chili flakes or powder or habanero or any other green chili variety. The key to a good coconut Sambol is balancing those flavors.
shredded coconut:
For shredded coconut, you can get a fresh coconut and grate it using a coconut scraper, which is the best way. And the authentic way. But if you don't have a coconut scraper there are shredded coconut packs you can buy in Asian grocery stores. If you don't have both, use some unsweetened desiccated coconut and add a little bit of coconut milk, thoroughly mix and microwave it to soften it up.
Onion:
Traditionally we use small shallots (aka small onions in south Asia) that look more like pearl onions. And directly add that to the mortar and pestle without chopping. But the shallots I buy are way bigger than the ones we have in Sri Lanka. And whenever I crush them in my mortar and pestle I always notice that my Sambol get a bitter taste. Same with the onions. So always chop your onions before you crush them in either mortar and pestle or in the food processor. Also do not crush them until they become a paste.
Lime:
Lime is the most common sour ingredient that we use in coconut Sambol. But you can use lemon juice or even lime preserves (aka Lunu Dehi in Sri Lanka) too. My mom always adds the piece of lime to the mortar and pestle at the end and gently crush it and then later remove the peel. Which adds a really nice zesty flavor. But don't crush it too much since the peel tastes bitter and definitely don't do this if you use a food processor.
Chilis:
I'm using 3 kinds of chilis here. Chili flakes, chili powder, habanero. Habanero is totally optional. You can use either chili flakes (commonly used) or chili powder. I'm adding a combination of both. Adding a little bit of chili powder gives Sambol a nice orange color.
You might also like these recipes:
Sri Lankan White coconut sambol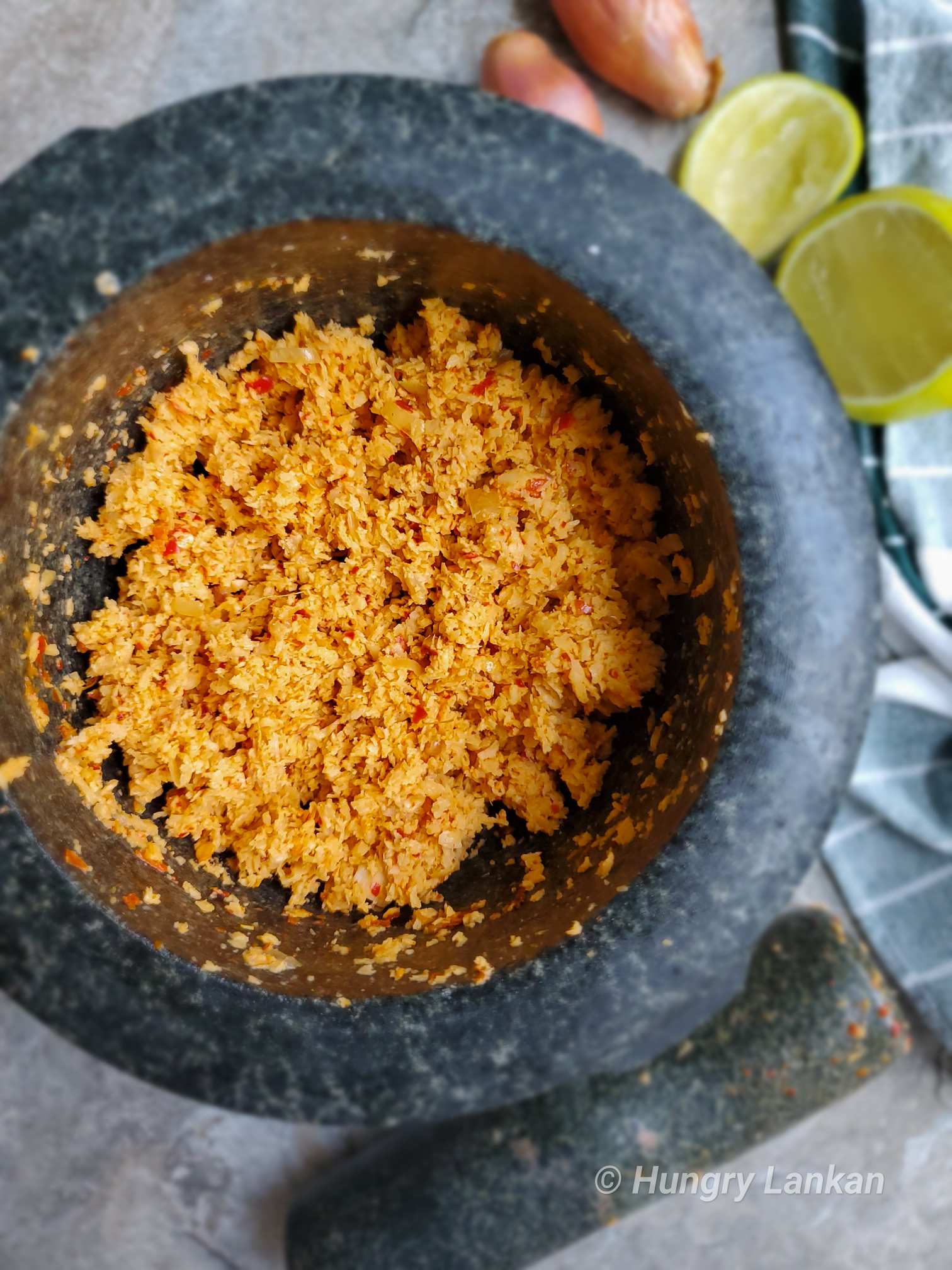 Sri Lankan Coconut Sambol
Description
An incredible easy Sri Lankan coconut Sambal recipe that only takes 10 mins to make and need very few ingredients. Goes well with every meal.
Instructions
Add chili flakes, chili powder, and salt to the mortar and pestle. pound it to make a coarse powder. Salt makes it easier to grind.

Then add chopped shallots, chopped habanero, and grind to a coarse paste. Do not grind shallot/onion too much, they become bitter. (You can add the habanero first, grind it finely and then add chopped shallot and grind that too)

Now add your shredded coconut to the mortar and pestle and pound again to mix.

Add lime juice and pound very well unit everything is thoroughly mixed and no white color coconut pieces left.

Taste and adjust salt and lime for your taste.
coconut sambol, coconut, sambol, sambal, coconut sambal, pol sambal, pol, sambola, pol sambola