Sri Lankan Dry Fish Curry aka "Karawala Hodi" is a super delicious creamy, tangy and salty curry made with dried fish, coconut milk, and spices. Often pairs with coconut Sambol and rice. And that my dear friend is a match made in heaven.
Being an island and surrounded by the sea, fish is one of the very common proteins Sri Lankans have on a daily basis. But not every season is a fishing season. So whenever the fishermen had a big catch they dry them in the sun with salt for later use. As a preserving method. It was also a good way to transport fish to the upcountry where people cannot get fresh fish. So as much as we love fresh fish, we also love these dry fish curries.
For me, warm rice with Karawala Hodi and Coconut Sambol is one of my best comfort food. Something I always seek when I have no appetite to eat anything else. Even though it's a little too salty on its own, it has all the savory flavors you're looking for. And once you paired this dry fish curry with something starchy and tangy, the flavors balance out so well. So if you're planning to make this, trust me and make Sri Lankan Coconut Sambol and something starchy too. it cuts through the saltiness.
The dry fish variety I use here is known as "Katta Karawala". So if you see "Katta Karawala Hodi" somewhere this is it. "Katta" is a very popular dry fish variety for curries and stir-fries. But you can use any other dry fish variety you like.
How do you prep dry fish?
Dry fish is very very salty so you need to remove that saltiness as much as possible. Also, they contain sand and so many other impurities from the beach where people dry these off. So first of all, rub and wash them thoroughly to remove the sand and salt on the surface. You can use a piece of used lemon to rub them. It helps to remove the fishy smell too. And the cut them into pieces and put them into hot water. Let them soak for a couple of minutes and then drain the water. Do this for about 3 times so most of the salt washes away.
Garcinia Cambogia/Goraka:
Another important ingredient for this dry fish curry is Garcinia Cambogia which is also known by locals as Goraka. It provides the sourness to the dish which is important to balance out the saltiness. If you cant find it the next best sour ingredient that goes with dry fish is tomatoes. Use one diced tomato to substitute a piece of Garcinia Cambogia.
Coconut milk:
You need two kinds of coconut milk for the recipe, thick coconut milk, and thin coconut milk. If you make the curry with freshly squeezed coconut milk, then prepare a cup of the first squeeze and a cup of the third squeeze. I use canned coconut milk here. I used about 3 tbsp of coconut milk and mixed some water to make a cup of thin coconut milk. And directly use the coconut milk from the can for thick coconut milk.
The spice level of the dish:
This Sri Lankan dry fish curry is quite spicy with the habanero and red chili powder I use. But you can skip both of them or one of them and make the dish to suit your taste.
Here are the products I'm using (affiliated links)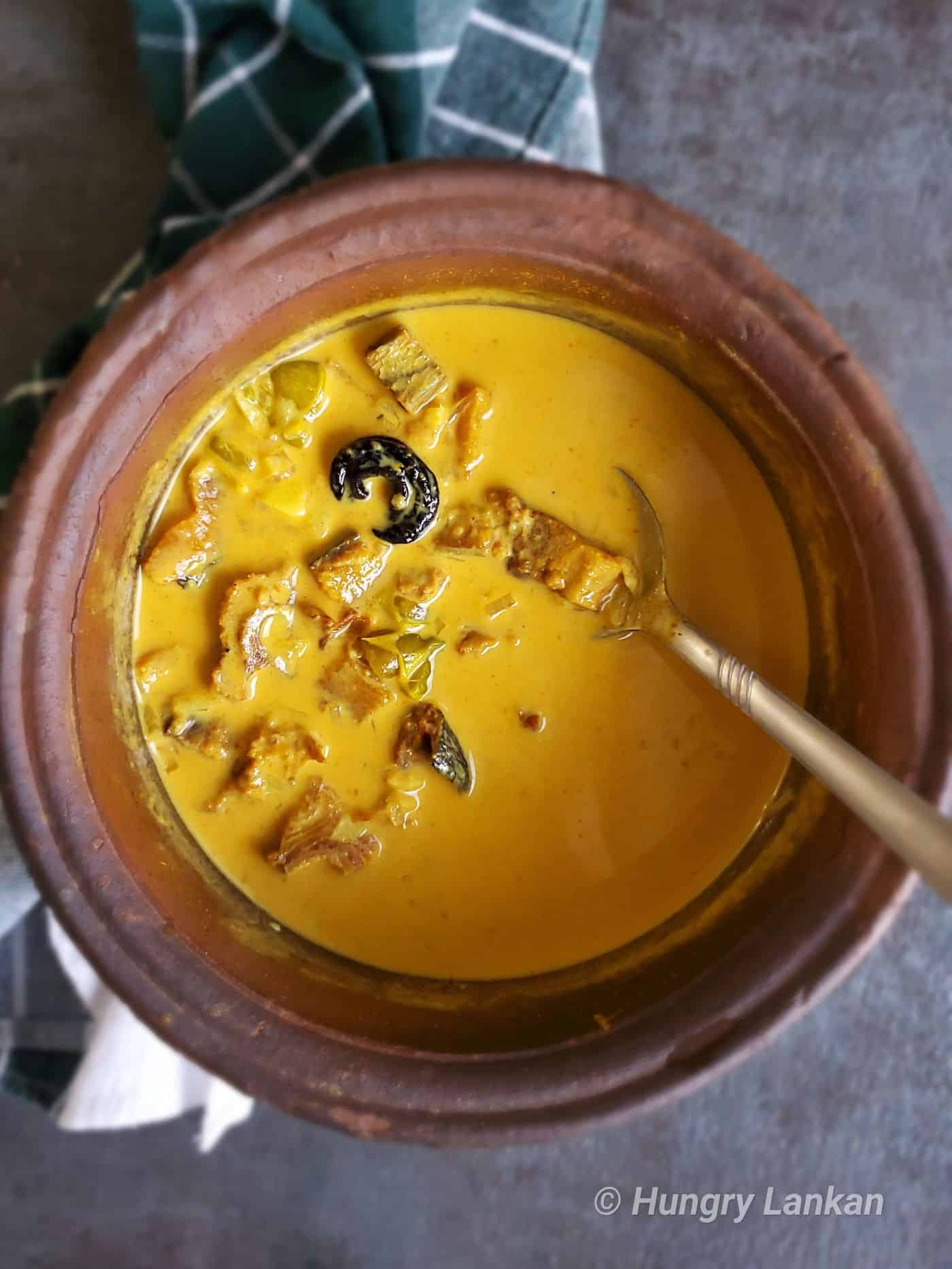 Sri Lankan Dry Fish Curry
Description
Sri Lankan Dry Fish Curry aka "Karawala Hodi" is a super easy and delicious, creamy, tangy and salty curry made with dried fish, coconut milk, and spices. Often pairs with coconut Sambol and rice.
Instructions
Mix everything except thick coconut milk in a pot.

Cook uncovered in medium-low until the onions and garlic are cooked and about 75% of the liquid is evaporated. About 20mins.

Then add a cup of thick coconut milk

Bring it to boil while keep stirring continuously.

When the coconut milk boils, turn the heat down and let it cook for another 3 - 4 mins. Stir in between.

Check for salt. Add salt if needed. You probably won't need to add any salt since the dry fish pieces are salty. Turn the heat off.

Let it cool a little bit and add lime juice. Stir.
dry fish curry, curry, dry, fish, karawala, karawala hodi, hodi, sri lanka, sri lankan, dry fish