Naan is an Indian flatbread that I make for most of my Indian Dinners. This is my Simple Butter naan with yeast recipe that is super easy to make with no fuss. While it's hard to replicate the restaurant-style naan without a Tandoor, this one always comes out so close. All you need is a flaming hot cast iron skillet or any other stainless steel or carbon steel heavy bottom skillet.
The dough
The dough is very easy to knead by hand. Or if you have a mixer you can use your mixer too. I use instant dry yeast/rapid rise yeast but you can easily substitute by active dry yeast. Make sure your milk is lukewarm when you add yeast to the milk and sugar mixture. Yogurt is absolutely necessary in this recipe for get that hint of sourness. What I use is full fat yogurt. The fat and milk make the naan soft and adds flavor at the same time. You can also use curd or low-fat or nonfat yogurt as a substitute.
To get the naan to puff up nicely it's important to use a flaming hot skillet. Do not use non-stick coated skillet as they are not meant for high-heat cooking. A cast-iron skillet would be ideal. But if you don't have a cast-iron skillet then use any other heavy bottom, high-heat safe skillet.
To get the top of the naan brown, you can use either of these methods.
Turn your oven broiler on. Put a tray on the top rack of the oven. When the naan puffed up on the stove, transfer it to the tray in the oven. Cook it under the broiler for few seconds until the top gets nice and brown. Take the naan out using tongs/spatula and apply butter immediately. (this is the method I use)
You can turn the naan upside down on the pan as you'd do with any other flatbreads. The problem with this method is only the puffed up bubbles touch the surface of the pan and get brown. But they taste still the same.
You can directly hold the naan bread over the fire upside down using tongs (you have more control this way) or place it directly on the fire for a few seconds. This is method is also quick and gives out really good charred naans. But you cannot do this with an electric stove or electromagnetic stove.
Freezing and reheating
These naan breads freeze so well. For freezing, portion the naan as you wish, stack them, wrap the whole stack with an aluminum, and then put into a freezer bag/zip bag and freeze them.
For reheating, place your wrapped naan without removing the foil in a preheated oven and bake for about 15-20mins until all the naan bread are heated through. No need to thaw you can directly put the wrapped naan into the oven.
Serving ideas/ suggestions:
This recipe yields 7 medium size naans and is enough to serve 3 – 4 people. Naan bread are best to serve with Butter chicken, Chicken korma, or with any other Indian curry of your choice. You can also make this for your next Indian Biryani party.
I hope you enjoy my simple Butter naan with yeast recipe. If you try that out please leave feedback below in the comments. I'd love to hear back from you.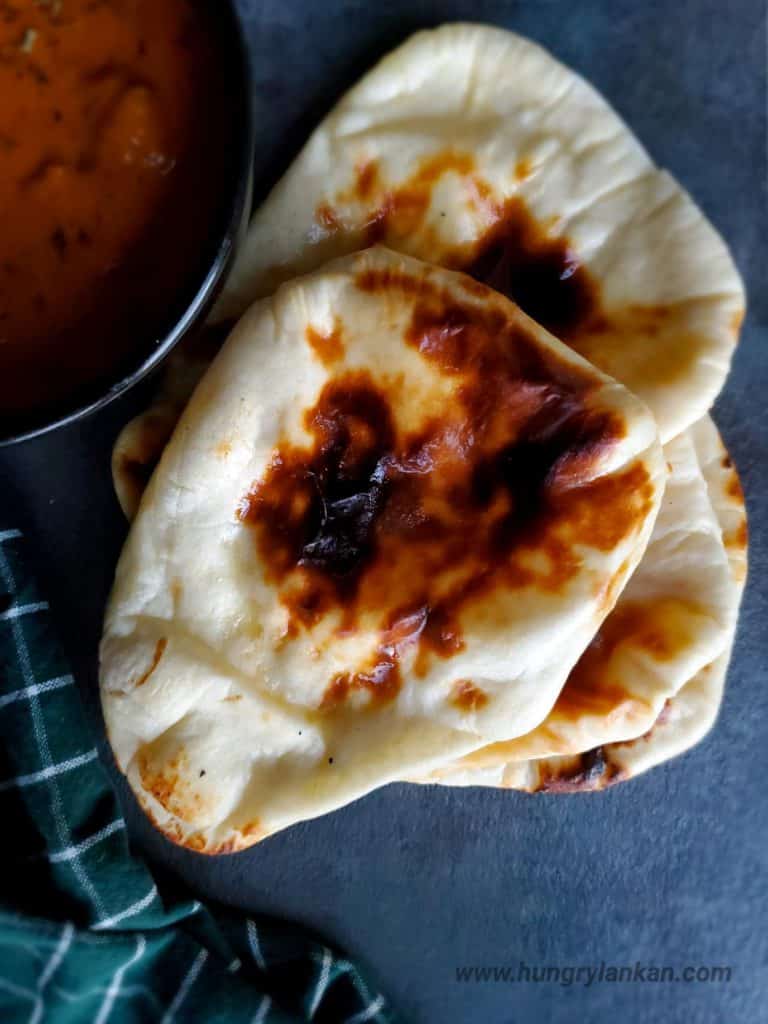 Simple Butter Naan with Yeast
Description
Recipe for classic naan - Indian flatbread recipe that I make for all my Indian dinners. So easy to make and always comes out perfect.
Instructions
Making the dough
Add your rapid rise yeast (you can substitute with active dry yeast too), Sugar, and lukewarm milk into a bowl and let it sit for about two minutes. If the yeast starts to make foam then your yeast is good. Carry on with the next steps. If your yeast doesn't make foam/small bubbles then your yeast is not good. Start over with a newly bought yeast.

Next, add your yogurt to the bowl and dissolve it in the milk mixture using a spoon.

Then add salt and bread flour (all-purpose flour works too). Mix well using the spoon until they become lumps and no loose flour left in the bowl.

Transfer the flour lumps to the benchtop, make it to a bowl and knead the dough until smooth and stretchy for about 10 - 15 mins. You should be able to stretch the dough until the windowpane without tearing or breaking the dough.

Apply a few drops of oil in the bowl. And transfer the dough back in. Apply two drops of oil onto the surface of the dough to prevent it from drying out. Cover with a plastic wrap and let it double in size. 

The dough should be doubled in size. This would take roughly about an hour.

Punch down the dough to remove air.

And then break the dough into 7 equal size portions (70g each) and make them into balls using your hands.

Place them on a plate/working surface, cover them with a plastic wrap, and let them relax and puff up for 30mins.
Shaping and making naan
After 30 mins, take a ball out. Put it on the benchtop. Flat the dough out using your hands. This would degas the dough ball.

And then using your rolling pin, roll the dough to an oval shape flatbread with one broader side and one narrow side. The thickness should be about 2.5mm.

Then lift the flattened out dough, and stretch the dough from the narrow side using one hand while holding the dough with the other hand to get the tear-drop shape. You can make them into any other shape you like.

Meanwhile, put your cast iron skillet to heat up(or any other skillet you have. Don't use a non-stick Teflon coated skillet though. They are not meant to heat up high). The skillet should be smoking hot when you put the naan it. So it would puff up quickly. Also, turn on the oven broiler and place a cookie sheet or large baking tray on the top shelf of your oven.

When the skillet is hot, Place the naan on the skillet. Let the bread puff up with bubbles. Leave the naan until the button of it gets nice and brown.

Then transfer the naan to the tray which you placed under the broiler. You can use a spatula or tongs for this. Let the top gets brown too. The naan would puff up furthermore.  ( read the recipe description above for alternative methods)

When the top is brown, transfer the naan to a plate and apply butter immediately before it becomes hard and crispy. (you can also apply crushed garlic after applying butter for garlic naan or chopped cilantro for cilantro naan)
Naan, flatbread, Naan recipe, Indian bread, Indian flatbread, Restaurant style naan, Indian naan, Easy naan, Naan with yeast, Yogurt flatbread