Tender pork in a rich broth, this instant pot pork ribs curry is so warm, hearty, super easy to make, and just what I need to lift my spirits up on cold rainy days. Perfect to dunk your crusty bread in or to serve with rice.
For some reason, pork is not a very popular choice for curries in many countries. But we Sri Lankans love our pork curries. We have black pork curry, red pork curry, pepper pork curry, roasted coconut pork curry, you name it. This instant pot pork ribs curry recipe is a dish I developed inspired by all these amazing Sri Lankan curry dishes. It's aromatic, rich, creamy, and spicy and just the recipe you need for an easy dinner.
Ingredients and substitutes:
Since this recipe is inspired by Sri Lankan pork curries, you might see a few unfamiliar ingredients. Especially if you're a person living outside of South Asia. But I am going to give you a list of substitutes so you can make this curry where ever you are. I'll also include some Amazon affiliate links below where you can buy them online.
Meat: I use bone-in pork rib tips which I buy from Costco. They become nice and tender when you slow-cook for 4 hours and most importantly the bones add so much flavor to the broth. You can find pork cut-up ribs or short ribs in some Asian grocery stores as well or use a rack of baby back ribs. If you don't like pork, beef short ribs work too.
Cinnamon, Cloves, Cardamom: Add the warmth and also makes the curry aromatic. Highly recommend using true Ceylon cinnamon, and not Cassia aka Chinese cinnamon. Whole spices are the best. But if you can't find them ground spice powder would work just fine.
Garcinia Cambogia (Goraka): this ingredient has a very unique sourness to it. Commonly used in Sri Lankan meat dishes. You can find it in some Indian grocery stores as well. If you can't find it, substitute this with tamarind paste.
Sri Lankan roasted curry powder: A common Sri Lankan curry powder that mainly contains coriander, cumin, and fennel roasted and grounded. There are some more ingredients that go into this curry powder. But if you can't find the SL curry powders, you can substitute this with any curry powder of your choice. Make sure to dry roast the curry powder in a pan until they turn darker in color and aromatic. This will intensify the flavors and would also add a nice smokiness.
Curry leaves, Pandan leaves, Lemongrass: These ingredients can be found in most Asian grocery stores. Check out the freezer aisle too. They add a wonderful aroma to the curry. Skip if you don't have it or use bay leaves as a substitute.
All the other ingredients are common all around the world and can be found easily in any grocery store. Thus I'm not going to talk about them separately.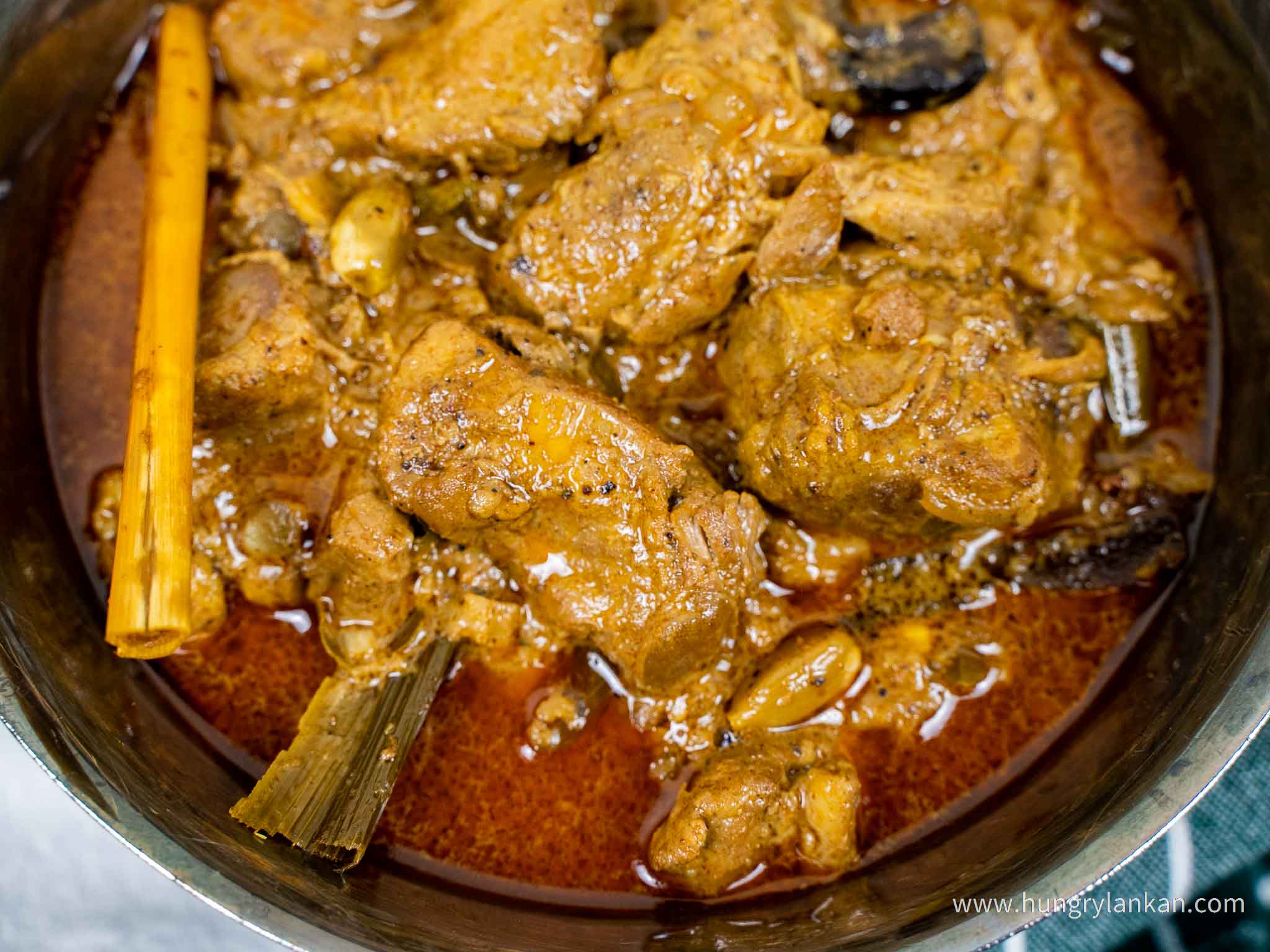 Can I use a crockpot/slow cooker or on the stove?
Yes. You have to sear meat and cook aromatics in a separate pan and then add everything to your slow-cooker/crockpot and slow cook in high for 4 hours.
You can also make this on the stove. Use a heavy bottom pot and simmer in very low heat until meat becomes tender.
Serving suggestions:
I love to have this curry with crusty bread, red lentil curry, and coconut sambol.
Goes with any rice and curry menus. For a Sri Lankan style menu I suggest Yellow rice or Curry leaves rice with creamy potato curry, Eggplant moju, and a simple mixed salad.
Amazon (affiliate) links for the products I use:
I hope you give this super easy instant pot pork rib curry a try. If you try, please let me know your thoughts and feedback. I love to hear back from you.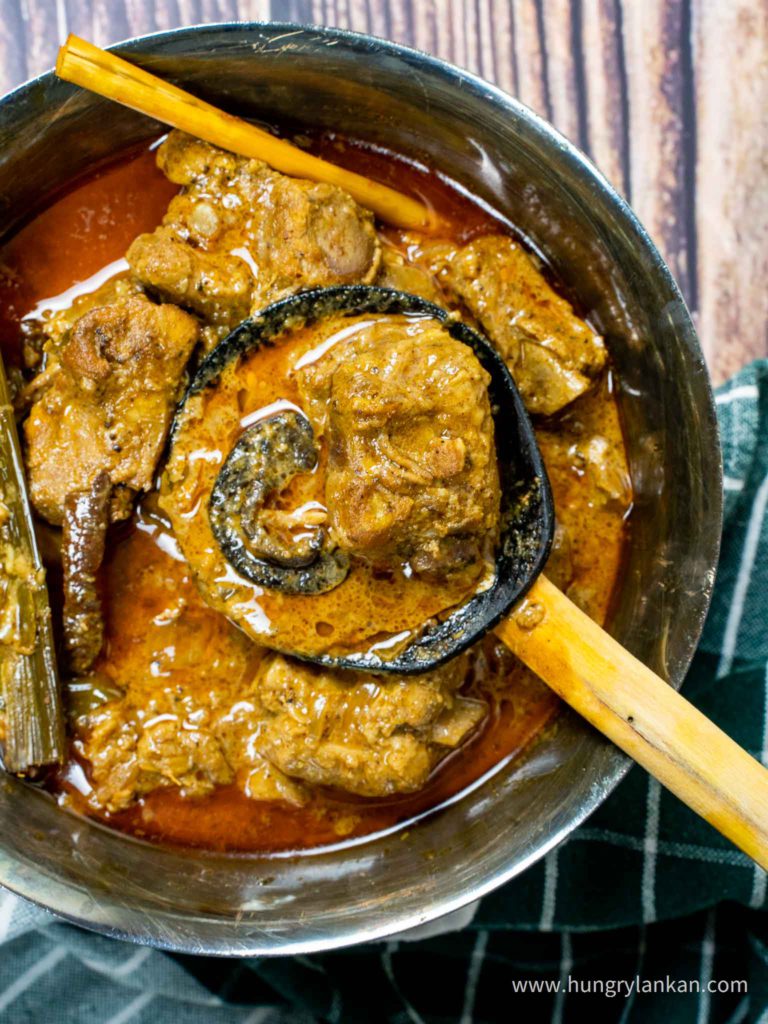 Instant Pot Pork Ribs Curry
Description
Tender pork in a rich broth, this instant pot pork rib curry is so warm, hearty, super easy to make. It has a nice balance of flavors. Coconut milk adds a nice touch of creaminess. It's aromatic with all the herbs and aromatics. The curry can easily be adjusted to make it spicier or with no spice at all. 
Instructions
Sear meat
Cut and separate each ribs.

Mix coarse ground black pepper, turmeric powder, white vinegar, and 1/2 tsp of salt with meat. 

Turn on the saute function of your instant pot. Let it heat a little bit. Then add a little bit of coconut oil. Let the oil heat. Add marinated meat and let the meat sear. When one side is seared, turn the meat pieces and let the other side sear. (If the meat starts to stick to the pot turn off the instant pot to reduce the heat.)

When the meat starts to get some brown color, remove them to a bowl.

Now turn off the instant pot otherwise your spices could burn. Add a bit of coconut oil if the pot is dry.

Add chili powder and 1/2 tsp of salt to the oil. Mix until the oil turns red. 

Then add Sri Lankan roasted curry powder (check the recipe description for different options), cloves, cardamom, cinnamon, curry leaves, pandan leaves, lemongrass, Garcinia cambogia/goraka*, and saute for a few seconds to mix everything.

Then add your chopped or crushed ginger and garlic, chopped onion, and saute. They will cook slightly with the residual heat of the pot. 

Mix in your seared pork ribs. 

Add coconut milk and water. Mix well. Add salt if you feel like it needs more salt. (For me, for 600g pork, roughly a total of 1 tsp salt is enough. You can adjust salt at the end too.)

Cover and select the instant pot - slow cook option. Change the pressure/temp setting to high. Set the timer to 4 hours.

After 4 hours, the meat should be nice and tender. If you feel like you have more gravy than you need, then turn on the saute function again and cook without the lid until you get the desired amount of gravy.
pork, Ribs, Pork ribs, Pork curry, Red pork curry, Curry, Instant pot, Easy recipes, Slow cooker recipes