The unofficial national food in Sri Lanka! Red lentil curry (Dal/Dhal curry) which is known as "Parippu curry" in Sinhala is the most popular curry in every household. A curry I make at least two-three times every week. This is such a versatile curry, I can have it for all three meals depending on what I have it with. The two curries with gravy would go well with Bread, String hoppers, hoppers, paratha, and roti. The dry curry goes better for me with rice and some other curries or as a sandwich spread.
Every Sri Lankan has their preferred way of this curry. Some people like it more gravy while some like it more like a paste. Some like it spicy while some people like it creamy. Every household has its own version of this red lentil curry too. For example, my mom makes red lentil curry with no garlic and no curry powder. Some people make it with no added coconut milk. There is no right or wrong way of making this delicious curry. Just adjust the ingredients the way you like it. Whichever way you make it, it's gonna be delicious. The following are the most common ways I like to have my lentil curry.
I'm making three different lentil curries here that taste very different but follow the same base recipe.
Creamy lentil curry – For the first one, you just do the simple red lentil curry with coconut milk. This is the basic recipe for the other two.

Tempered lentil curry – You temper(shallow fry) a few ingredients and add that to the base recipe.

Dry lentil curry – You slow cook the tempered lentil curry until it dries out and becomes like a paste.
Some tips to get the curry right:
Always soak your red lentils. It's going to cook evenly. You're not going to have any uncooked lentils here and there this way.
Cut the onions and garlic finely. They are going to disintegrate into the curry and add so much flavor.
Cook lentils in very low heat and covered with a lid until they are cooked. This is another cause why some people get unevenly cooked lentils and get foam over.
Do not stir the curry all the time. Once you add everything to the pot, mix once, cover, let it cook alone in low heat. Lentils are small and can break easily. You can end up with a huge gummy paste.
Get a somewhat deeper pot. More like rice, when they boil, they get bigger.
If you didn't wash the lentils properly, or if you put it on high heat, lentils foam over and spill. So wash your red lentils properly to remove all the starch. If you see foam coming up, remove the lid, reduce the heat, wait till they're gone, and put the lid back on. And continue cooking on low heat.
Stir when you add coconut milk. Coconut milk curdles with high heat. Lower the heat and keep stirring gently to avoid that.
The curry powder I use in this recipe ( and in most of my other Sri Lankan recipes) is Sri Lankan curry powder. Please do not substitute this with any other curry powder. I know this is hard to find outside of Sri Lanka. But you can easily make this at home. The included the recipe for Sri Lankan curry powder on my Red Chicken curry recipe. Or you can totally skip it. In fact, that's how my mom makes her red lentil curry.
Pin this to your favorite Pinterest Boards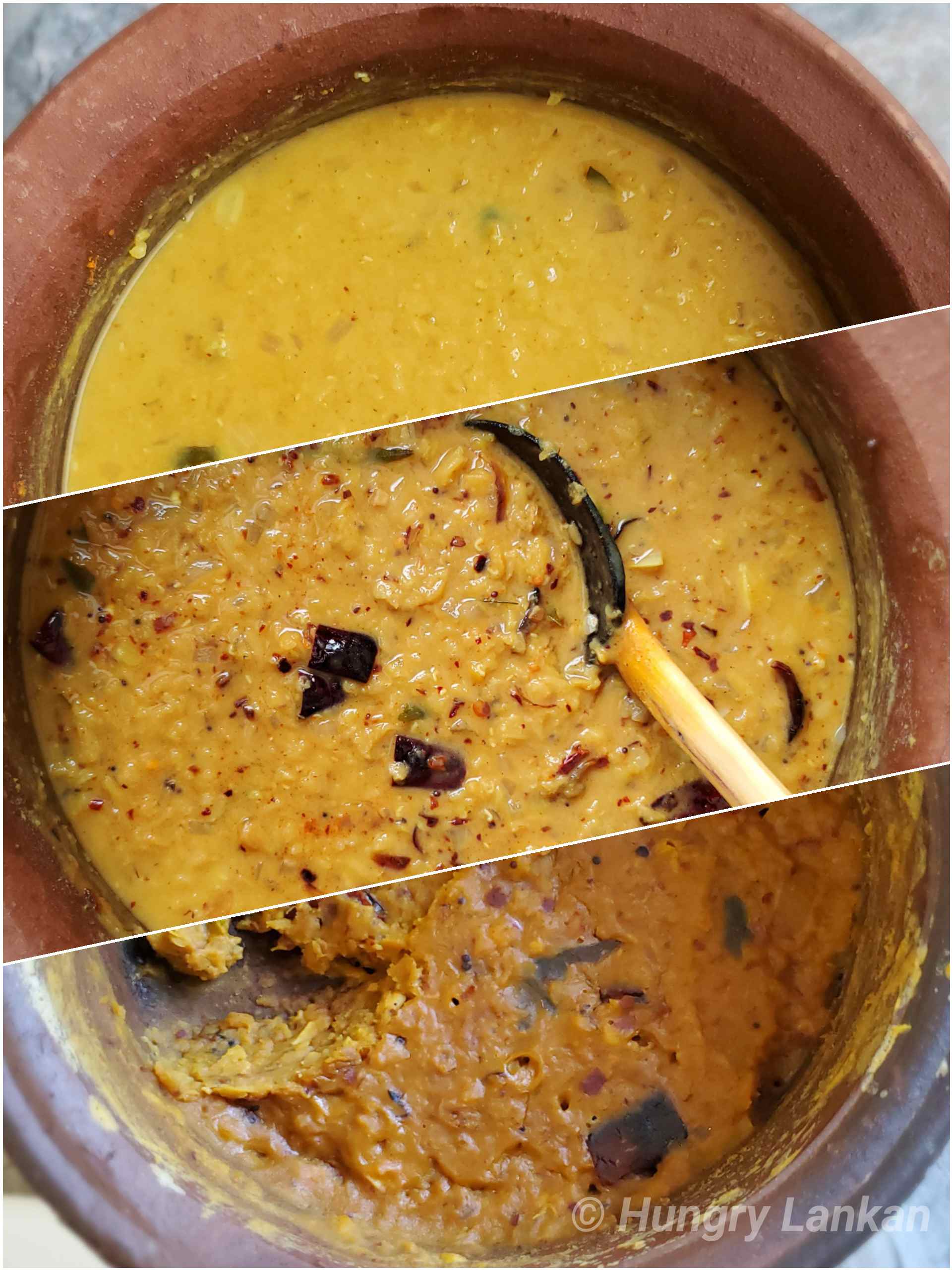 Red Lentil Curry (In three ways)
Description
The most popular Sri Lankan red lentil curry "Parippu" in three ways using the same recipe
For the base curry
Tempering ingredients
Instructions
Creamy lentil curry (Base recipe)
Wash red lentils thoroughly to remove all the starch. Soak red lentils with 2 cups of water for about 20mins. Then add the lentils along with the water to a pot. Add all the other ingredients except coconut milk. Stir to mix everything. (You need Sri Lankan curry powder for this recipe. Or you can totally skip this. Please don't use any other kind of curry powder)

Now cover and cook in low heat until the lentils are cooked.

When all the lentils are cooked properly, add coconut milk, stir and simmer for a few mins. Adjust the salt if needed. And turn the heat off.

Your creamy red lentil curry is ready.
Tempered Red lentil curry (spicy)
Heat a pan and add coconut oil. When the oil is hot add mustard seeds. When they just start to splatter, add curry leaves, Dried red chilies, and thinly sliced onions. Fry until onions are starting to brown a little bit. Then add your garlic. Fry until they are golden. Add chili powder and chili flakes. Mix and turn off the heat. The chilis fry in the residual heat.

Now add this mixture to the creamy lentil curry which is given above as the first recipe. Mix everything together.

Your tempered lentil curry is ready too.
Dry Lentil curry
For this recipe, you're going to make the tempered lentil curry first. If it's not in a heavy bottom pot already, put the curry into a heavy bottom pot. It's important that you use a pot that can retain heat after you turn off the heat. A clay pot or a cast iron dutch oven would be ideal. Now cook the curry in the lowest setting for about 20 - 30 mins uncovered, until it gets very thick. The time may vary depending on the heat level and your pot. So be watchful and check on it from time to time. Make sure to stir occasionally to avoid burning. When the curry is very thick, leave it uncovered for about 15 mins to settle down. It gets thicker when it cools down. And here's your dry lentil curry.
dal, dhal, lentil, curry, parippu, dal curry, dhal curry, red lentil, red lentil curry, sri lankan, sri lanka, vegan, vegetarian, parippu curry, lentil curry, coconut milk