Curry Leaves rice with vegetables or "Karapincha rice / කරපිංචා බත් an easy, very flavorful, and aromatic dish that can be cooked in a rice cooker or instant pot. A must-try for everyone who loves rice pilaf dishes.
This is another great fool-proof recipe that I leaned from my mom. She learned it from my aunt. Me and my sister absolutely adore this Karapincha rice. This is even famous among all my relatives. If you can get hold of curry leaves I highly recommend you to try this one.
Most Sri Lankans are blessed with a huge curry leave tree in the back yard. Even if you have to buy curry leaves from a grocery store they're not that expensive. So this Curry leaves rice with vegetables is definitely the best bang-for-the-buck recipe you could make for a party. The other best thing is, the rice is very flavorful of its own you actually don't need to make many dishes to go with this. I usually make a meat dish and some crunchy dish for the texture and that's good enough for me. It's such a versatile dish, you can serve it with any dish that can be served with rice.
Curry Leaves
Curry leaves are a very popular and essential herb for south Indian and Sri Lankan cooking. It has a signature flavor and aroma that cannot be replaced with any other herb. If you live outside of these countries you can definitely find this ingredient from Indian grocery stores. I'd also link a tested Amazon link if you're looking to buy online.
For this Curry leaves rice, you absolutely need to have a lot of curry leaves. The ratio I use is 1 cup of rice: 1 cup of curry leaves (without stems). Otherwise, you wouldn't have enough curry leaves flavor aroma, and color. Make sure to grind the curry leaves just before you use them. Because ground curry leaves change the color when you leave it on the counter for long and turn brown. And when you cook rice with discolored curry leaves the rice eouldn't pick up the beautiful green hue from leaves.
Liquid to Rice Ratio
I use an instant pot for this recipe and for me 1.25 cups of liquid ( 1/2 cup coconut milk + 3/4 cup water) is enough to cook 1 cup of rice. If you use a rice cooker or stovetop method I recommend using 1.5 cups of liquid for 1 cup of rice. For the liquid, I use a mix of water and coconut milk. Coconut milk is a must-have as it adds a nice nutty, creamy, and slightly sweet flavor to the rice. The ratio for coconut milk and water can be adjusted to your taste. You can also replace water with chicken stock for more flavor.
Vegetables
I use carrots, cabbage, and either leeks or spring onions. You can use any vegetable of your choice. Make sure to stir-fry them with butter and a bit of salt and pepper before you add that to the rice. Also, you can Julienne, cut into rounds, or even cubes. I'm so used to have carrots as rounds, cabbage julienned and spring onions sliced as mom makes this rice that way. So that's what I do here.
Serving suggestions
My favorite is Sri Lankan black pork curry, Potato curry, and Papadam. You can also serve with grilled chicken and a simple side salad. Karapincha rice, Chicken curry, Potato fry, and papadum is also another favorite of mine.
Products I mentioned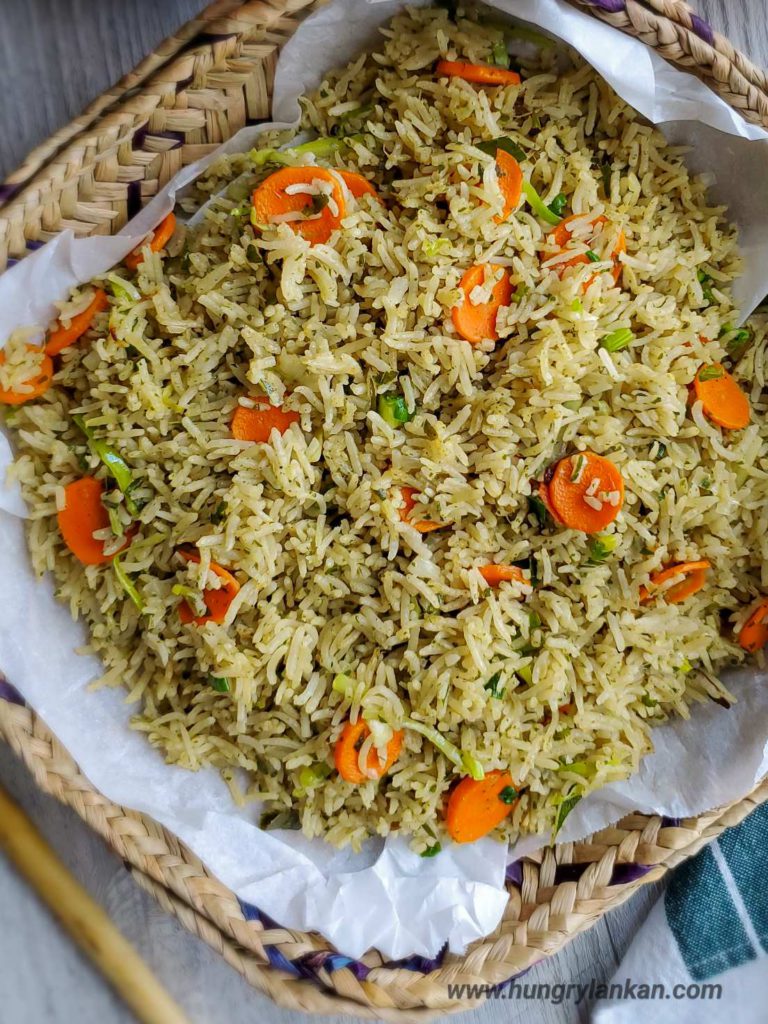 Curry Leaves rice with vegetables
Description
Curry Leaves rice with vegetables is a 30 min, easy, very flavorful, and aromatic dish that can be cooked in a rice cooker or instant pot.
For the rice
For tempering vegetables
Instructions
Cook rice
Crush your ginger and garlic to make a ginger-garlic paste (please do not use store-bought ginger garlic paste instead)

Add your curry leaves along with 1 tbsp of water and to your grinder cup or to the chopper and make a rough paste.

Heat your instant pot or rice cooker. Add 1 tbsp of butter. When the butter is melted add cardamom, cloves, black peppercorns, a cinnamon piece, broken pandan leaf, and saute for few seconds until aromatic.

Then add your ginger garlic paste and mix well with butter.

Add your chopped onion. (You can turn off the instant pot or rice cooker for a minute or two if ginger and garlic starts to burn and stick to the bottom) Saute well with butter and ginger garlic paste. Cook until onions start to turn translucent.

Then add the curry leaves paste. Mix well. Do not cook until they turn brown.

Then add your rice and mix well with the mixture.

Add coconut milk along with water (you can replace water with stock if you want). Use a little bit more water than I mentioned if you're using a rice cooker.

Also, add salt to your taste.

Make sure to taste the mixture. You should be able to taste the salt in the mixture. It would balance out once the rice is cooked. Undersalted rice can result in bland tasting rice. Cover the instant pot/rice cooker and cook rice the usual way you cook white rice.
Make vegetable stir-fry
Heat a pan on the stove. Add 1 tbsp of butter. And then to that add carrots first and saute.

When carrots start to turn tender then add your cabbage. Saute for a few seconds. Do not cook until they turn mushy or brown.

Add a bit of salt and pepper to season.

Turn off the heat and add spring onions or leeks. Mix well. The residual heat is enough to cook them
Mix
When the rice is cooked, add your vegetable mixture to the rice cooker/instant pot.

Mix everything well without breaking the rice grains.
Curry leaves Rice, Karapincha rice, Sri Lankan karapincha, Curry leaves, Rice pilaf, Instant pot rice pilaf, Instant pot rice, කරපිංචා බත්, Rice pulao, South indian pulao, Pilaf, Curry leaves rice with vegetables