Sri Lankan Creamy Potato Curry or "Ala Kiri Hodi" is a must-try coconut milk-based vegan dish that is so easy to make and very comforting.
If you visit Sri Lanka, this is another very common dish that you'd find in every restaurant. I remember my Aunt saying that I must learn how to make creamy potato curry even if I don't want to learn anything else to cook. I quite agree with her statement now. It's the most comforting curry that I can ever make and I can literally pair the dish with anything and make it into a very satisfying meal. And it's everyone's favorite regardless of how old or young they are.
Like many Sri Lankan curry recipes, everyone has their own methods of making this curry. For example, my mom boils the potatoes as a whole and then peels them and adds them to the coconut milk curry. I myself, the lazy one, like to peel the potatoes beforehand, cut them and make the curry in one-pot. So I get one less dish to wash. Despite the method, everyone uses pretty much the same ingredients, which are very easy to find.
A few tips to get this curry right:
Use Sri Lankan unroasted curry powder. If you can't find it use just a little bit of a mild curry powder you have or omit this ingredient. Please do not use any strong curry powders in the recipe. It would dominate the curry and you wouldn't get that sweet subtle flavor from the curry that we are looking for here.
Do not use starchy potatoes like Russet (potatoes that commonly use in baking and for fries). They tend to become mushy quickly. Use a good waxy potato variety. I use Yocon gold potatoes.
Curry leaves and pandan leaves add a unique aroma to the dish. And they also add a very subtle green hue to the curry. Be generous with your curry leaves and pandan leaves.
Green chili is the only hot ingredient I use in the recipe. If you like your curry to be hotter then add more green chilies. I'd highly recommend adding at least a small piece of green chili since it contributes to flavor and color too. I promise you this curry is not going to be spicy.
Fenugreek seeds thicken up the curry and have good health benefits. So traditionally when we Sri Lankans make a curry with a lot of coconut milk we add this ingredient. But if you can't find it, you can totally make this creamy potato curry without them.
If you want a thicker curry then you can reduce the amount of coconut milk you add or cook the curry down until you get the desired thickness. But if you want a thinner curry with a lot of broth/curry then add more coconut milk than I've mentioned.
Do not over boil your potatoes as they become mushy when they're overcooked. Boil until they are just fork-tender and then add your coconut milk.
Do not stir the curry vigorously as it might break the potato pieces and make a mushy curry. Make sure to use a somewhat bigger pot so you have space to gently stir the curry.
Gently stir the curry continuously when it starts to simmer. High heat curdles the coconut milk. so you need to keep stirring it. If you're a beginner then move all the potato pieces to the sides and stir only the middle. So you won't touch and break your potato pieces.
Make sure your curry is somewhat cooled down if you add lime juice as it might curdle coconut milk when you add that while the curry is still hot. This is step is totally optional. I only add lime juice to this creamy potato curry if I'm going to serve it with bread or string hoppers.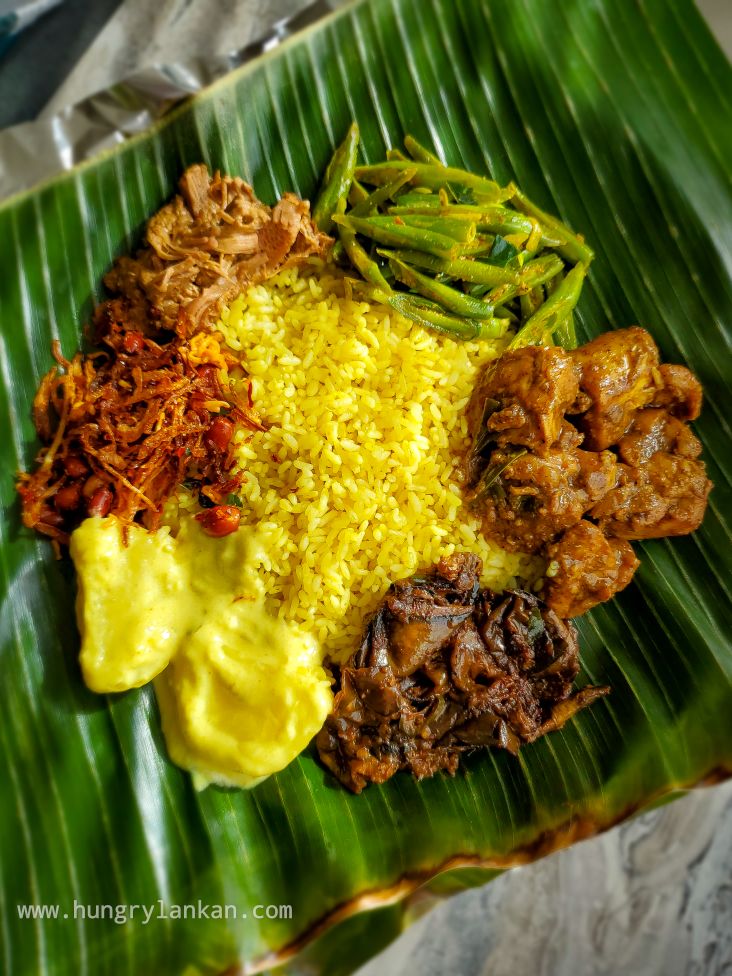 Serving Ideas:
I love to serve this Sri Lankan creamy potato curry with Yellow rice, a chicken dish, eggplant moju, and green beans.
Another good menu is Bread or string hoppers, coconut sambol and creamy potato curry.
You can also serve with white rice and other curry combinations, roti ( coconut flatbread) or Pittu/Puttu.
The amount I've given here is enough for 4-5 medium-size portions with roughly 3 pieces of potatoes for each person. If you want to have only this curry with bread or rice then this is enough for about 3 people.
Affiliated Links to the products I use:
If you like this Creamy potato curry, you might like this spicy potato curry recipe too. Also, check out this Potato curry buns recipe which is another popular recipe on the blog. And don't forget to leave a comment and give me your feedback too.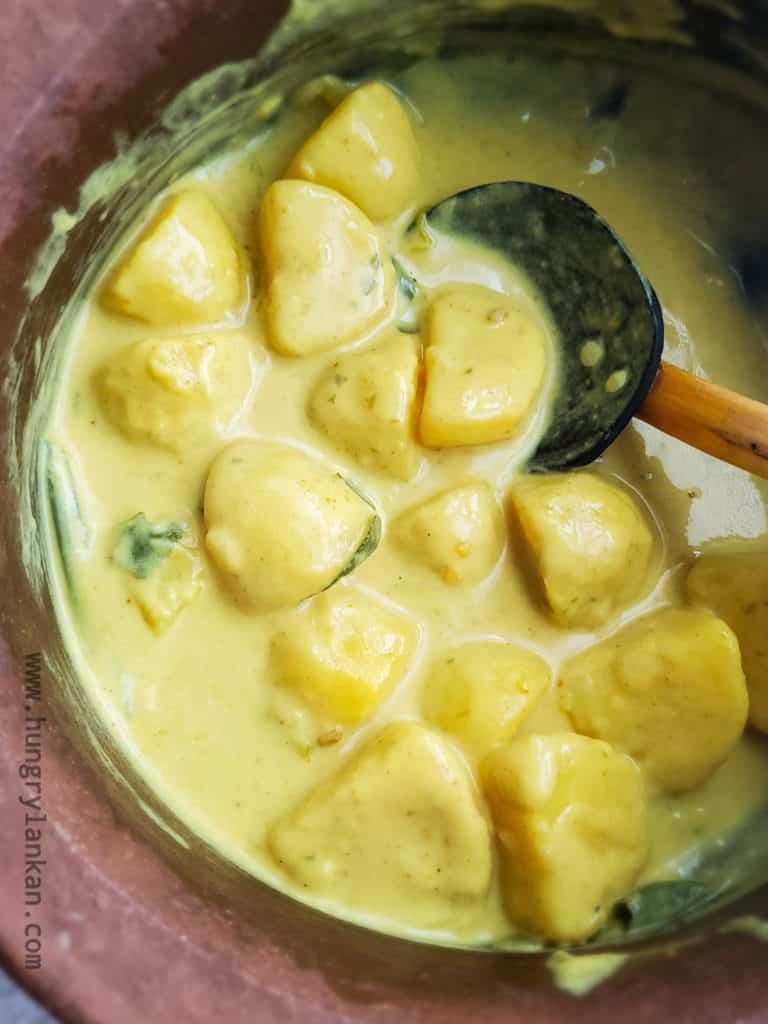 Sri Lankan Creamy Potato Curry
Description
Sri Lankan Creamy Potato Curry or "Ala Kiri Hodi" is a must-try coconut milk-based vegan dish that is so easy to make and very comforting.
Instructions
Wash and peel the medium size potatoes (a waxy type like Yukon gold potatoes is preferred). Cut them into quarters or to 6 pieces of your potatoes are on the bigger side. Make sure all the potatoes are roughly equal in size.

Then put them into a deep saucepan or a pot.

Add all the ingredients except water, thick coconut milk, and lime juice. 

Then add your water and mix well. You might want to adjust the amount of water depending on the vessel and the number of potatoes you use.

Cook covered until the potatoes are fork-tender. This means you should be able to poke the potatoes with a fork without much resistance. It's okay to have about ¼ cup of water left. If you have more water than that then crank up the heat and leave the pot uncovered and let the water evaporate. If your potatoes are still not cooked and all your water has evaporated then add some water, cover the pot, and cook until potatoes are done. Do not overcook your potatoes otherwise, they would become mush. So keep an eye on them and check the doneness of your potatoes from time to time.

Now lower the heat and add your thick coconut milk. 

Mix gently without breaking your potatoes. Bring the coconut milk to simmer. And then keep gently mixing the curry continuously for about 5 mins without breaking potatoes so your coconut milk wouldn't curdle. Make sure you taste the curry and adjust the salt too.

 

Turn off the heat and keep stirring it gently until the curry cools down a little bit.

Then squeeze a few drops of lime juice. (this step is totally optional) it thickens up the curry just a little bit more, helps to cut through the creaminess.
Ala Kiri Hodi, Potato curry, Sri Lankan potato curry, Sri Lankan Ala kiri hodi, Vegan curry, Dairy free potato curry, Vegan potato curry, Potato curry, Sri Lankan curries, One pot curry, Vegetarian curry