142 Views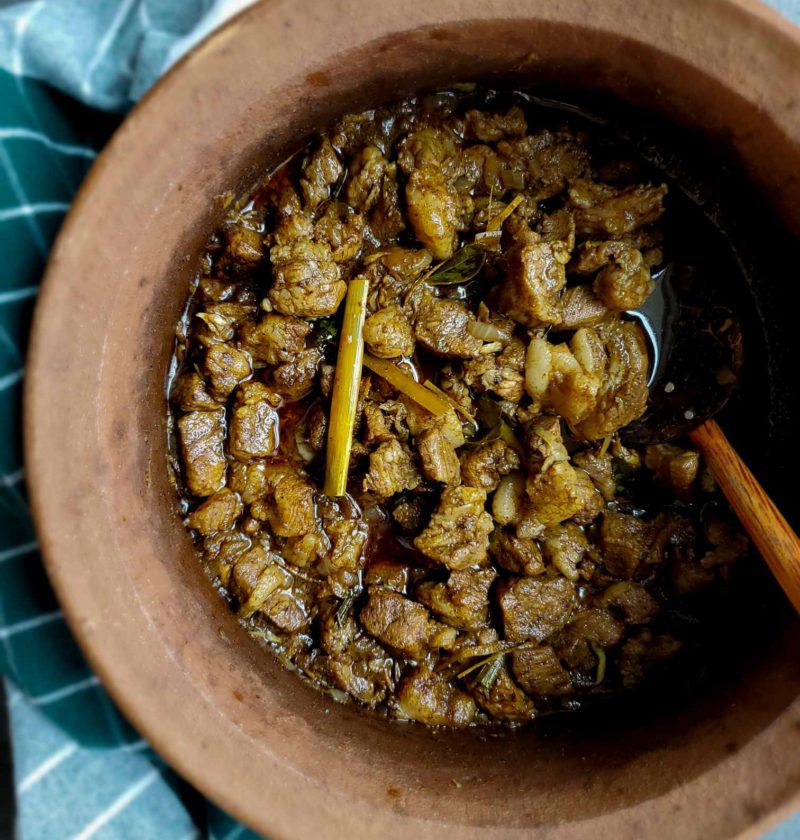 Yields:

4 Servings
Difficulty:

Easy
Prep Time:

15 Mins
Cook Time:

1 Hr
Total Time:

1 Hr 15 Mins
Black pork curry is the most famous Sri Lankan pork dish that everyone loves. The fatty pork pieces cooked in aromatic spices in low heat for a long time until they melt in your mouth. Try this curry once, you're gonna think of this curry every time you see a piece of pork.
I've been trying to perfectionate this Sri Lankan black pork curry for a really long time. I wanted to make my black pork curry with easily available Sri Lankan spices rather than trying my homemade curry powder blends. I wanted the texture of the pork curry to be very very tender. And the sourness to be balanced perfectly. And most of all I wanted it to be black in color at the end. I tried different curry powder blends, different sour ingredients, and different spice roasting methods for this. And this recipe right here clicks all those boxes for me.
To get the curry right, you need to follow a few things right.
Get a good cut of pork that has good fat content. Avoid lean pork cuts such as tenderloin. My recommendation is a pork butt. It's actually the pork shoulder that people refer as pork butt. (Interested to know why? Read this article I found. https://applestonemeat.com/pork-butt-not-butt/)
marinate the pork pieces ahead of time. The acidity helps to make the pork tender.
cook the curry low and slow. So start making the curry ahead of time. Slow longer cooking helps to develop the black rich color that we all love. You can either cook the curry until there isn't any gravy left. If you love some gravy turn the heat off a little earlier.
Roast the spices until the spices become really dark brown. I have noticed adding salt reduces the amount of smoke that produces. Make sure to lower the heat when you roast the spices otherwise you'd burn them. which would make the curry taste bitter. Turn off the heat if the pot is too hot.
Goraka or Garcinia Cambogia pasta is a must in this recipe. It has a unique sour taste. It also tenderizes the meal. You can use white vinegar as a substitute if it's hard to find Garcinia.
Serving ideas:
You can pretty much serve this with anything. it's a very versatile dish.
My favorite way is to have this Sri Lankan black pork curry with coconut sambol, lentil curry, and bread.
For a party menu, I serve this curry with yellow rice, spicy potato fry, Lenti curry, and a salad.
Also, you can also make the curry dry and use it as a sandwich filling or a wrap.
If you're a pork lover, this is a must-try recipe. I hope you give it a try and let me know how it went.
Adjust Servings
Marinade the meat

Other ingredients
marinate the pork pieced with all the marinating ingredients given in the list above. Let it marinate for at least 30mins to oven night in the fridge. ( longer marination is better)

Crush ginger and garlic in mortar and pestle to a rough paste.

Crush the lemongrass piece with the blunt side of your knife to release the oils.

Heat a pot and add coconut oil. When the oil starts to heat up add 1/4 tsp salt, chili powder, and unroasted curry powder. Fry them until the spices become dark brown to almost black. Turn off the heat if it's smoking too much. Stir continuously.

To that add crushed ginger and garlic, pandan leaves, curry leaves, lemongrass. Mix well with the spices.

Then add chopped onion and mix well with everything else. Saute for about a minute.

Add the marinated pork pieces to the pot. Mix well with the onions and spice mix. Saute for about a minute.

Then add 1/4 cup of water. Mix. Cover and cook on very low heat.

In about 30mins, taste the gravy and see if it has enough salt. If not add a little bit more. Cover again and cook until you get the desired amount of gravy. The longer you cook, the more darker it gets. Make sure to cook it in very low heat and stir in between to avoid burning the bottom.

You can cook it until there's no gravy left and serve it as dry curry too. I'm attaching a photo from a different time I cook pork using this same recipe. Just to show you that you can cook it this way too.