This classic Sri Lankan Chicken Curry is the most popular meat curry in all Sri Lanka. The star of all the Lankan parties and gatherings. And the base of many other Sri Lankan dishes.
If you love Sri Lankan food and hot and spicy curries, you got to give this lip smacking, authentic chicken curry recipe a try. It's spicy, slightly tangy, aromatic and so so good. And goes with literally any Sri Lankan rice and curry menu, bread, kottu, roti, string hoppers, hoppers, or pittu. Oh the possibilities are endless. 
Here are a few tips that make a good chicken curry a really great one.
The base of a great Sri Lankan Chicken Curry is good quality ingredients.
Get good quality new chicken from your local butcher. They taste way better than the frozen chicken you get from the grocery store.
Make roasted curry powder at home if possible. A good roasted curry powder makes a really big difference.
Use bone-in chicken. Bones add more flavor to the broth. And keep the meat from drying out. 
Use thighs and legs if possible. Thighs and legs have more fat content thus it's more flavorful and tender and moist when you cook.
Marinade chicken overnight. The chicken would get more tender with the tamarind in the marinade. If you're in a hurry and don't have enough time to marinade overnight make sure to marinade at least 30mins.
Chop your onions and tomatoes fine. They would disintegrate to the curry as it simmers. Which will add more flavor and also thickens up the curry.
Be generous with cardamom, cloves, curry leaves, and pandan leaves. And if you can find lemongrass, bruise it and add it to the curry too. Unfortunately, I don't have lemongrass. But it adds a nice citrusy aroma to the curry.
When you add cardamom and cloves, make sure to use the whole cardamom and cloves and powder them rather than using the powdered cardamom and cloves from the store.
Simmering the curry for about 45mins is very very important to get the meat tender and to get the broth flavorful. You really can't make good chicken curry in a hurry.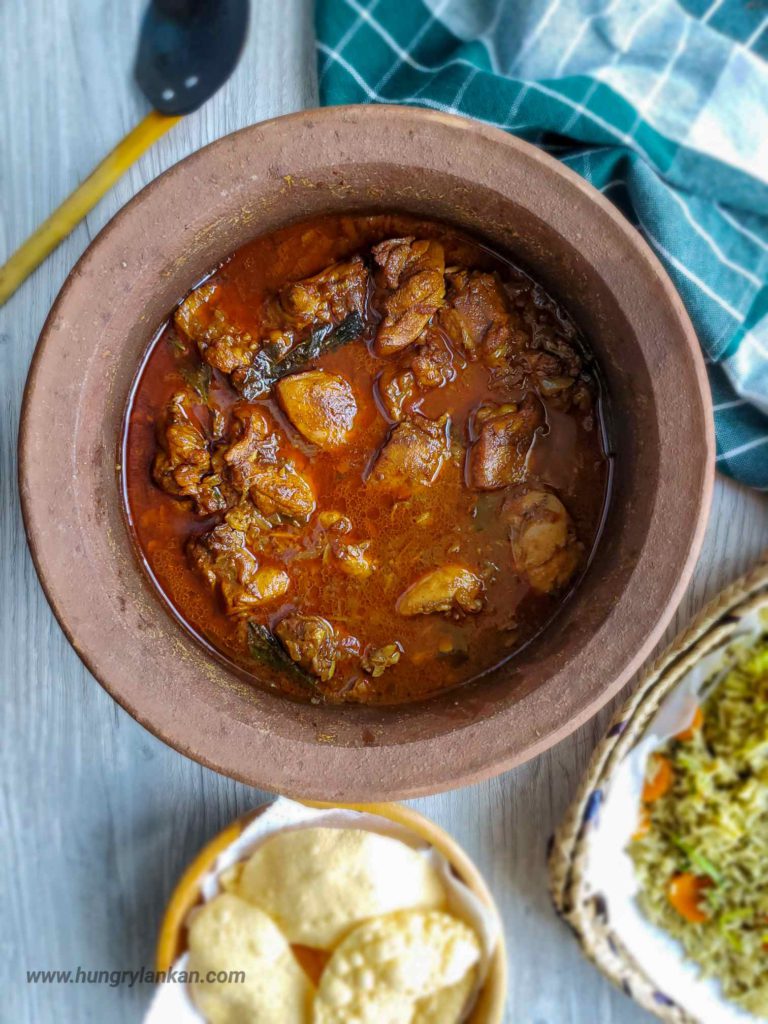 Substitutions:
I make the tamarind paste from fresh tamarind. To make it for the marinade, use 4 pieces of tamarind and dissolve that in about a tbsp of water. and discard the seeds. Alternatively you can use readymade tamarind paste from the grocery stores. If you can't find tamarind, then use 2 tsps of white vinegar as a substitiute.
Garcinia cambogia or Goraka adds a really unique sourness to the curry. But it can easily overpower if you use more. So use just one piece and if the curry needs more sourness you can adjust that with a bit of tamarind paste when the curry is simmering. If you can't find this ingredient, use more tamarind paste.
I use water for a lighter curry. You can substitute water with thin coconut milk for a creamier curry. If you use coconut milk from a can make sure to dilute it with water to make thin coconut milk.
Serving Ideas:
You can serve this chicken curry with any kind of bread along with coconut sambol and red lentil curry. That's my favorite way to have this. Another popular combination is chicken curry and coconut roti. You can also serve with yellow rice or any rice and curry menu.
Here are the products I mention in the recipe (Affiliate links)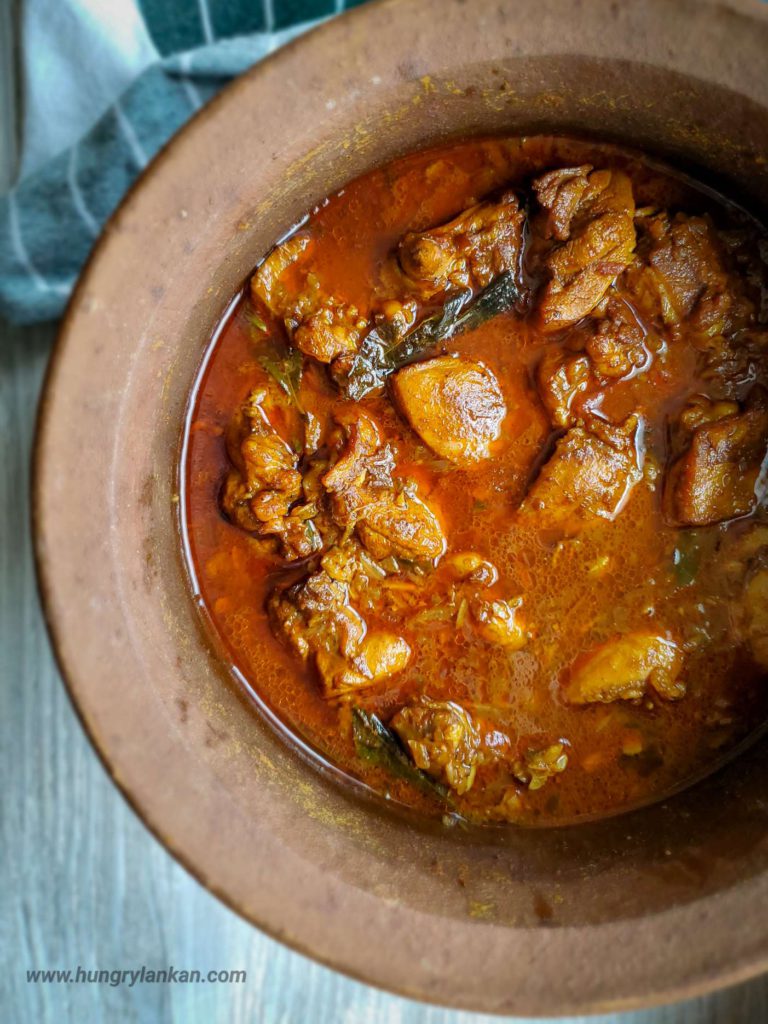 Sri Lankan Chicken Curry
Description
This classic Sri Lankan Chicken Curry is the most popular meat curry in all Sri Lanka. The star of all the Lankan parties and gatherings. And the base of many other Sri Lankan dishes.
To marinate chicken
Other ingredients
Instructions
Marinate chicken with all the marinating ingredients given in the list overnight or at least half an hour.

In a mortar and pestle, grind cardamom and cloves. You can remove the shells. 

Then add ginger and garlic into the mortar and pestle and crush them to a coarse paste.

Heat a pan. (clay pots are ideal, if not use any heavy bottom pan) Add the ginger-garlic paste you made in the previous step. Also, add curry leaves and pandan leaves.

When the mixture starts to turn brown add roasted curry powder and roasted chili powder. Mix and toast well in the oil for about 30 seconds. Do not let the spices burn.

Add the piece of goraka (Garcinia cambogia) onions and tomatoes. Mix well with the spices. Lower the heat. 

cover, and cook until onions start to sweat and tomatoes become mushy. Make sure to mix in between to distribute even heating and avoid the bottom from burning.

Then add your chicken and mix really well. Cook for about a minute while continuously stirring.

Add a cup of water (you can substitute it with thin coconut milk for a creamier curry). Cover and simmer for 30mins on low heat.

In 30 mins, adjust salt to your taste and also add about 1/2tsp of black pepper. Mix, cover back and simmer for another 15mins.
Sri Lankan chicken curry, Spicy chicken curry, Sri Lankan meat curry, Chicken curry, Kukul mas curry, Authentic Sri Lankan Chicken curry, Authentic Chicken curry