Sri Lankan-inspired, this Arugula or Rocket – coconut salad is a healthy and delicious recipe that you definitely should try. Even if you're not a fan or Arugula, you're going to love this salad.
In Sri Lanka, it's a very common practice to add freshly grated coconut to green salads. We call these coconut mixed salads "Sambola" and one of my favorites is Sri Lankan Gotu kola Sambola. But now I live outside of my country, finding the familiar greens is not very easy. So I found a few greens that are common in the grocery stores in the US but can make into these Sambola or salads.
What are the other greens I can use?
I've made this same salad with a few other greens. My favorites so far are young kale, young reddish greens, and parsley. Apart from greens, you can make this same salad with some veggies too. Check out my Sri Lankan carrot salad if you're interested.
Ingredients and Substitutions:
Arugula:
This is also known as Rocket in some countries. Has a peppery flavor with a hint of tart and bitter flavor to it. Also somewhat strong in smell. Lime in this recipe helps to mask the bitterness and reduce the nutty smell.
Grated coconut:
This could be an ingredient that you're having a hard time finding. In Sri Lanka, we use freshly grated coconut. But if you live in another country where coconut is not a common ingredient, check out Indian grocery stores in your area. You'd probably be able to find frozen coconut that comes from Thailand or India. You can use unsweetened desiccated too. It's not the best option but it works. You have to rehydrate it first though. Add a little bit of water and then mix with a spoon and microwave for about 20 seconds.
Pearl onions:
We use Asian shallots in Sri Lanka. They're strong but much much smaller than the Shallots I get from grocery stores in the US. The best substitute for Asian shallots I find is pearl onions. But red onions, yellow onions, shallots, they all work.
Green chilies:
I use a green cayenne here. the chili flavor greatly contributes to the overall taste of this dish. But if you're not into hot food, you can totally skip it or use a milder green chili or jalapenos.
Tomatoes:
In most Sri Lankan green salads, tomato is optional. Some people like it, some people don't. But for me, tomatoes go so well with this Arugula salad, so I use it. You can use any tomato variety of your choice.
Lime juice, Black pepper, and salt:
You can also use lemon instead of lime. Adjust all three of these ingredients to your preference. Mix all of them together first with coconut, then taste and adjust. You can them directly to your greens too but then you have to be careful not to overmix and bruise your greens.
Optional ingredient for non-vegans:
You can add Maldive fish flakes to this recipe and it would add a nice umami taste and a different texture. This is a very common ingredient in Sri Lanka that we add to sambol/salads.
Important info and tips:
You don't have to follow the exact measuments for this recipe. If you love more greens add more greens. If you want coconut add more coconut. The recipe is very easy and forgiving.
Mix the salad greens and tomatoes with your other ingredients (especially with salt) just before you serve it.
Use a very sharp knife when you cut the greens. You can cut them into any size of your choice. In Sri Lanka, it's a common practice to cut the leaves very thin. Which makes them mix with the rest of the ingredients better, easy to eat, and taste better.
Hold your greens as a bundle on your cutting board. This way it's easeir to slice them.
Do not bruise your greens when you cut them. Which can make them taste bitter.
Use your hands to mix coconut with shallots/onions, chilies, black pepper, like, and salt. Squeeze everything together with your fingers for better mixing.
After adding the coconut mix to the greens, lightly mix with a spoon or using fingers. Do not over mix and damage the chopped-up leaves.
Serving ideas:
My favorite way is to serve along with rice and curries. One of my favorite Sri Lankan menus is White rice, red lentil curry, Chicken with toasted coconut or beef curry and, this healthy Arugula salad.
I also love this vegan menu which has Arugula salad, Creamy potato curry, young jackfruit curry, okra stir-fry and white or yellow rice.
You can also serve this with grilled meat as a side salad.
The amount I have given is enough for 1 – 2 people.
Products I mentioned: (amazon affiliated links)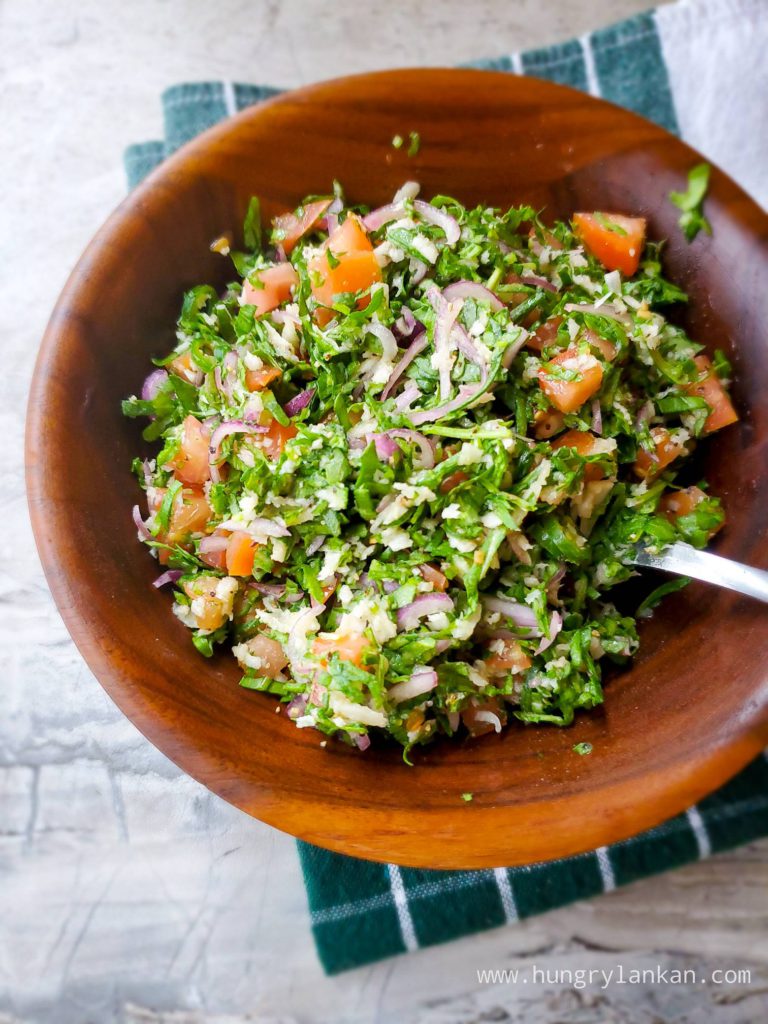 Healthy Arugula Coconut Salad
Description
Sri Lankan-inspired, this Arugula or Rocket - coconut salad is a healthy and delicious recipe that you definitely should try. Even if you're not a fan or Arugula, you're going to love this salad.
Instructions
Add grated fresh coconut into a small bowl. Thinly slice pearl onions and green chili and add them to the same bowl.

Slice Arugula leaves. Dice tomatoes. Add them to a separate bowl. (You can chop the Arugula too instead of slicing)

Add black pepper, lime juice, and salt to the coconut bowl. Mix everything very well with your fingers. Taste some coconut and adjust salt and lime for your taste.

When you're ready to serve, add coconut mixture to the leaves and tomatoes. Gently mix everything. Taste and adjust seasonings if needed. 
Salad, Sri Lankan, Arugula, Arugula coconut salad, Easy salad, Quick salad, Vegan salad, Vegan, Gotukola