Slow-cooked young jackfruit curry aka Sri Lankan Polos curry is one of my all-time favorite curries. Both as a kid and as an adult. This is one of the best meat alternatives you'd ever find.
Polos or young jack fruit is highly popular in Sri Lanka and you can find them almost anywhere in the country. We pick jackfruit from our own backyard. If you look for any Jack fruit recipes, go for a Sri Lankan one. Trust me, Sri Lankans are experts in making various dishes with them. We have jack fruit dishes dedicated for all of its growing stages. For example, This polos curry and polos cutlets when they are very young. Polos Mallung when they are a little matured but not quite enough (Mallung is a lightly cooked salad with grated coconut and some aromatics, spices, and chilis). And then famous Sri Lankan Kiri kos curry when they're fully matured but not ripened. Well, ripened jack fruit doesn't need any cooking. It's an amazing sweet treat on its own.
Is slow-cooking necessary?
The old and traditional method to make Polos curry is on a wood-fired stove, on very low heat, overnight. That's how grandmas made the curry when gas stoves are not popular. That slow-cooking makes the tough young jack fruit very tender and they actually get a pink-red hue from slow-cooking which makes the curry very appealing. And spices, salt, and sour to penetrate the jack fruit pieces and make them super flavorful. Coconut milk slowly breakdown into fats and solids and that fat keeps them from drying out from longer cooking. Also adds a nice creaminess to the curry. And roasted coconut gives a nice hint of sweetness that balances out the sourness from dried Garcinia cambogia (Goraka) Wood-fired stoves also give them a nice smoky flavor.
I know it's not very practical to make them on wood-fired stoves nowadays. But luckily you can get almost similar results with slow-cooking. My preferred method is to use a slow-cooker or a slow-cooking option on my instant pot.
That being said, there are sooo many ways people make this Polos/young jackfruit curry. For example, many people use the pressure cooker in many ways to make Polos curry. Some people pressure cook/boil the whole jackfruit or cut up pieces first to soften it and make the curry as usual which saves time. I also make the curry in my pressure cooker sometimes but this slow-cooking method is by far my favorite.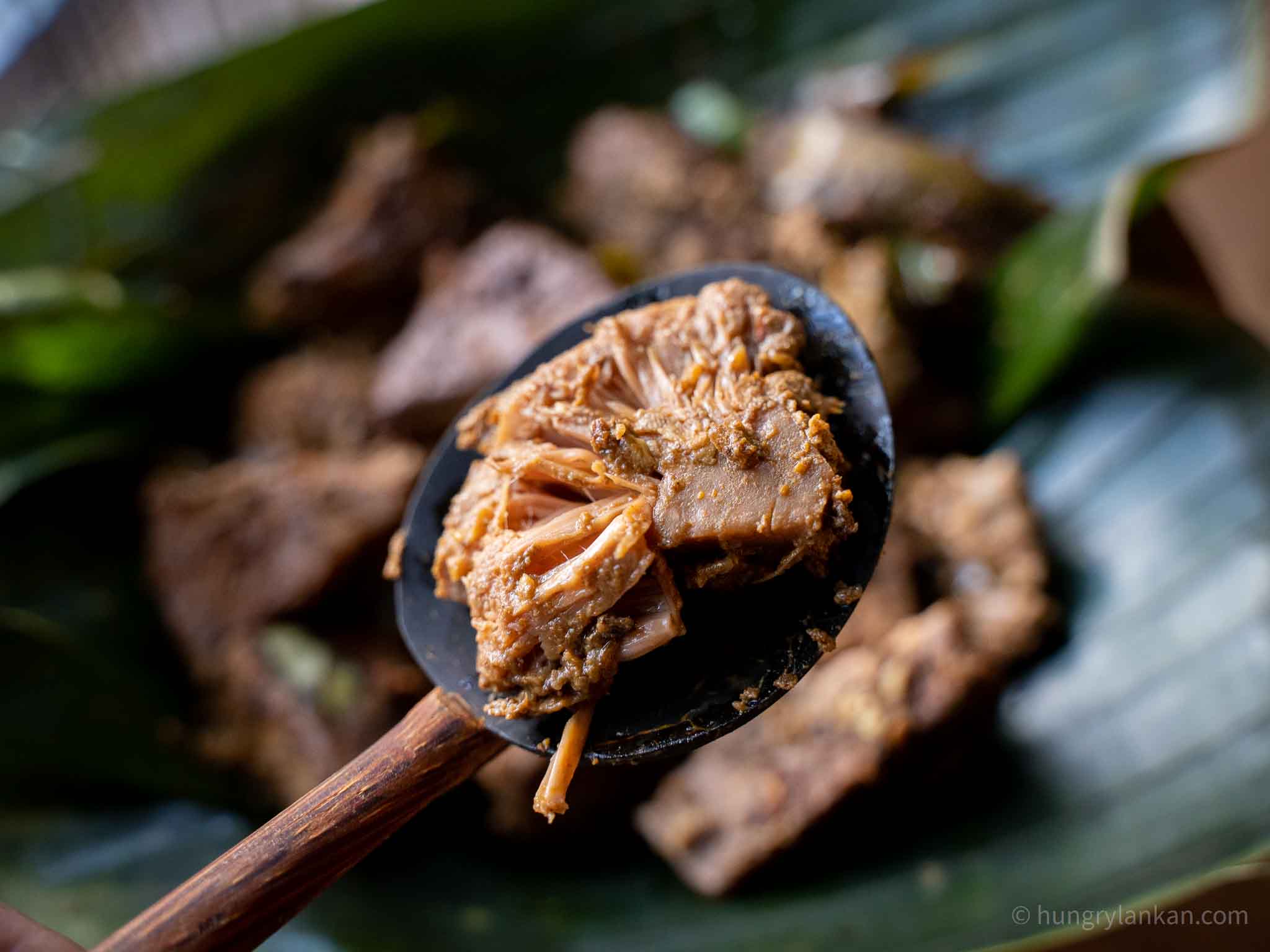 Some tips and recipe notes:
This curry is actually a dry curry. This means this doesn't have much gravy/liquid. You'd get a very thick gravy that would look like a Pâté. we call "Borey" in Sri Lanka. For me, that gravy is the best part of this curry. It's a concentration of all the flavors. But if you want more liquid or thinner gravy then add 1/2 or more thick coconut milk.
I use canned young jackfruit as it's the only way I can buy jackfruit from where I live. But honestly, you wouldn't notice any difference when it's cooked.
I use canned coconut milk as it's very thick and also that's what is available for me. Traditionally you use freshly squeezed coconut milk. You can use that too. But keep in mind that freshly squeezed coconut milk has a higher percentage of oil so your dish would have more oil than you see here. And make sure you squeeze your coconut milk into a highly concentrated one with less added water.
When you roast coconut, keep mixing it continuously on the pan. They can go dark brown to burn in a very short amount of time. Also, try to use fresh/frozen grated coconut if possible. You can use desiccated coconut but they lack in flavor and aroma.
Traditionally you put many slits to the jack fruit pieces so the salt and spices can penetrate. Since we use canned where jack fruit pieces are thin and small, I recommend you skip this step. This can break the pieces and separate the strings as you slow cook for 12 hours.
After 12 hours, minimize the mixing of the curry as low as possible. use a silicone spatula to turn and move the pieces, if you have one.
How to cook this in traditional Crock-pot?
Crock-pots don't have a saute function. So if you're using a crock-pot, do the sauteing in a pan on the stove separately and then add everything to the crock-pot along with coconut milk and cook for 12 hours in low heat.
Can I make it vegan?
Absolutely. Maldive fish flakes are optional in this recipe. I add it because my mom always used to add Maldive fish flakes for some extra umaminess. You can skip that without any problem. It's a hard-to-find ingredient in the US so 99% of the time I make the curry without it.
Serving Ideas:
My favorite and the simplest way to enjoy a good slow-cooked young jackfruit curry/polos curry is with warm white rice (preferably a Sri Lankan variety like "Keeri Samba" or "Kekulu" which refers to newly harvested rice), Sri Lankan coconut sambol, and red lentil curry. it's a classic Sri Lankan menu that everybody loves.
Great as a sandwich filling too. I recommend lightly mashing them before you use them in sandwiches.
Can use as a meat substitute for your rice and curry menus.
Products I Mention (Affiliated Amazon links)
Some of these products could be from a different brand as I can't find the exact brand I used. But the ingredient is the same.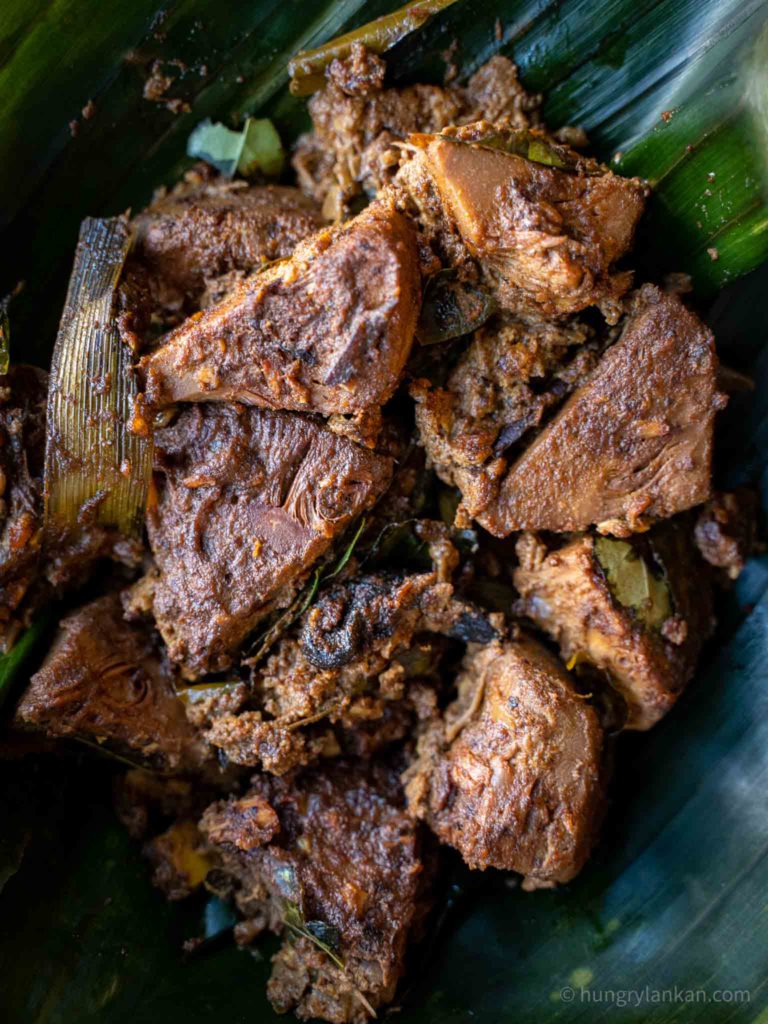 Slow-cooked young jackfruit curry
Description
Slow-cooked to perfection. This Sri Lankan young jackfruit curry aka Polos curry is so full of flavor and the pieces are so tender. A must-try Sri Lankan dish.
Instructions
Turn on the saute function in your instant pot/multicooker. Add coconut oil. Also add Sri Lankan unroasted curry powder, chili powder, and about 1/2 tsp of salt. Toast the spices in oil for about 10 seconds until they become fragrant and a little darker in color.

If the spices start to stick to the bottom, turn off the instant pot. The residual heat is enough for the rest of the ingredients.  Add curry leaves, pandan leaves, garlic, ginger, onion, Goraka/Garcinia, cinnamon, coconut slices, Maldive fish flakes and saute until onions become soft.

Then add your young jackfruit pieces. Mix well with the spices.

Add coconut milk*. Taste the curry and add salt if it needs any. (I add about 1/4 tsp salt, totaling roughly about 3/4 tsp salt for one can of young jackfruit). 

Seal the pot. Slow-cook for 12 hours on low temp.

While the curry is cooking, dry roast the grated coconut in a pan until they become dark brown.

In a mortar and pestle or in a spice grinder or blender, grind the roasted coconut until they become a rough powder. 

When the time is up, turn off and quick release if you're using an instant pot. This is how the curry looks like after being slow-cooked for 12 hours on low.

Add toasted coconut to the curry. Mix gently without breaking the pieces. 

Turn on the slow cooker mode again and set the temp to low. Cook the curry uncovered with the lid for about 20 - 30 mins more. Until the curry gets thicker. Make sure to gently move the pieces from time to time with a spatula. This would stop the bottom of the jackfruit pieces from roasting or sticking to the pot. Optional step: add a few broken curry leaves for the aroma.

Turn off the instant pot when you get the desired thickness of the curry.  The curry would be even thicker as it cools down. This curry can last about 5 days in the fridge.
Notes
Curry leaves I find in the US are twice as big as the curry leaves I get in Sri Lanka. If you're using small curry leaves, use two sprigs.
Goraka or Garcinia is also known as Brindle Berry or Malabar Tamarind. It has a very unique sourness to it and uses in many Sri Lankan curries, in dried form.
I add a cup of thick coconut milk directly out of the can because I like to cook my curry as a dry curry. But if you want more liquid in your curry then add more coconut milk. 
Polos curry, Young jackfruit, Jackfruit, Meatless, Slow-cooker, Instant pot, Crock pot, slow cooker recipes, Sri Lankan traditional curries