Quick and easy, this healthy vegan stir-fried okra dish is a favorite in my house. The best thing is you can either make this dish without slime or with slime. It all depends on the ingredients and the way you prepare it.
Okra is a very nutritious vegetable that many people avoid buying but I think that's because they don't like the slime or don't know how to deal with slime. We, Sri Lankans, love okra and we prepare them in many different ways. We have dishes that complement the slimy texture, like okra curry, and then dishes that have no slime at all, like fried okra salad. This easy okra stir-fry recipe can fall into either one of them depending on the way you prepare it.
Okra Slime
Some people don't like the slimy texture and some people do like it. I fall in the middle. I love some dishes with slime and some without slime. With a few tricks, you can either reduce the slimy texture or bring it out. I have a few tips that work for me and these tips are not just for this recipe but you can apply them to any okra recipe you prepare. Choose either one of those methods or a few that you like to go with the dish you make.
To reduce the slimy texture:
Wash your okra before hand and then let them dry before you cut them. Do not wash okra after you cut them.
Cut the okra diagonally so more surface touches the pan. Which means more slimy areas get exposed to heat. Also, you can cook the vegetable quickly without drying it out.
Add a little bit of vinegar or Garcinia cambogia (aka goraka).
Cooking in high heat.
Cook it uncovered to reduce the moisture as moisture brings out the sliminess.
Use a bigger pan for more surface area and even heat distribution.
Deep frying or air-frying okra before you make the dish. This enhances the flavor too.
Careful not to break them too much when you stir or mix. More cells you break more slime you're going to see.
For this recipe, specifically, I let the okra sit on the pan without mixing so the bottom part of it gets caramelized a little bit. This helps to reduce the slimy texture and also massively enhances the flavor.
To bring out the slimy texture:
Do not cook in high heat. Low and slow cooking brings out the slimy texture.
Keep the pieces chunky and cut them straight.
Cook the dish covered to keep them from drying out. Also adding a little bit of water/coconut milk to your stir-fry helps to bring out the slime too.
Reduce the amount of acid you use in the recipe. If you want to add a sour element to the dish, tomatoes are a better option than vinegar, lime/lemon or garcinia cambogia.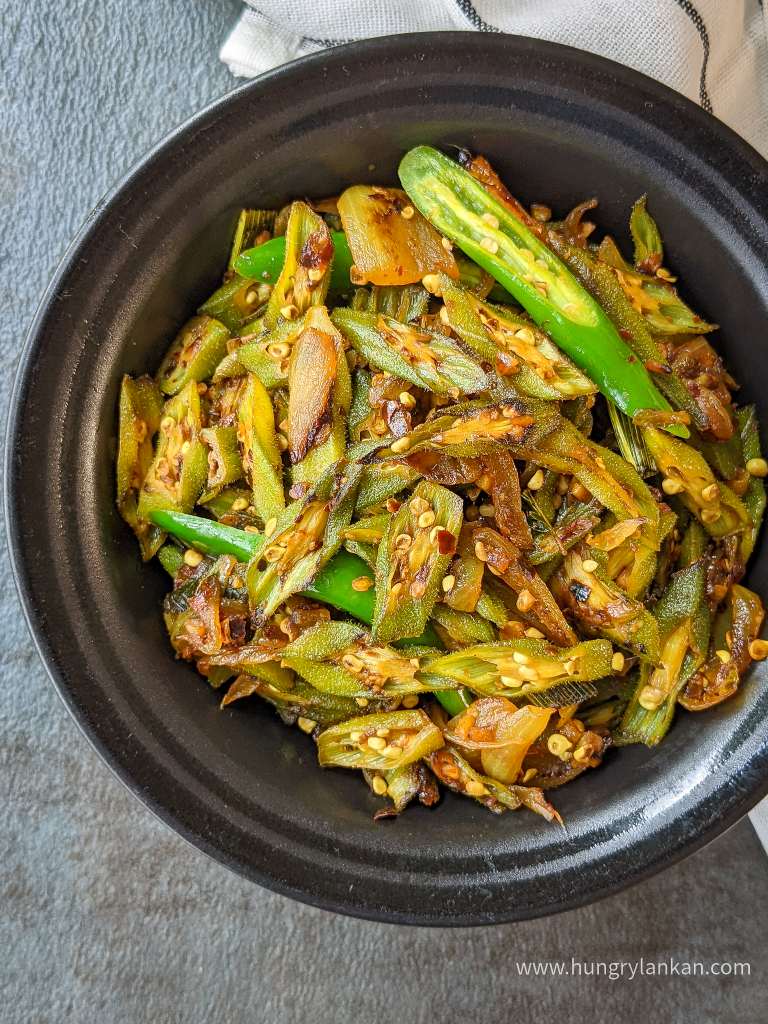 Ingredients and substitutions:
Most of the ingredients I've used here are pretty easy to find anywhere in the world. But you might have a hard time finding curry leaves and pandan leaves. These two are very common ingredients available in Asian countries. I get mine either from Indian grocery stores or Vietnamese or Chinese grocery stores. You can order from Amazon too. I'll add the link below. They add a really nice aroma to the dish. If you can't find them, it's okay to skip them.
I'm Sri Lankan and I love my food spicy. That's the reason I use a lot of chili flakes in the recipe. If you don't like spicy food definitely reduce the amount you use.
The green chilies I'm using are a non-spicy kind. Any non-spicy chilies would work here. I add this specifically for the appearance and chili aroma.
Serving suggestions:
Goes very well with rice.
If you're looking for an easy vegan meal to serve this okra stir-fry with, the simplest menu I have is Sri Lankan creamy red lentil curry, Okra, and rice. For a non-vegan meal add Chicken curry, beef curry, or black pork curry to the menu.
Another vegan Sri Lankan menu that I really really like is what's on the photo I've attached below. Which has spicy red lentil curry, young jackfruit curry, fried bitter gourd salad, okra stir-fry, and fried papadums and chilies. A great guest menu too.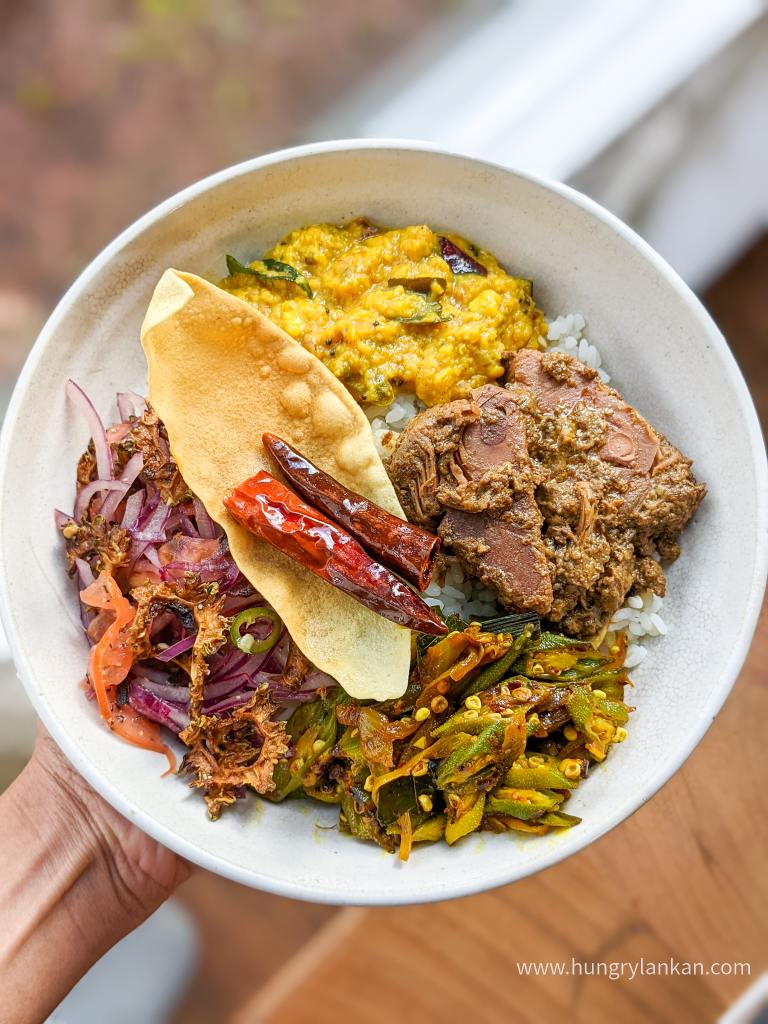 Amazon Affiliate links for the products:
Easy Stir-fried okra (Vegan)
Description
Quick and easy, this healthy vegan stir-fried okra dish is a favorite in my house. The best thing is you can either make this dish without slime or with slime. It all depends on the ingredients and the way you prepare it.
Instructions
Clean and cut off the hard tip of the stem. cut okra into about 1/2 cm diagonal slices. This will allow the okra to expose to more heat and cook quicker.

Heat coconut oil in a large nonstick skillet. Add the pieces of cinnamon first. Then add curry leaves, pandan leaves. When they splatter add your finely chopped garlic and saute. 

When the garlic starts to get brown, add sliced onion. Reduce the heat and saute until they start to get translucent. 

Now add turmeric powder, chili flakes, coarse ground black pepper powder, and a little more than half a tsp of salt. You can add more salt later.

(please adjust the amount of chili flakes you use to your preference.)

Saute for about 30 seconds. Mix your spices well with the onions.

Turn up the heat to medium high and add okra. Mix really well. 

Now spread your okra across the whole pan and let them fry a little bit without mixing. When the bottom pieces start to turn golden a little bit, give them a quick toss. Do the same process again once more. You don't need all the pieces to turn brown or golden but those caramelized okra and onion pieces add so much flavor to the stir-fry.

Add white vinegar and mix it well with okra. This will help to reduce the sliminess and will balance out the sweetness from caramelized okra and onions.

Optional: Add green chilies and mix well to add some color.
Sri Lankan, Okra, Stir-fry, Vegan, Quick meals, Vegetables, Sri Lankan okra stir-fry, ladies fingers, bandakka