Starting out my first food blog post with the best recipe I can think of that everybody would love, Sri Lankan Spicy potato curry. who doesn't like potatoes? And who doesn't like a delicious vegan, creamy, healthy one-pot curry that can literally eat with anything? Yes, anything! You can dip some bread in this. Or make some rice to eat with this. Or if you wanna serve a little fancy dinner, make Sri Lankan string hoppers with some coconut sambal. or add more coconut milk and make it to a soup.
Also, this Spicy potato curry recipe is easily customizable. Don't like spicy food? make it without chilies, it would be just as delicious. Don't have coconut milk? use cream or half and half. If you don't have some of these ingredients, please don't get discouraged. Most of these ingredients can be found in Asian grocery stores. if not, do try it with the ingredients you have on hand, I promise you, you're still gonna love this dish.
Would go great with yellow rice and chicken curry
Pin this to your favorite Pinterest Boards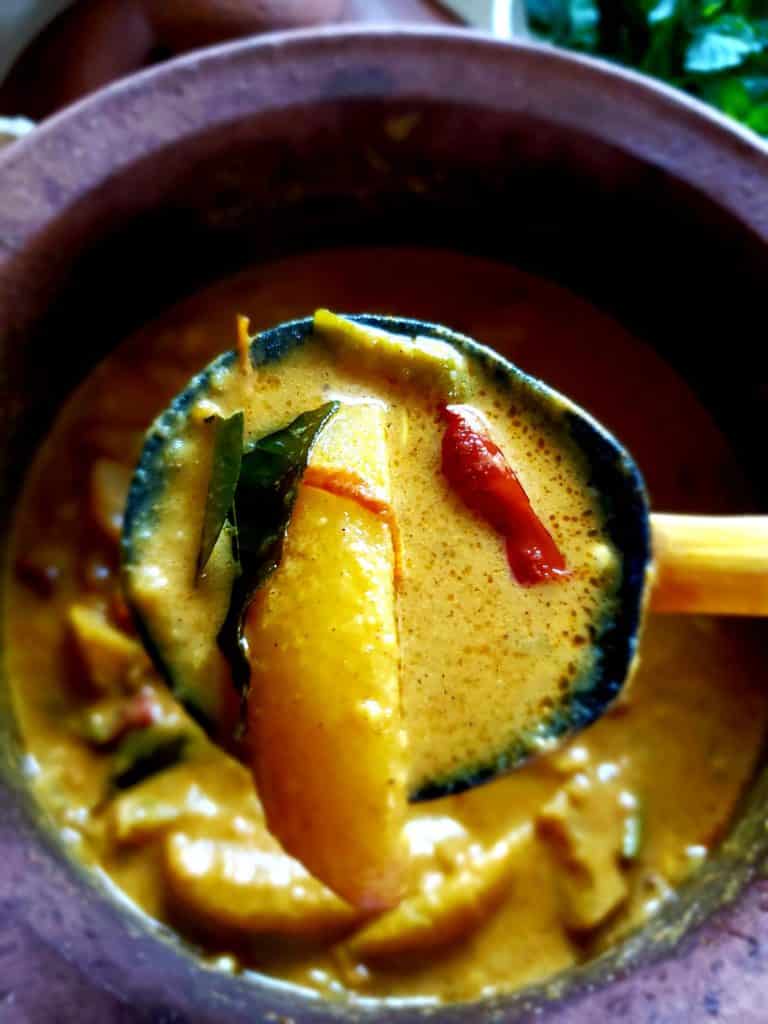 Sri Lankan Spicy Potato Curry
Description
This vegan potato curry is one of the easiest one-pot curries you'll find on the blog. Perfect for a busy weeknight. Grab your self a good loaf of bread on the way home or make some rice to go with this. dinner would be ready in no time
Instructions
Add coconut oil to a pot (traditional Sri Lankan clay pots works great). Then add cinnamon stick, curry leaves, pandan leaves, and dried red chilies. Fry for few seconds until you get a good aroma.

Move everything to a side of the pot. Add fenugreek seeds, onions, and garlic. Fry until onions are sweaty and soft. Reduce the heat if the garlic is getting brown too quickly.

Reduce heat. Add chili powder, curry powder, turmeric, and salt. Toast the spices with the onions for about 30seconds or until you get a good spice aroma.

Now add your peeled and cut potatoes and diced tomatoes. Stir well until the spices coat the potatoes.

Add enough water to cover the potatoes. Cover with a lid and cook on medium heat until potatoes are tender. (if you can poke potatoes with a fork easily, that should be good) Stir in between. Add a bit more water if it looks dry.

Now reduce the heat again. And add your coconut milk. Keep stirring for a min or two until the coconut milk comes to a boil. Then reduce the heat to medium-low and simmer for a few minutes until you get the desired amount of gravy.

Make sure to cook in low heat and stir the curry from time to time to avoid the milk from curdling.

Optional: To make the curry thicker, you can take out a piece of potato and mash it with another spoon, and put it back to the curry. The potato will dissolve in the curry and make the gravy thicker.
Notes
Serving ideas: Sri Lankan string hoppers (idiyappam), hoppers( Appa), rice or any kind of bread

Potato curry, curry, potato, spicy, sri lankan, sri lanka, vegan, spicy potato, ala curry, ala