Sri Lankan potato fry or "Ala Thel Dala" is a classic Sri Lankan potato dish that is really simple and easy to make. 
Like all other Sri Lankan recipes, this classic potato fry/ Ala Thel Dala has so many variations. It differs from house to house. Even I have few variations of Ala Thel Dala that I make depending on what I am having it with. 
The recipe I'm giving out here is my mom's recipe and my most favorite way of having Sri Lankan potato fry. This is one of the very first recipes I learned from my mom. Whenever she asks me to cook something, Ala Thel Dala, soy meat curry (TVP) and red lentil curry is my goto. Because that was the easiest for me to make. 
For this recipe, I use some dry Maldive fish flakes also known as "Umbalakada" in Sinhala. Umbalakada is the ingredient that gives out that umami flavor to the dish. This is a very common ingredient among Sri Lankans but very hard to find in other countries. So the best substitute for Umbalakada would be tiny dried shrimps or tiny sprats that you can find in Asian grocery stores. If you're going to use dried shrimp or dried sprats, coarsely grind them before you use them. 
Here are a few things I learned over time with all the mistakes I've made:
Do not over boil your potatoes. They need to be just tender. Do the fork test. If the fork goes through the potatoes without much resistance, then your potatoes are boiled enough.

Boil potatoes in medium-low heat. You may have already faced this problem. When you boil the potatoes, the outside of the potato gets cooked and mushy while the inside is still raw. The problem here is high heat. So the outside gets cooked way quicker before the heat reaches inside. 

Choose small potatoes. They cook faster and evenly.

Use waxy potatoes like Yukon gold rather than starchy ones like russet. Starchy potatoes break up easily when you boil.

Don't use too many onions. I like fried onions too. But for this particular recipe, you have to brown the onions until they are caramelized. If you use too many onions, they won't fry, instead, they would release too much water and steam inside the pot.

Use a bit more salt than you think you need. When you taste it right away, you'd feel like you've added a bit more salt, but when you let it sit for a while the potatoes absorb salt and balance it out. 

Use a nonstick pan if possible. Your potatoes won't stick to the bottom. And it would be easier to stir without breaking potatoes. Otherwise use a bit more oil than I mention in the recipe.
Serving suggestions: Pair this with rice, my Sri Lankan red chicken curry and, red lentil curry.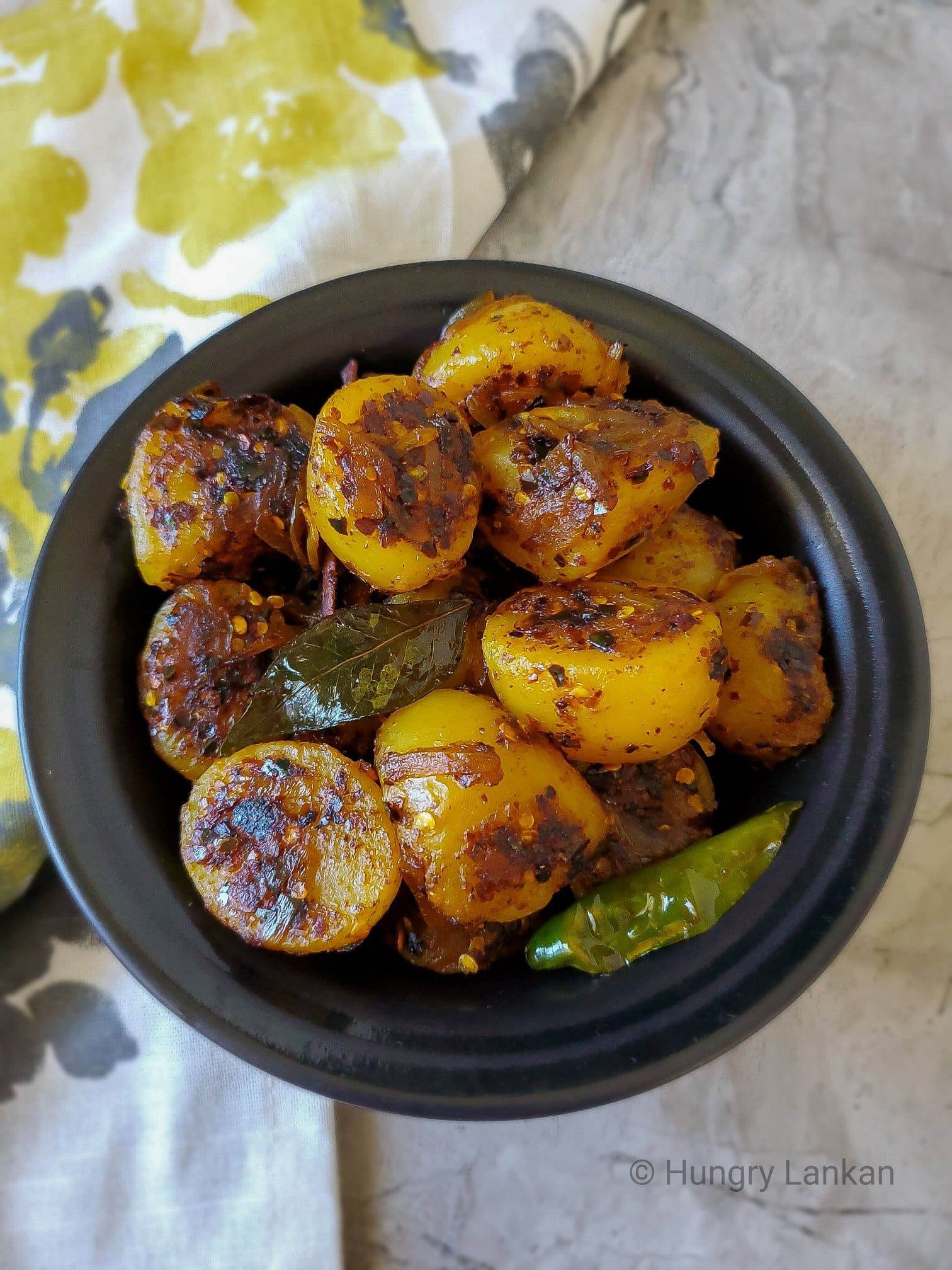 Sri Lankan potato fry (Ala thel dala)
Description
Sri Lankan potato fry or "Ala Thel Dala" is a classic Sri Lankan potato dish that is really simple and easy to make
Instructions
Wash and boil potatoes until they are fork tender. Drain and let them cool down a bit and peel the skin off. Cut the potatoes into small pieces. (about 2 inches pieces)

Mix onions, black pepper, and chili flakes, turmeric together in a bowl.

Heat coconut oil. Add pandal leaves, curry leaves and cinnamon sticks. Fry for a few seconds.

Then add onion mixture, dry fish flakes and slitted green chilies. Mix together and add salt. Mix again let the onions caramalized in law heat.

When onions start to turn brown, add boiled potatoes and carefully mix without breaking the potato pieces.

When they are all mixed together, cover with a lid and cook on very low heat for about 10 mins. So the sides that touch the pan get brown and caramelized.
ala, potato, ala thel dala, potato fry, devilled potato, devilled potatoes, potato stir-fry, stir fried, sri lankan, sri lanka