Rolls are my favorite fast food snack (aka short eats in Sri Lanka) EVER!. This was the first food I missed when I moved to the USA, 6 years ago. Also, this was the first food I wanted to have when I went back for a vacation in Sri Lanka after 3 years. I couldn't even wait till I go home from the airport, I asked my dad to stop the car at a bakery on the way home so I can have an egg roll. That's how crazy I am about this amazing Sri Lankan snack, Sri Lankan Fish Rolls. 
Since I love Sri Lankan fish rolls so much, I wanted to learn how to make them right. I made so many mistakes, to be honest, but I learned so many tips from those mistakes. Here are a few problems I encountered over time and solutions for them. 
Pancake is not flexible: this means your pancake batter is too thick. Add some more water, a tablespoon at a time, and whisk well together. Also, don't pour too much batter to the pan. You just need enough to cover the surface. Use a nonstick hopper pan if you have one. It helps a lot to get the pancake thin and evenly spread. 
Rolls taste bland even though you have a good filling: Add salt to the pancake batter.
Rolls burst open when you fry them: when you make the rolls, wrap the pancake tightly with the filling. The air trapped in the roll expands in the hot oil, make it burst open. 
Rolls absorb too much oil: Your oil is not hot enough. Take a piece of bread crumbs and put it in the oil. It should bubble up right away when the oil is ready. Also make sure to fry fish rolls in small batches. 
You may also like:
1. Crispy Chicken rolls with Habanero and cheese
Pin this to your favorite Pinterest Boards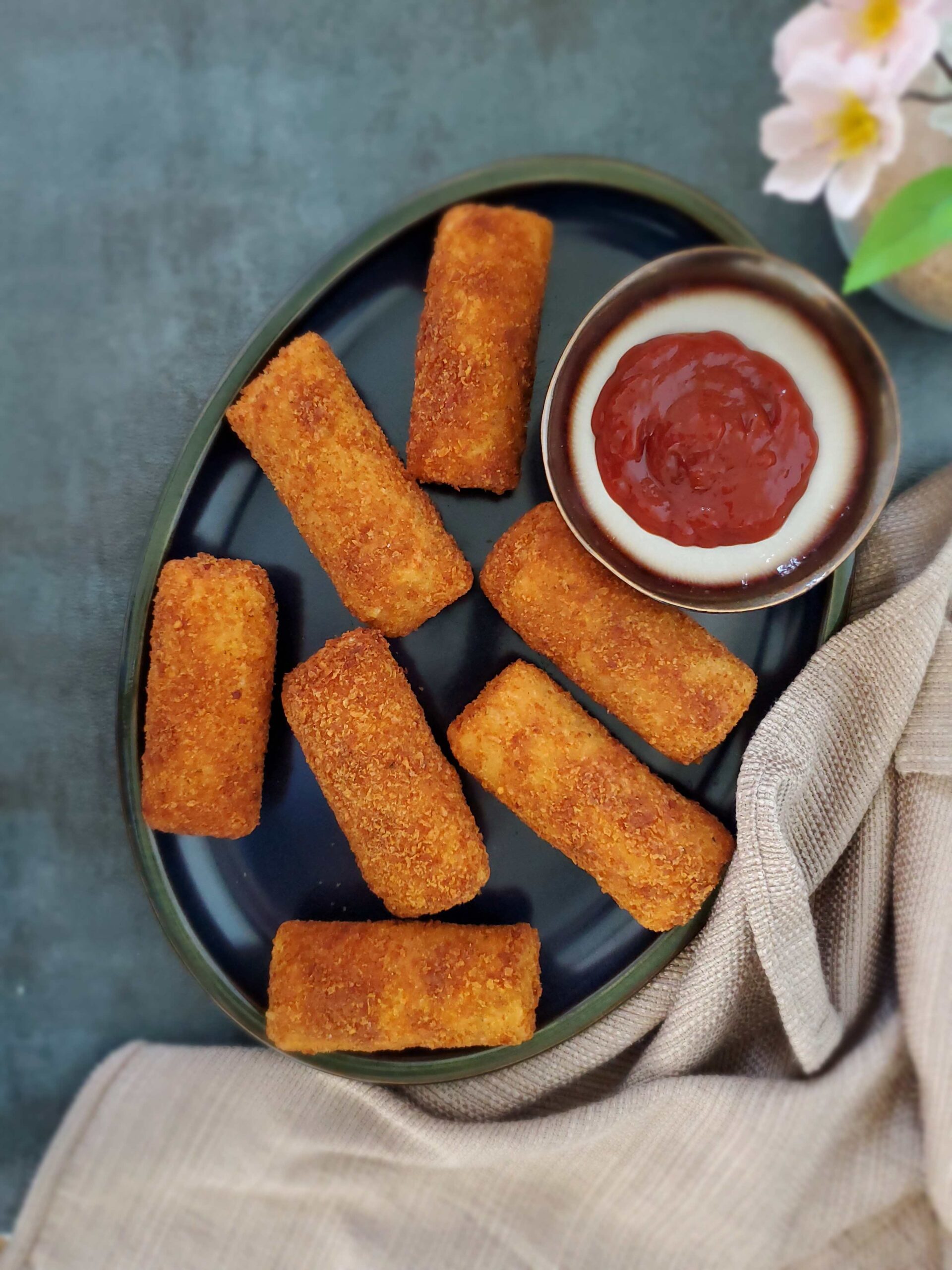 Sri Lankan Fish Rolls
Description
Sri Lankan popular snack made with a spicy vegetable and tuna filling covered with a thin pancake, breaded and deep-fried until crispy and golden
For the pancake batter
For the Tuna filling
For Breading and Frying
Instructions
Add oil to a pan. Then add onion and garlic. When they're soft add carrots and cook for about a minute until carrots are tender. Now add chili flakes and some salt, mix, add potatoes, and tuna to the mix. Mash and mix everything together using a spoon. Add leek and black pepper at the end. Mix and cook for about a minute. Adjust salt. Let the mixture cool

Whisk flour, milk, and water together to form a smooth batter. There should be no lumps in the batter. You can use a blender to mix this too.

Heat a small nonstick pan. Pour the batter using a large spoon or a ladle and swirl the pan in a circular motion so the batter can spread throughout the pan evenly. Pancake has to be very thin so don't put too much batter. Cover and cook for about a minute until it's cooked but still flexible. Do not make it crispy. Pancakes should look like thin crepes. ** Keep the leftover pancake batter for breading.

Put the pancake on a plate. Put about 3 tbs of filling and fold three side edges to the middle and roll it over to make a cylindrical shape roll. Please refer to the images here.

Dip a roll in the batter, lift and let the excess batter fall back in and then place in the breadcrumbs. Use tongs for easy handling. Cover well with breadcrumbs. Put on a clean dry plate. Do this to one roll at a time. ** if you don't have any leftover batter from the pancakes, quickly mix some flour water and salt to make a thick batter. Or you can also use whisked eggs.

Heat oil in a deep fryer or in a frying pan. When the oil is hot, fry rolls until they are golden brown.
Notes
Serve warm when they are crunchy with ketchup

fish rolls, fish roll, rolls, spicy, fried, sri lankan, sri lanka, pan rolls, crispy