Habaneros must be my favorite hot pepper in the WORLD. I was very fond of a chili variety called "Nai Kochchi" when I was in Sri Lankan. And habaneros are the perfect replacer I found for my "Nai Kochchi" cravings. What I love the most about Habanero is the floral aroma they have. They truly can lift any hot dish up a couple of levels, especially when you use in curries and stir-frys.  
If you're a habanero fan like me, you cannot find a better snack recipe than this crispy chicken rolls with habanero and cheese recipe!! Think about it. These rolls are super crunchy. And cheesy… And Harbaneroy…. (I just made that word up, lol) And the filling is super easy. No cutting and chopping needed. You can also use your leftover rotisserie chicken and mashed potatoes. Come on. Can things get any easier than this? 
So this is basically the same recipe as my Sri Lankan Fish rolls, but with a different filling. Please head over to my Sri Lankan fish rolls recipe to learn more about how to wrap the rolls the perfect way, how to fry them without splitting, and how to make the pancake right. I highly recommend you to refer my Sri Lankan fish rolls post before you make these. As always, I used my nonstick hopper pan to make these pancakes (Affilate Link: https://amzn.to/36pnfeQ ). I can make the pancakes super thin and even with it. Which makes the pancakes a lot more flexible.  If you have a small frying pan (Affiliate Link : https://amzn.to/2ykWlrT ) that would work too. Try to make your pancakes thin as possible to avoid breaking while wrapping. If you've made crepes before, these pancakes look exactly like that.
These rolls are soooo good, I really hope you give this a try. If you don't have time to make rolls, at least make the filling and use it for any other recipe that needs a filling like empanadas or buns or cutlets… Or you can use it as a sandwich spread too. This recipe is enough to make 15 medium size rolls. I hope you enjoy the crispy chicken rolls with habanero and cheese recipe.
Affiliate Links
Pin this to your favorite Pinterest Boards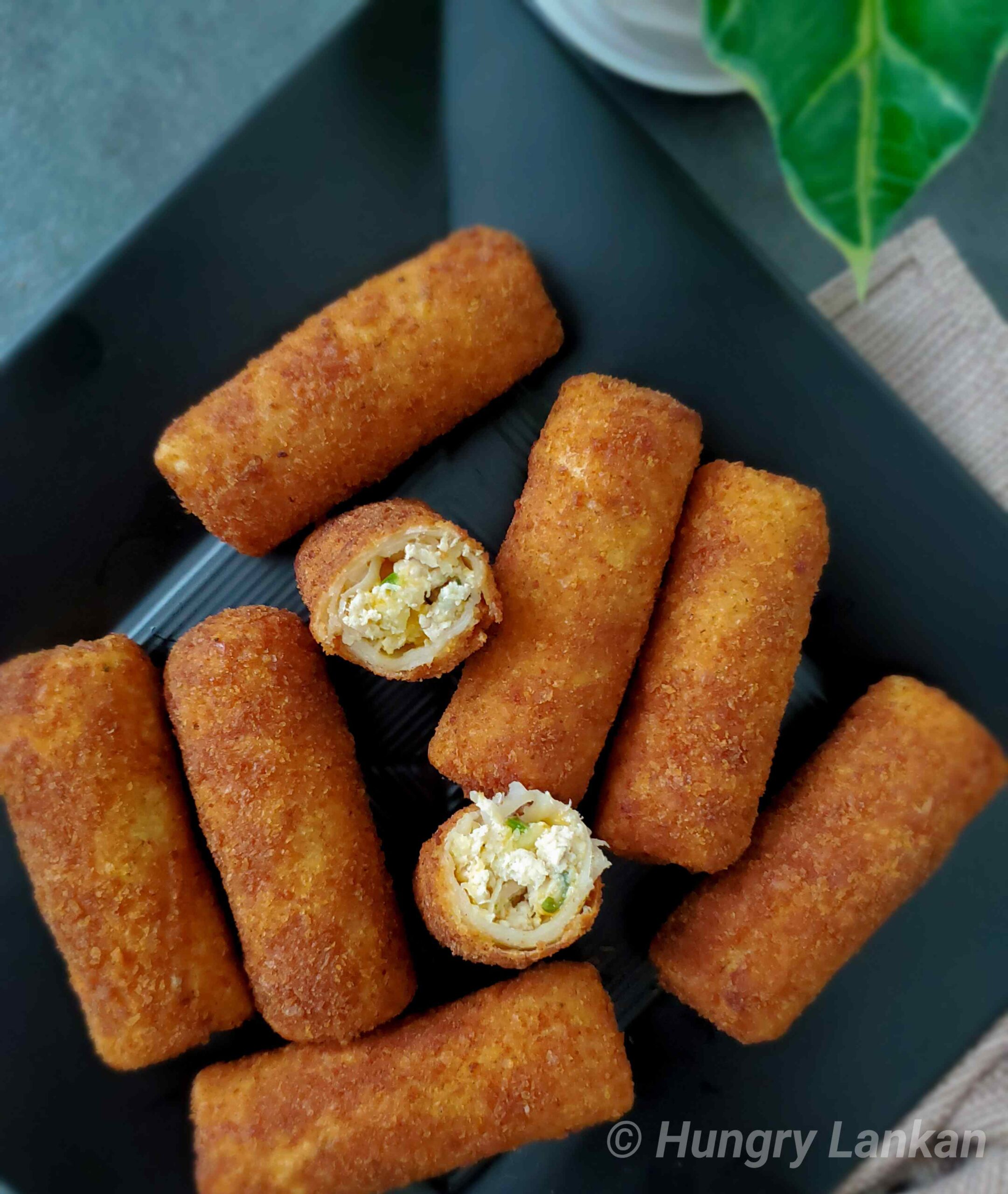 Crispy Chicken rolls with Habanero and cheese
Description
Sri Lankan rolls with a hotter and a better twist. These hot and cheesy crunchy rolls are going to be the KING of your next party!
For the Filling
For Pancake batter
For breading and frying
Instructions
Make the filling
Grind the habaneros and green chili into a paste using your mortar and pestle. If you don't have one, cut it super finely. Please use kitchen gloves! this stuff is really hot! Definitely cut down the amount of habanero you use if you have kids or don't like hot food. Then mix everything together for the filling in a bowl. Or pulse a few times in a food processor.
Make the pancakes
Whisk flour, milk, and water together to form a smooth batter. If the batter is thick, add more water, a little at a time, and whisk. There should be no lumps in the batter. You can use a blender to mix this too. Heat a small nonstick pan. I use a nonstick hopper pan. add a drop of oil and rub it all over the pan using a paper towel. you just need a super-thin coating of oil. Pour the batter using a large spoon or a ladle and swirl the pan in a circular motion so the batter can spread throughout the pan evenly. Pancake has to be very thin so don't put too much batter. Cover and cook for about a minute until it's cooked but still flexible. Do not wait until they get crispy. (If you got any leftover pancake batter, do not throw away. Use it for Breading.)
Wrap the rolls
Now put the pancake on a plate. Put about 3 tbsp of filling and fold three side edges to the middle and roll it over to make a cylindrical shape roll. Make sure you dust with some flour to avoid them from sticking together. Go to my fish rolls recipe to see the step by step photos on wrapping.
Breading
Dip a roll in the batter, lift and let the excess batter fall back in and then place in the breadcrumbs. Use tongs for easy handling. Cover well with breadcrumbs. Put on a clean dry plate. Do this to one roll at a time. Repeat the breading process one more time. Since you put cheese in the filling it's important to have a nice thick coating. After double-breading, put them in the fridge to dry out for about two hours or so. This dries out the batter you used for breading which ensures they keep in place. You can fry them whenever you want. But make sure they are nicely dried.
Frying
Heat oil in a deep fryer or in a pan. When the oil is hot, fry rolls until they are golden brown. You have to fry them as quickly as possible to avoid bursting. Make sure you flip them frequently. And don't overcrowd the pan. I only fry about two rolls at a time. Serve hot when the cheese inside is still soft and melted.
cheese, chicken, rolls, crispy, crispy rolls, chicken rolls, Chinese rolls, sri lankan, hot, habenero, fried, deep fried, air fried