Sri Lankan fish cutlets are one of the most famous dishes that every Sri Lankan includes in their celebration menus. But it's not limited to just celebrations. We, Sri Lankans, love these crumb-coated, deep-fried fish balls, we make them whenever we can to have them as snacks.
I remember as a kid how much I loved these fish cutlets. Whenever we go to a dinner party, weddings, or even for almsgiving functions, I always get excited about having these fish cutlets. And I keep annoying my mom asking "Amma would they have cutlets?" over and over. Whenever my mom makes cutlets for guests she always makes some extra and hides some unfried cutlets in the back of the fridge for later because she knows that I and my sister would never leave leftovers.
Despite how delicious and addictive these Sri Lankan fish cutlets are, I got to tell you, they are time-consuming and it's a little tricky to get them this neat. Because I love them so much I wanted to perfect my recipe. So I read so many articles from the internet about making croquettes and I read about them in some Sri Lankan food groups and read many articles about deep frying techniques. So here are all the tips and tricks I know and hopefully they'd be helpful for you when you make these cutlets.
Tips and Tricks and Explanations:
The moisture is your biggest enemy here in cutlet making. When you fry the cutlets, the water inside these cutlets gets heated and tries to escape the cutlets as steam or air. More and more time you take to fry the cutlets more and more water transforms into steam and then air and tries to expand and escape. so whenever there is a week spot on your breadcrumb coating, your cutlet is going to split open from that weak spot so it can expand and the moisture can escape.
How to prevent my cutlets from splitting?
First, getting a low moist cutlet mixture is very important. Read the next section to find out how to reduce the moisture from the mixture.
Make sure you chop everything very fine. So nothing sticks out when you make the cutlet ball. If something sticks out of the cutlet ball remove it or poke it into the ball.
Potatoes are the binding ingredient here. Mix your potatoes nicely with the rest of the ingredients. Make sure you mash the mixture with the back of your spoon until the potatoes become somewhat glutenous. The mixture becomes lumpy when you mix it properly.
Use somewhat coarse breadcrumbs rather than powdery ones. If you can't find good thick breadcrumbs make sure you coat the cutlets TWICE with the breadcrumb mixture.
Press the breadcrumbs to the cutlet by firmly rolling the cutlet between your palms. So you'd have a thick and even coat. It also makes cutlets look very neat.
Use a thick flour batter instead of eggs to coat the cutlets. The flour batter acts as another thick and firm layer to hold the cutlets well just as it glues the breadcrumbs to the cutlets.
Make sure your batter is dry enough before you fry them. When the batter dries out the coating becomes firm and hard. So it has less chance of splitting up. I recommend refrigerating the breadcrumb coated cutlets at least for 30 mins to dry out the batter. So your breadcrumbs would stick to the cutlets better.
You also need to fry the cutlets evenly and you have to make sure you distribute heat evenly all around the cutlets. Read the "How should I fry cutlets?" section for more info.
How do I reduce the moisture in my cutlet mixture?
Cook down your onions when you make the mixture. Onions contain 89% water. So, make sure you cook the onions until they become golden to remove the water they retain. Make sure you chop them very finely so they cook down pretty quickly.
Boil your potatoes until they're fork-tender. Do not overcook them until they become mush. If you over boil them they start to absorb water and when you add those mushy potatoes to the mixture, your mixture is going to have some unnecessary water in it.
When you boil the potatoes spread them in a colander and let them cool down. So the potato pieces become dry on the outside.
Drain the mackerel can completely so you don't add excessive water from the outside.
If your cutlet mixture is still too wet and hard to make lumps/balls out of it, then crank up the heat and cook the mixture in high heat while stirring continuously to remove the moisture available.
How should I fry cutlets?
Frying cutlets correctly is very important to stop the cutlets from splitting and to get them evenly browned and crispy.
When you fry your cutlets make sure that oil is heated enough (350F – 365F). To test that put a chopstick or back of a wooden spoon to the oil. If it makes rapid bubbles then your oil is well heated. You can also use a thermometer to see if your oil has reached 350F / 180C. If your oil is under heated, your cutlets would take a lot of time to fry, and also they would absorb oil and will end up soggy. And they can also split open since the filling heats up too much starts to release moisture.
Don't put too many cutlets at the same time. When you drop the cutlets into the oil, the temp of your oil reduces drastically. So make sure you fry them in batches and let the oil reach back to the right temperature in between those batches.
Be generous with the oil. Your cutlets should fully cover in oil when you drop them. Otherwise, the temperature difference between the bottom and top of the cutlet can make the cutlets crack on the top.
When you gently drop the cutlets into the oil make sure not to touch them for about 20 seconds so the crust has time to set a little bit. Otherwise, you can accidentally damage the breaded coating.
Flip/roll them gently when you fry them to ensure the whole cutlet fries up and heats up evenly on all sides.
Serving suggestions :
With one 425g (15oz) can and 350g potatoes you can make about 20 – 25 medium cutlets. You can serve this as a snack, appetizer, or with rice and curries.
My favorite rice and curry menu with these Sri Lankan fish cutlets is Yellow Rice, Black pory curry, Eggplant moju, Red lentil curry, and a simple lettuce salad.
Products I mention (Affiliate links):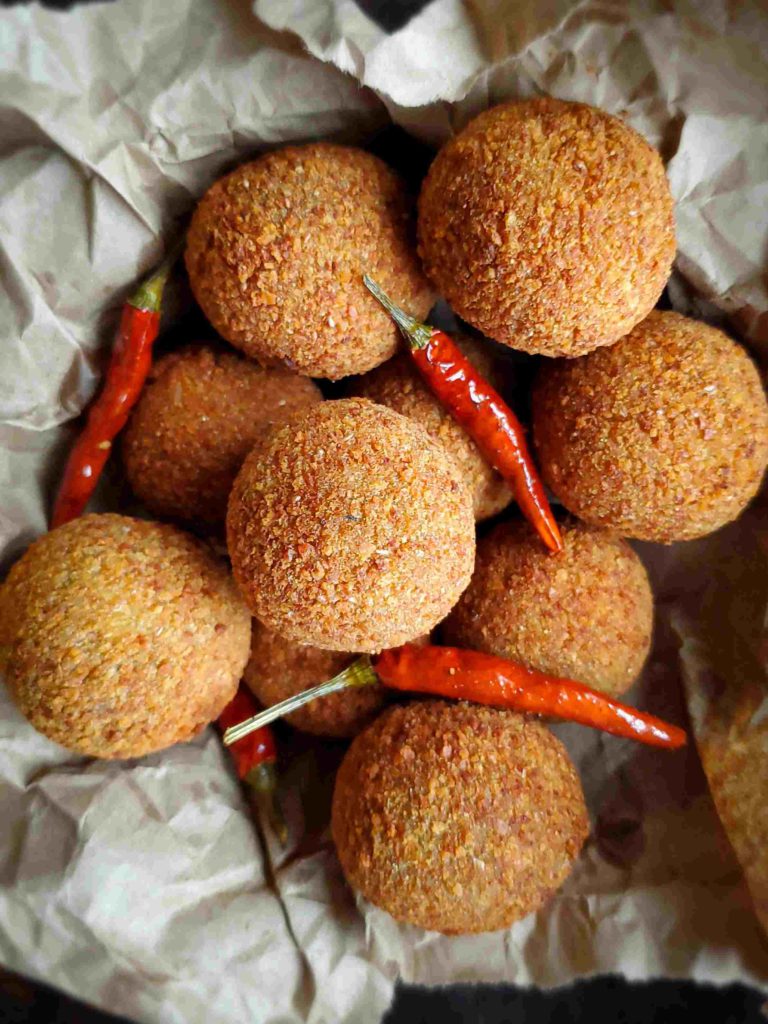 Sri Lankan Fish Cutlets
Description
These crispy deep-fried, super yummy Sri Lankan Fish Cutlets are a must-have for your next party. All the tips and tricks are included.
Instructions
Making the cutlet mixture
Boil potatoes with ¼ tsp turmeric and ½ tsp salt. Drain when the potatoes are fork-tender and then leave them to cool down and dry out. Do not boil potatoes until they become mushy.

And then mash them with a fork or a spoon.

Heat 2 tsp oil. Add garlic, curry leaves, onion, and green chili. Make sure everything is finely chopped. Fry everything on medium heat until onions become somewhat brown. It's necessary to remove the retained water from the onion as much as possible.

Then add 2 tsp of chili flakes. Mix well with the mixture.

Move everything aside and add the mackerel can (completely drained) Mash them with your spoon until there are no chunks left. Alternatively, you can mash them before you add them to the pan too.

Add 1/4tsp turmeric and salt to your taste. Mix well.

Then add your mashed potatoes and black pepper. Mix well, taste, and adjust salt and pepper if needed.

Press the mixture with the back of the spoon until everything is mashed really well together and become lumpy. Leave the cutlet mixture to cool down.

When the mixture is cooled down, take 2-3 tbsp of the cutlet mixture (depending on how big or small you want) at a time and make them into small cutlet balls. Make sure the surface of the cutlet ball is smooth. (read the description for more info). Arrange them on a plate.
Breading and frying
Make a lump-free batter by mixing flour, salt, and water together. You may need to adjust the amount of water that goes in. The batter should be thick and it should coat the cutlet balls really well. If the batter is too runny then add more flour. If the batter is too thick, then add some water.

Now dip one ball at a time in the batter. Use a fork to easily handle. Hold the cutlet over the mixture for a few seconds so the excessive batter can drip down.

Transfer it to the breadcrumbs plate and cover the cutlet completely with breadcrumbs.

Roll the cutlet between your hands so the breadcrumbs stick to the cutlet better. If you use very fine breadcrumbs make sure to double coat the cutlets by dipping them again in the batter and cover with breadcrumbs.

Arrange the cutlets on a plate and refrigerate them for about 30mins or until you're ready to fry them. Let the batter dry out so the breadcrumbs stick to the cutlets better.

Heat the oil (350F). When you put a piece of breadcrumb coated batter it should bubble up and quickly reach the surface of the oil when your oil is heated enough. Add about 3 cutlets at a time into the hot oil. Leave the cutlets for about 20 seconds untouched. And then roll/flip them carefully from time to time to ensure that they evenly fry. When the cutlets are golden, lay them on a paper towel to remove excess oil. (Read the description for more info about frying cutlets.)
Sri Lankan fish cutlets, Fish cutlets, Croquettes, Fish croquettes, Sri lankan fish patties, Cutlets, Deep fried fish balls, Fish appetizers, Spicy appetizers, Spicy fish snacks, maalu cutlets