Try this very easy and quick spicy cabbage stir-fry recipe for a quick lunch or dinner. You can make it vegan too. It has a lovely umami flavor and a crunchy-soft texture. Very beginner-friendly and can be done within 15 mins.
Alternatives And Substitutions
The recipe is an adapted version of my mom's Sri Lankan style cabbage stir-fry which she makes with tomatoes. The only differences I make here are I add a bit of soy sauce and use vinegar instead of tomatoes. If you're not a fan of vinegar you can definitely substitute with tomatoes. Add them at the end just before you turn off the stove and make sure that they don't become mushy. I personally like vinegar because I make big batches to refrigerate for later use. Tomatoes contain a lot of water and when they get contacted with salt the water starts to ooze out and the whole stir-fry turns a little watery. But for same-day purposes tomatoes are a really great addition.
I use some Maldive fish flakes in the recipe. Maldive fish is dried tuna fish that is mainly imported from the Maldives. Hence the name Maldive fish. You simply cut/shred them into pieces before you use them in dishes. You can buy a whole big piece and cut them as you go or simply buy pre-cut/ shredded fish which is known as "Maldive fish flakes". There are natural Umami flavor bombs. You can add this ingredient to any curry or stir-fry you make and it has the ability to enhance any dish to a few levels high. It's a very popular ingredient among Sri Lankans. But I have to admit, it's not an easy ingredient to find outside of Sri Lanka (or Maldives I suppose). Tiny dried shrimp which are available in Asian grocery stores in a good alternative for this. Or simply omit it, trust me this stirfry is still so good.
Important Info
This recipe is very beginner friednly and very adaptative. And it's so hard to make this wrong. Seriously!
However, to make the stir-fry crunchy and not soggy, it's very important to use a large stir-fry pan to cook it. If you use a small pan/wok what happens is cabbage starts to steam instead of frying. Thus the soggy stir-fry.
Also, make sure you keep mixing it continuously so all the cabbage pieces touch the bottom of the pan and it's easier for the steam to escape. Steam = water and if they're trapped you'll end up with soggy cabbage.
When you're done cooking, transfer it to a serving plate immediately. The heat from the pan can overcook the cabbage and you'll lose that nice crunchy texture.
Just as the name says, this stirfry is very spicy. Like Sri Lankan spicy, not American spicy. So if you don't like spice or heat then reduce the amount of chili flakes and green chilies that go in.
Serving Ideas for Cabbage Stir-fry
You can definitely have this the Sri Lankan way with rice and more curries. But if you're in a hurry some jasmine/basmati rice and a runny egg would do the trick. If you're a vegan/vegetarian, try my creamy potato curry with coconut milk. This is another easy vegan curry that goes so well with this spicy cabbage stir-fry.
My favorite Sri Lankan style menu with this cabbage stir-fry would be Red lentil curry, Sri Lankan Chicken curry or Spicy Fish curry, and some Papadum for crunch.
Affiliate Links to the Ingredients/Products I mention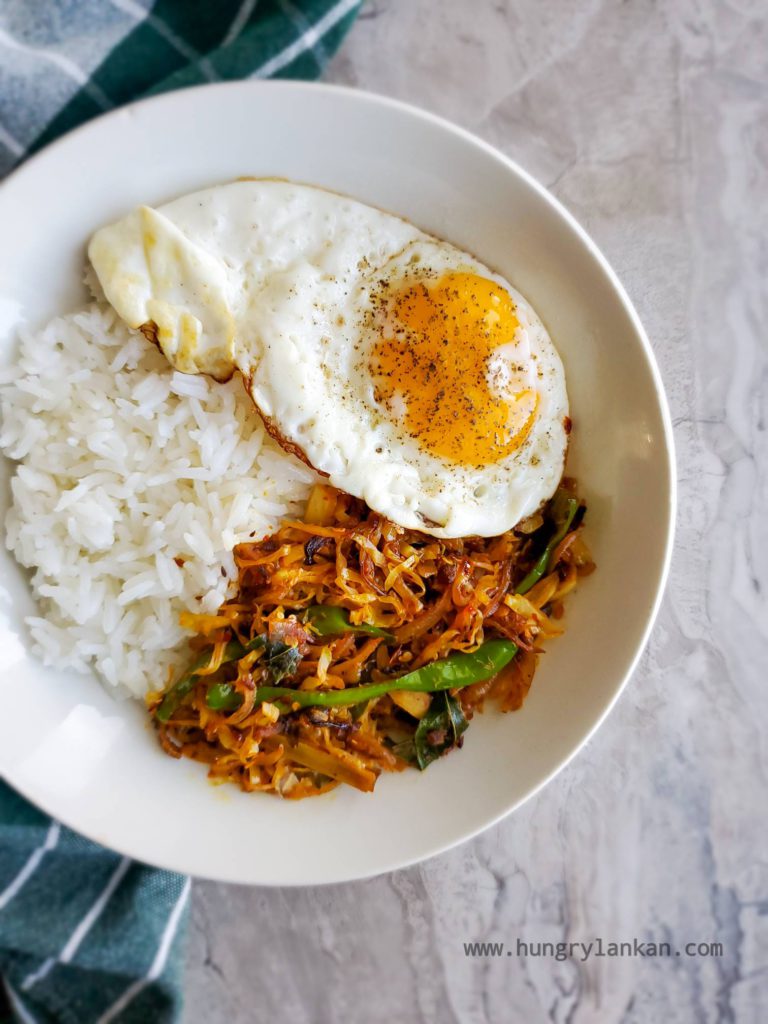 Spicy Easy Cabbage Stir-fry
Description
Try this very easy and quick spicy cabbage stir-fry recipe for a quick lunch or dinner. You can make it vegan too. It has a lovely umami flavor and a crunchy-soft texture. Very beginner-friendly and can be done within 15 mins.
Instructions
Heat coconut oil in a pan. Make sure you use a large frypan or a wok (read the recipe description to find out why). Add 2 pieces of cinnamon. Leave a few seconds until becomes aromatic.

And then add curry leaves, pandan leaves, and garlic. Saute until garlic starts to turn golden around the edges. Do not wait until they become brown or burn. 

Then add sliced onion and split green chilies. (if you don't like spice, reduce the number of green chilies you use.) saute until onions become sweaty. 

Now add the rest of the spices along with Maldive fish flakes and some salt. Mix with onions. Adjust the amount of chili flakes according to your level of heat tolerance.

Add sliced cabbage and keep flipping and mixing continuously. So the steam can escape quickly without making cabbage soggy and it makes everything cook fairly evenly.

When the cabbage starts to turn tender, add white vinegar and soy sauce and cook for about another minute. Taste and adjust salt to your taste. Turn off the heat. Serve immediately or transfer to a different plate to stop overcooking.
Cabbage stir-fry, Spicy cabbage stir-fry, Sri Lankan cabbage stir-fry. Cabbage recipe, Cabbage, Gowa thel dala, Spicy vegetable stir-fry, Vegetable stir-fry