My super yummy Asian-style mushrooms and peppers stir-fry is inspired by the popular Chinese twice-cooked pork dish. The first time I made this was for a vegan friend and we all fell in love with the dish. Now, whenever I can find Maitake mushrooms I always make this recipe. I make sure that I grab some extra mushrooms cause I always eat half of it while making.
What kind of mushrooms to use?
My favorite kind of mushroom for this recipe is Maitake aka "Hen-of-the-woods". They're available in Asian grocery stores. If you can't find them, oyster mushrooms would work too. You can find oyster mushrooms in many local grocery stores and Asian stores as well.
cooking with mushrooms
Do not rinse your mushrooms. They're fairly clean when you buy them from the store. Mushrooms are like mini sponges. They absorb a lot of water when you wash them. If you absolutely need to wash them, make sure you squeeze out all the water.
When you buy these mushrooms they come as a large bunch. Break them down with your hands into smaller pieces.
Keep your deep fryer ready. After you add salt to your mushrooms, they start to ooze out a lot of water. So you should get ready to fry them as soon as you're done coating them with corn starch.
If the mushrooms look wet, you don't have to let them sit for five minutes before you add corn starch. Do it directly after salting. The reason I let them sit for five minutes is, that I want mushrooms to become a little wet so corn starch sticks to mushrooms better.
Frying mushrooms
Deep-fried mushrooms hold up better when you stir-fry. They become meatier in texture. Also makes them more flavorful. Corn starch adds some crunch to the edges and also keeps them from drying out when you fry them in hot oil.
Special ingredients?
Yes, you need some popular Chinese ingredients for this recipe. These ingredients are available in almost all Asian grocery stores. You can order from Amazon or any other online Asian store too. I'll link the products I use below (amazon affiliate links)
You don't need bell peppers with all three different colors. Use what you have. But yellow and red peppers add a nice brightness to the dish.
What to serve with?
Warm Jasmine rice works best with this mushrooms and peppers stir-fry. I sometimes add an egg too to add some creaminess to the dish. You can also serve it with cauliflower rice or brown rice for a healthier option. A great stir-fry to serve along with Lo mein too.
You might also like these stir-fry recipes:
Chicken with peppers and cilantro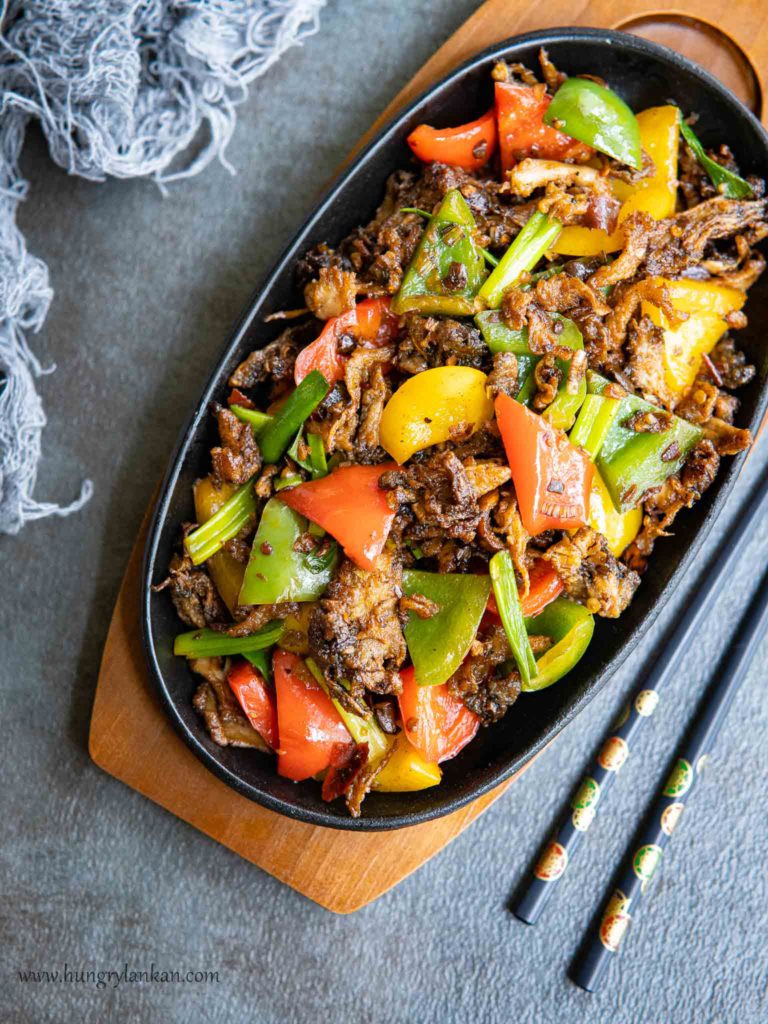 Mushrooms and Peppers Stir-fry
Description
My super yummy Asian-style mushrooms and peppers stir-fry is inspired by the popular Chinese dish - twice-cooked pork. Very easy and makes a great vegan weeknight meal. 
Instructions
Frying mushrooms
 Break Maitake mushrooms into small bite-size pieces. Add salt and let it sit for about 3 -5 minutes. When the mushrooms seem a little moist on the surface, add corn starch and gently toss everything to coat the mushrooms. Start heating the deep fryer while prepping mushrooms.

Deep fry mushrooms until they become a little crispy and golden brown on the edges. Do this in small batches Also drop one piece of mushroom at a time into the fryer to keep them from clumping up. 

When mushrooms are fried, wait for them to cool down until it's comfortable to touch them, and separate them carefully if they're stuck together.
Making the stir-fry
Heat a medium-size wok or a frying pan. Add oil (any neutral stir-frying oil of your choice). When oil starts to heat up, add garlic and mix. Then add broad bean paste*/Doubanjiang, and the white part of the spring onions, and mix until the oil turns red in color. 

Then add sugar and soy sauce. give them all a quick mix. Add all the bell peppers and fried mushrooms. Mix well.

Add the green part of the spring onions and add the Shaoxing wine* around the wok (not directly to the food)

Give a quick mix and turn off the heat. Serve warm over rice. Enjoy!
Notes
There are large chunks of bean pieces in bean paste and they're very salty. If you don't like to bite into these large pieces, mince them with a knife before adding the paste to the oil.
You can use dry sherry to substitute Shaoxing or Chinese cooking wine.
Chinese food, Stir-fry, Vegan, Vegetarian, Mushrooms, Asian food, Wok, Maitake mushrooms, Mushroom stir-fry, Easy dinner, Vegan dinner, Spicy mushrooms