Simple and Easy pork-belly stir-fry for your weeknight recipe collection. Super quick to make and taste so so good!
Pork belly is a guilty pleasure for me. It's like eating bacon but the meat is thicker and fattier. I love to try different kinds of pork belly dishes when we eat out. One of my all-time favorite pork belly dishes is Twice cooked pork (hui guo rou – 回鍋肉). A classic Sichuan dish that everyone seems to love and a must-try Chinese dish for anyone who loves Asian food. My Easy pork belly stir-fry recipe is also inspired by this amazing dish.
You can make this same dish with chicken and tofu too.
Ingredients and Substitutions and where to find them:
Pork belly:
You need to have pork belly for this recipe. I use pre-cut pork belly strips that I buy from Costco. These are about 1/2 cm thick. You can get a block of pork belly from the butcher or from Asian stores and then cut then into strips too.
Doubanjiang:
This is a salty mix of fermented broad beans, soybeans, and some more ingredients. They come in spicy and also in non-spicy versions. The spicy version is known as La- Doubanjiang and may also called chili bean sauce in English. What I use is called Pixian Doubanjiang. A popular brand in China, especially in Sichuan province. This stuff adds soooo much flavor and color to the dish, so I should say this is a must. Also when you cook the dish, add this paste to the oil first. That's what changes the color of your oil to red. Sambal Oelek would be a good substitute but I highly highly recommend you try to find Doubanjiang.
Fermented salted black soybeans/ Douchi :
This is another umami-packed ingredient. Sometimes refer as salted black beans or fermented black beans. If you taste one, you'd know that they are salty and has a strong soy flavor. These go so well with pork belly. Make sure you wash them a little bit to remove extra salt and chop them finely so they distribute evenly throughout the dish. This ingredient can be found in Asian grocery stores too. I'll also link a product from amazon below. In case you can't find them, add a little bit more light soy sauce to provide the saltiness that your dish is missing.
Shaoxing wine:
A Chinese rice wine that uses for cooking (also for drinking if not brined). Very commonly available in Asian grocery stores. I especially love this one to marinate my meat with. It can elevate the taste to another level and can remove the unpleasant meat aroma, especially in pork. If you make Chinese food at home and wonder why they don't taste like restaurant food, try adding a bit of Shaoxing next time. can't find it? substitute with dry sherry.
Light soy sauce:
This one is light in color and saltier. if you can't find it use regular soy sauce. Do not substitute this with dark soy sauce. Light soy sauce is pretty much available in any Asian grocery store. If your regular grocery store has an international aisle, check that one out too. You don't need a lot of light soy sauce in this recipe as Daubanjiagn and fermented soybeans are very salty.
Dark soy sauce:
very dark in color and I use it mainly to add color to the dish. also, add some soy flavor but is not salty as light soy sauce. If you can't find it, skip it. Don't substitute this with light soy sauce or regular soy sauce. it would affect the overall flavor of the dish.
White pepper:
can be substituted with black pepper.
All the other ingredients are pretty common and easily available in most grocery stores. If you have any questions about ingredients please leave them in the comment section below.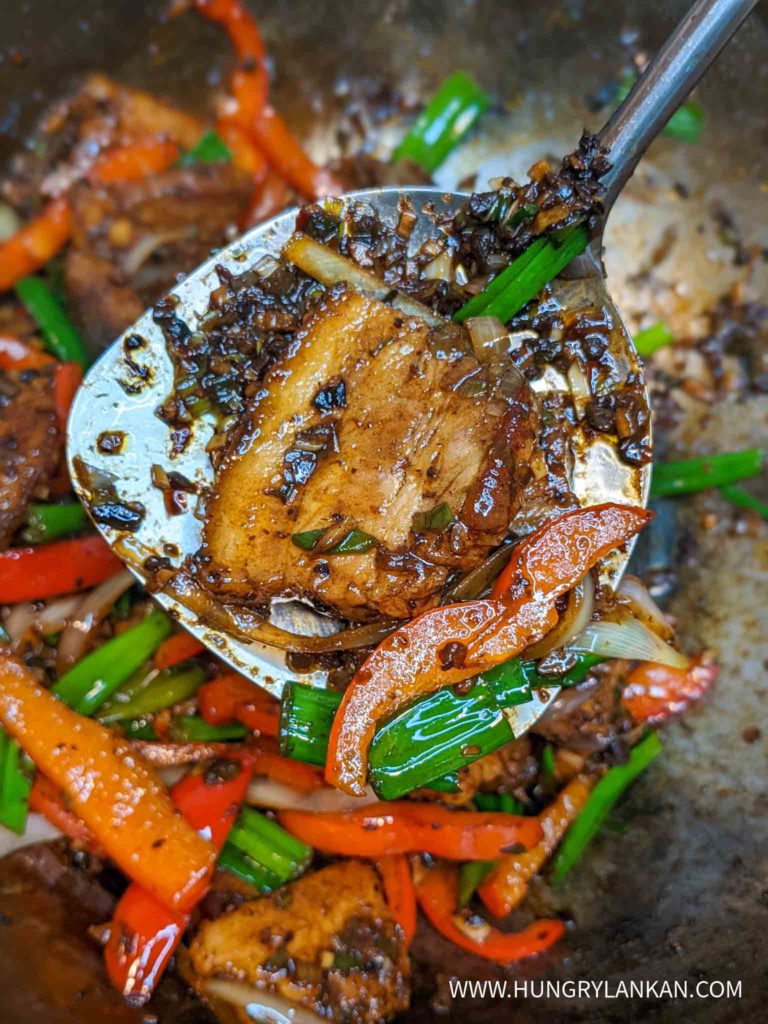 Do I need to have a wok?
No, this dish can be made in a frying pan with no problem but don't use a nonstick pan to grill your pork bellies. I recommend carbon steel, stainless steel, or cast-iron skillet for the best results.
Serving ideas :
Serve with Jasmine rice, sticky rice, or brown rice. The amount I have given is enough to serve two people.
Amazon affiliate links for the products I mention:
Also checkout these asian wok dishes: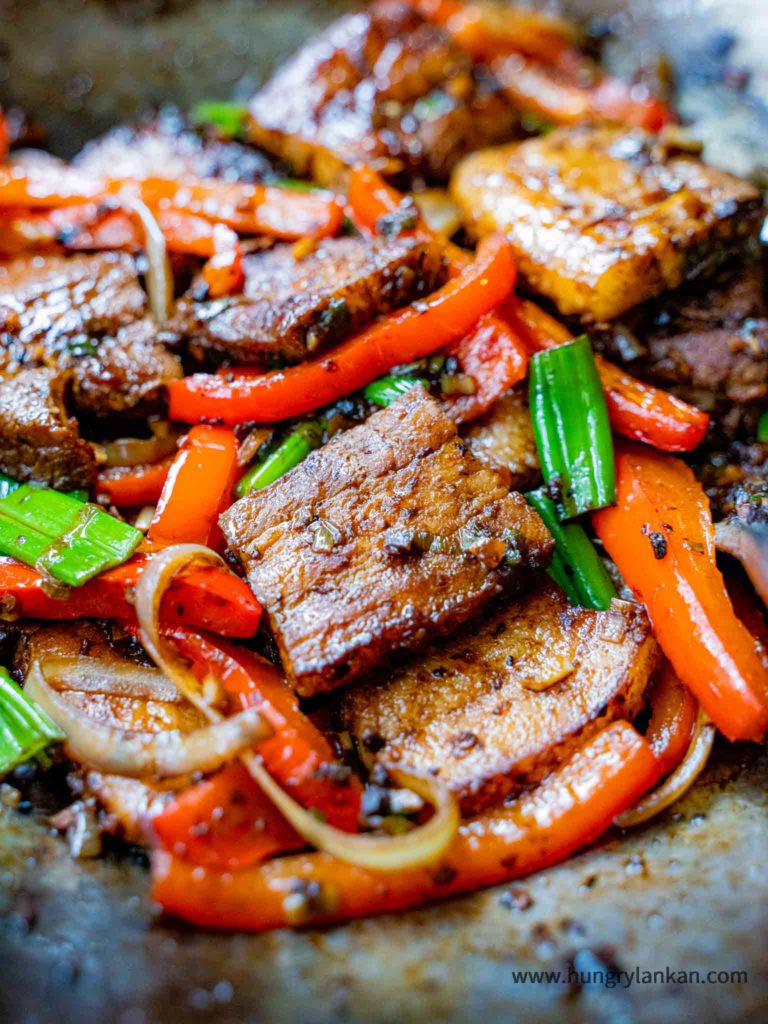 Easy Pork Belly Stir-Fry
Description
Easy and quick, this pork belly stir-fry is packed with flavors. Enjoy with a hot steaming bowl of rice. This same recipe can be made with other proteins as well.
To Marinate Pork Belly
Other
Instructions
Marinate pork belly strips with marinating ingredients given on the list above. Set it aside until you ready the other ingredients.

Put Doubanjiang and fermented black beans into a chopping block and chop them finely with a knife. So you won't bite into big chunks. 

Heat a wok or a pan. Add about a tsp of oil just to coat the wok/pan. Let the oil heat up. Lay the pork belly slices in one layer. Let one side cook for about 2 - 3 minutes and then turn and cook the other side for another 2 - 3 minutes or until it's completely cooked. 

Turn off the wok, take the pork belly out, and cut them into small pieces about 1.5 - 2 inches long.

Turn on the heat, keep the flame on medium-low. If you don't have enough oil on the wok already from frying pork, add a little bit of oil. Add doubanjiang and fermented black beans and fry in oil. Do not turn up the heat. Then add your garlic and white part of the green onions. Saute for about a minute.

Then add onions, peppers. Saute for about 30 seconds.

Add pork belly pieces and saute for another 30 seconds. 

Turn up the heat. Add Shaoxing wine and sugar. Mix well with everything. 

Finally, add the green part of the green onions. Give a quick mix and remove from the wok to stop further cooking. Serve warm.
Pork belly, Pork belly with bell peppers, Pork, Chinese recipes, Asian food, Chinese food, Pork recipe, Wok, Stir-fry, Pork stir-fry