72 Views
Yields:

1 Serving
Difficulty:

Easy
Prep Time:

10 Mins
Cook Time:

10 Mins
Total Time:

20 Mins
Chicken with chili bean sauce is a delicious Schezwan style chicken dish that can be made with very little prep and in less than 20 mins. You need your regular Chinese cooking sauces and one special sauce which is Chili bean sauce aka doubanjiang. (Go my chicken and broccoli recipe to read more about the basic Chinese sauces I use)
Chili bean sauce/ Doubanjiang/Toban djan:
This is a very common ingredient in Schezwan cooking, you'd see this ingredient pops in so many Schezwan recipes. If you have a Chinese grocery store nearby, they would definitely have this ingredient. The sauce I used is from the "Lee Kum kee" brand (I'll include a link at the end for reference.). If you cannot find chili bean sauce, Korean gochujang or Indonesian Sambal Oelek ( very common) would be a good substitute. Hope you enjoy Chicken with chili bean sauce.
Pin this to your favorite Pinterest Boards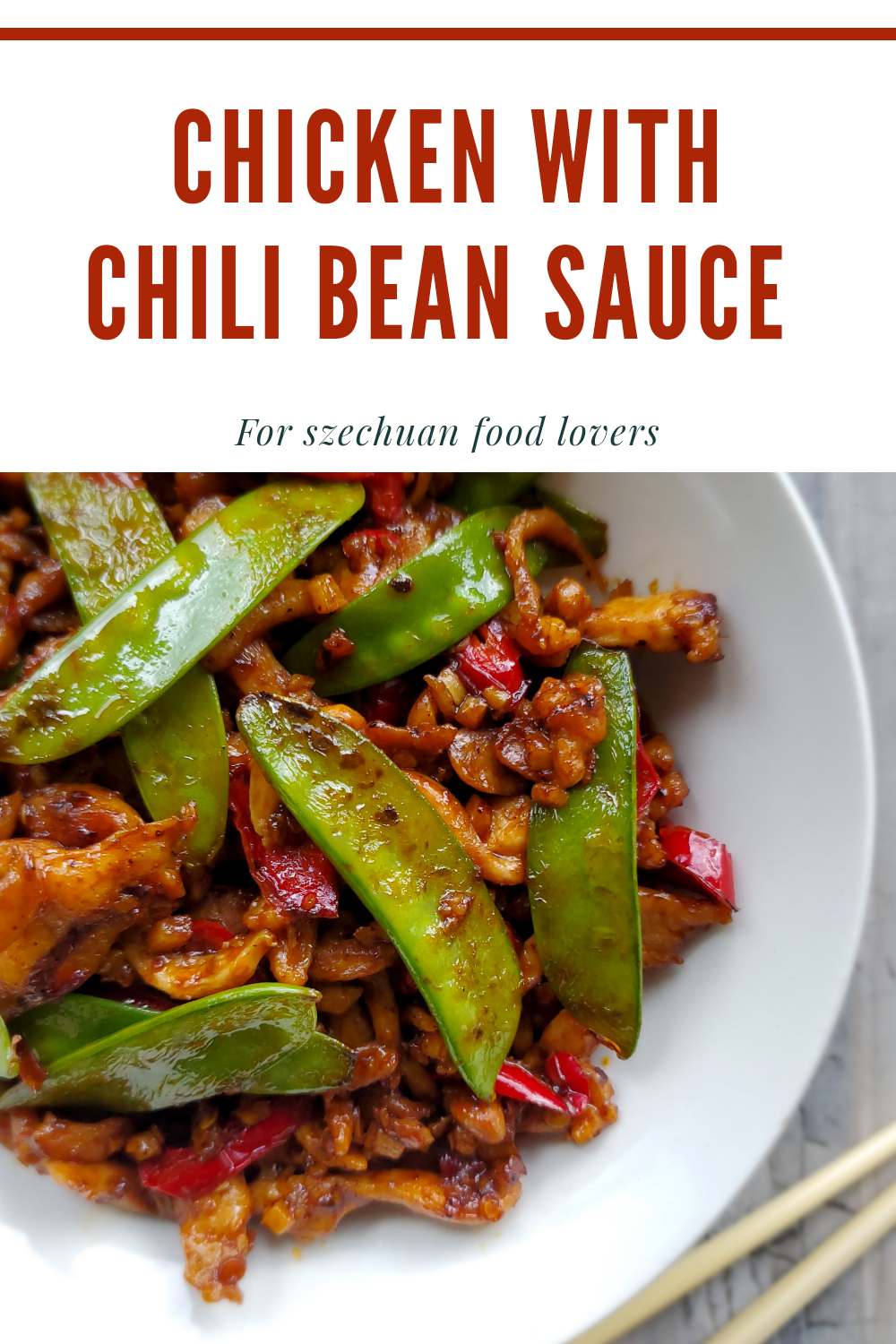 Few notes:
You need dark soy sauce, light soy sauce, sugar, and Chinese cooking wine for this recipe. If you don't have Chinese cooking wine, use some dry sherry or gin instead. But if you can't find any of these don't worry, just use regular soy sauce and sugar.

For vegetables, you can use any stir fry vegetables you like, or you can skip all the veggies and make it only with chicken. 

You're frying hot chilies so open your windows and turn on the ventilator.
Recipe Video : 
Affiliate Links:

Adjust Servings
For Chicken marinade

For stir fry sauce mix:

Other:
Marinade chicken and make the sauce mix in separate bowls.

Heat oil in a wok until smoking. Then add the chicken. Spread around and leave it for some time until they get golden on one side. Mix and cook until they are about 90% done. Remove chicken from the wok to a plate.

Now add chopped ginger and garlic. Stir for few seconds and then add sliced peppers and snow peas. When they get some charred spots, add chili bean sauce. Mix and fry for few seconds. Add more oil if needed.

Put the chicken pieces back in. Mix well. Add the stirfry sauce mix. Combine well together. Fry for about a minute, stirring continuously until chicken pieces cooked thoroughly.

Remove to a serving plate. Serve with warm rice.