This Chinese-style chili and cilantro chicken is a must-try for all chili lovers. Super hot but so comforting and very easy to make with a few basic Chinese ingredients.
I love eating out. Who doesn't? But what I love the most is recreating those takeout dishes at home. This particular one was one of my favorite Chinese dishes that we often get from a local Chinese restaurant called "Longfei". I fell in love with this Chinese chicken dish the first day I tried it. It's so spicy I always end up having teary eyes and a runny nose. But it's sooooo good I just can't stop myself from eating it..
The dish I buy from the restaurant calls "three kinds of chili and chicken with cilantro". And I tried to find any recipe on the internet that has the look or name. But I couldn't find any similar dish. So I created this recipe solely based on the flavor and the look. And I consider this as one of my greatest "takeaways made at home". Cause I promise you my homemade chicken with chili and cilantro dish tastes exactly like the one I buy from the restaurant. The best part is we always get this with so much added oil. And now I have the chance to make it with waaaaay less oil it's relatively healthy. I can also control the spice level so that's a plus too. 
What kind of chilies and how many?
I'm not sure what kind of 'three chilies' the restaurant uses. I only taste and see Thai chilies. And then white pepper and black pepper. So, Thai chilies are all I'm using. I don't have white pepper so I only use black pepper. But if you have white you can definitely use them. If you want to make it low heat, change the number of chilies you use. I usually use 10-12 Thai chilies for 3 boneless-skinless chicken thighs. I sometimes use Thai chilies mixed with some cayenne peppers for low heat. It's totally up to you. The pickling process is very important here to keep the chilies from burning and also to enhance the flavor. If you have chilies that you've pickled already, feel free to use them.
The recipe is very very easy and very quick. Definitely beginner-friendly. You only need a few basic Chinese ingredients that you can find in any Chinese grocery store. But those few ingredients are a must. 
Other ingredients and methods I use:
I highly recommend you use boneless skinless chicken thighs for the recipe. I've tried this dish with breasts too but thighs taste the best with this one. And breast pieces tend to dry out so quickly. Make sure your chicken is small bite-size so they cook quicker and taste better. 
The method I use to keep the chicken moist and juicy is called "Velveting". A famous Chinese method to keep meat from drying out and become chewy. There are a few ways that you can do this method. What I do here is an adapted method of velveting using a marinade along with baking soda as a tenderizer. But I do use the main ingredient that uses in velveting which is corn starch. I also don't blanch the meat in water or oil. Instead, I quickly wok fry the meat and then remove the chicken pieces before they overcook. Since we use chicken thighs and we do it with very small bite-size pieces this method works perfectly well. I always get perfectly juicy, perfectly seasoned delicious chicken pieces.
Note that the soy sauce I'm using here is light soy sauce, not dark soy sauce. Light soy sauce is very thin, opaque, and saltier and umami than dark soy sauce. You also need Chinese cooking wine in the recipe. since we don't use many sauces these two ingredients are a must and they determine the overall taste.
Lastly, make sure you use a big wok that has enough space and use high heat. If you use a smaller wok and low/medium heat, it would take so much time for the chicken to cook and you'll see so much water coming out from the chicken. If you want to serve many people I highly recommend you at least fry the chicken in batches. You can probably do the rest of them in one go. If you don't have a wok use a large frypan instead.
Affiliate links for the ingredients I use
If you love more Chinese dishes try my Chinese chicken with chili bean sauce, Chinese style pork ribs, Chinese chicken and broccoli, Chinese pork fried rice, and chop suey with scallops recipes. If you like this recipe or if you have any thoughts that you'd like to share please rate me and leave me feedback. I really appreciate it.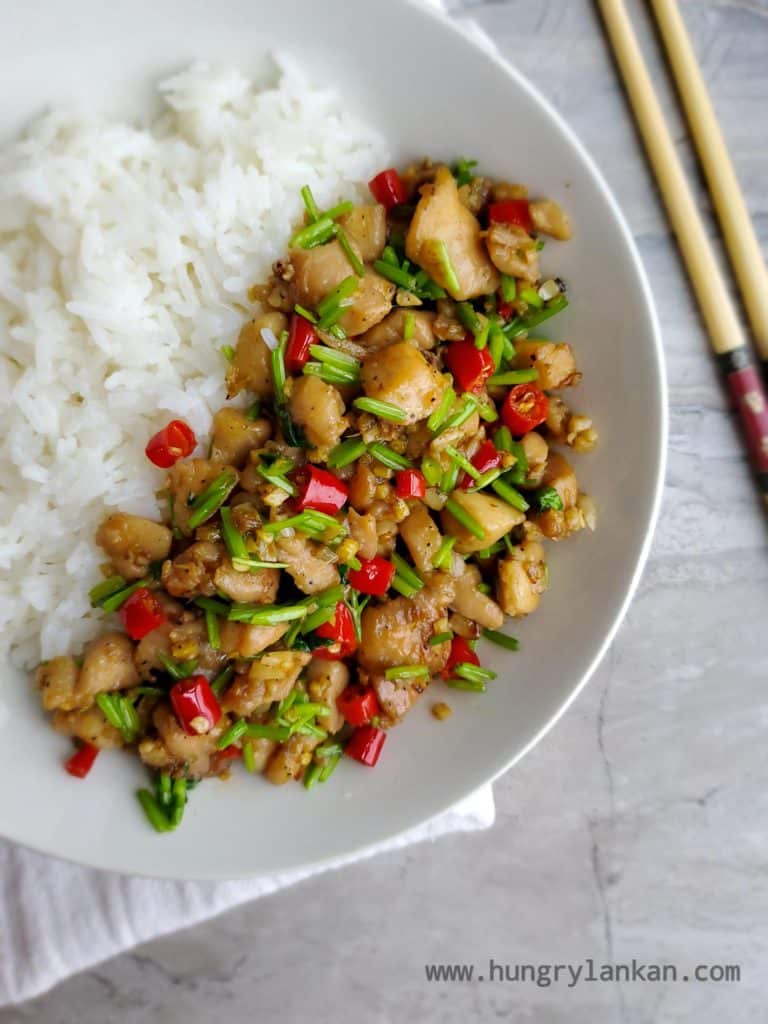 Chili and Cilantro chicken
Description
This Chinese-style chili and cilantro chicken is a must-try for all chili lovers. Super hot but so comforting and very easy to make with a few basic Chinese ingredients.
For chilies
Chicken marinade
Sauce/seasoning mix
Other
Instructions
Prepping
Cut the Thai chilies into small 1 cm pieces. You can use either red or green or a mix of both. Add the chilies into vinegar and salt mixture and leave it for about ½ hour or longer. You can use pickled chilies if you already have them in hand. This prevents the chilies from burning when you add them to the wok. And also adds flavor.

Cut the chicken into small bite-size pieces

Marinade the chicken with all the ingredients under "chicken marinade" on the ingredients list above. Leave it for about 20 mins. 

Make the sauce mix in a separate bowl with the ingredients listed under "sauce/seasoning mix".
Cooking
Heat the wok. And then add about a tbsp of oil. Let it heat. Add your chicken and spread it evenly. Cook on very high heat for about 30 sec to a minute without flipping. And then flip the chicken and let it cook until it's done all the way through. Make sure every piece of chicken touches the bottom of the wok and cook on very high heat so you won't see any liquid oozing out.

When it's cooked (make sure you don't overcook them otherwise they'd dry out) remove the chicken pieces to a separate plate.

Add another tbsp of oil to the wok. Add your finely chopped ginger and garlic. Fry for a few seconds. Do not cook until the garlic turns brown.

Turn down the heat to medium-low. Now discard the liquid in the chilies and add the chilies to the wok. Give a quick toss.

Add your chicken, turn up the heat back to high and mix everything very well.

Now add your sauce mix around the wok. Do not add directly over the chicken. Cook for about 30 seconds, mixing everything continuously. Make sure the heat is high.

Turn off the heat and add your chopped cilantro stems. Mix well.

Serve immediately. If you're planning to serve it later transfer everything to a serving dish. So the cilantro stems remain crunchy and green.
chili cilanto chicken, three kinds of chili and chicken, hot Thai chicken, hot Chinese chicken, chicken with chili and cilantro, Chinese chicken, Chinese restaurant takeaway, chicken and Thai chilies, Wok chicken, hot chicken asian style