Lightly cooked vegan broccoli-coconut salad or Broccoli Mallung is a great healthy dish that I love to prepare for lunches. I usually don't like salads but I'm always up for Broccoli Mallung (or any kind of Mallung tbh).
What's Mallung?
Mallung/Mallum is Very popular all over Sri Lanka and is usually made for lunch to go with other rice and curries. It's basically a lightly cooked leafy green (sometimes uses vegetables too) that has shredded fresh coconut in it. There are some other common ingredients go into it as well. But to qualify as a mallung the dish has to be cooked lightly and has to have coconut.
My mom who is also a Sri Lankan made some kind of a Mallung or a Sambol every single day for our lunches. I didn't like greens as a kid. My mom would always say mallung would make me pretty and smart so I never said no to Mallung. And now as an adult, I'd give up anything for mallung lol. Not because of what my momma said, but mallung is so delicious and also makes me feel good about eating healthy.
Ingredient info, substitutions, and where to find them
Broccoli: Yes it's the main ingredient and you can find them in many grocery stores. Discard the hard inedible stem parts. Use fresh broccoli. Frozen broccoli doesn't work for this recipe.
Coconut: Use fresh or frozen (thawed) grated coconut. I buy frozen grated coconut from an Indian grocery store nearby. And I microwave them for about 20 seconds until they come to room temperature. Almost all Indian stores carry frozen grated coconut. Or if you have a coconut grater, then you can grate fresh coconut too. That's what most Sri Lankans do. If you can't find any fresh coconut, use unsweetened desiccated coconut. Mix it with some coconut milk or water and microwave for about 30 seconds to rehydrate.
Green chilies: I use cayenne but any green chili variety of your choice would work. Reduce if you don't like your food hot.
Onions: Traditionally we use Asian shallots. You can use shallots or onions. Your choice.
Garlic: Adds a great flavor to the dish. But don't use too much as it can overpower the delicate broccoli and coconut flavor.
Dried chilies: Any dried red chili would be okay for this. I get this from Asian grocery stores and some Mexican stores have them too. Adds a wonderful flavor to the dish when tempered in oil so do not skip this.
Brown Mustard seeds: Another must-have for my recipe. They add so much flavor. You can find them in Indian grocery stores. I'll add an amazon link below too.
Curry leaves: An ingredient that we Sri Lankans use in almost every dish. They add a nice aroma to any dish you put them into. I buy them from an Indian store. You can use dried curry leaves too.
Coconut oil: This is the choice of oil for most Sri Lankan dishes. Use any neutral oil of your choice such as avocado, canola, or vegetable oil.
Any special types of equipment?
Yes, it's good if you have a food processor to mince everything. If you don't have a food processor, use a grater to grate broccoli, chop the rest of the ingredients with a knife, and hand-mix everything in a bowl.
Serving Ideas:
I usually serve broccoli malling with Rice and other curries. One simple menu that I like is Rice, Chicken curry or pork curry, red lentil curry, and broccoli mallung. I also love to have this with creamy potato curry and rice too. Good to serve as a side for grilled meat as well.
The amount of broccoli mallung you get here would be enough to serve 3 – 4 people as a side with rice and other curries. Otherwise for 1 person as a salad.
Broccoli mallung is an easy salad you can make in under 15 minutes. I really hope you give it a try. if you do, let me know how it went in the comments.
Products I use (Amazon affiliate links)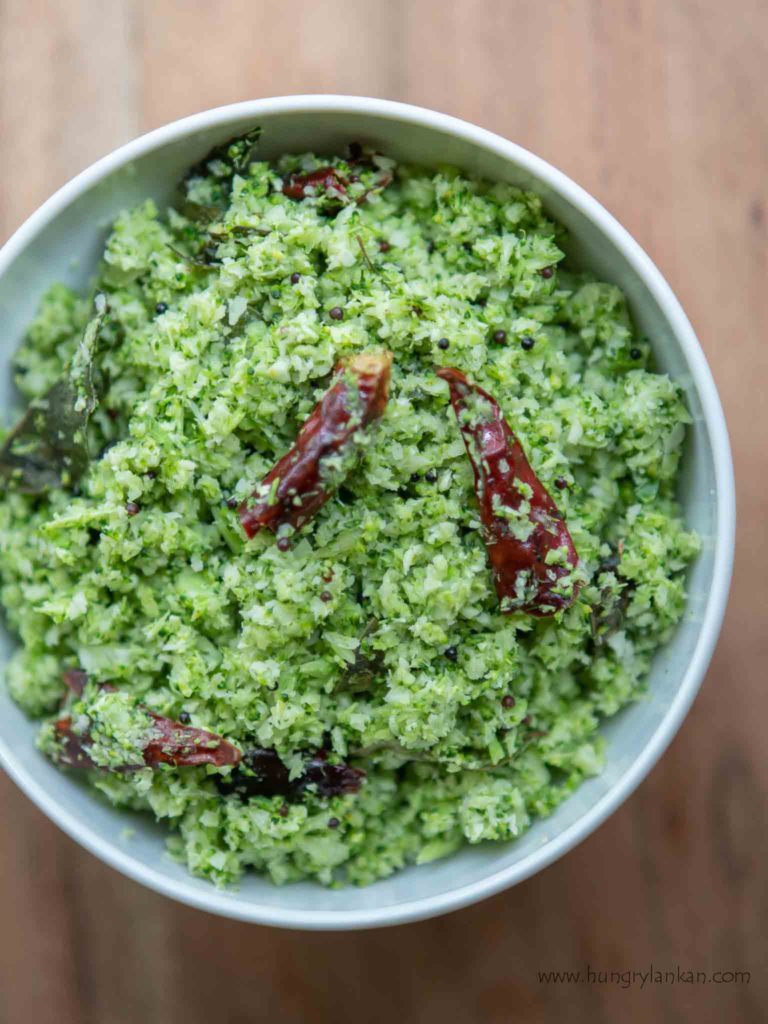 Easy Broccoli Mallung
Description
Lightly cooked vegan broccoli-coconut salad or Broccoli Mallung is a great healthy dish that I love to prepare for lunches. It's super easy and only needs 15 minutes to prep and cook. 
To chop in the food-processor
For Tempering
Instructions
Put broccoli florets (you can use the tender parts of the stem too), coconut, onion, green chili, garlic, and salt into the food processor.

Run the food processor on low for about 15 seconds or until they all break down to small pieces. Do not overdo this otherwise you'd endup with a paste.

Heat a frypan or a wok. Add coconut oil and let it heat up. Then add mustard seeds. When seeds start to splatter, add broken red chilies and curry leaves (be careful because curry leaves splatter).

Finally, add your prepared broccoli mixture and stir-fry for about 4 mins on medium heat or until the raw broccoli flavor is gone. Adjust salt if needed. Do not over-cook. Serve warm and enjoy!
Mallung, Mallum, Broccoli, Broccoli mallung, Sri Lankan salads, Salad, Coconut salad, Broccoli salad. Healthy food, vegan, vegan salad, broccoli stir-fry