I always use this simple Air-fried spicy chicken legs recipe when I need something quick and healthy. You only need a handful of ingredients and a few minutes to make this.
I use many things in my air-fryer. I make air-fried fish, chicken bites, roasted vegetables for salads, and even dinner rolls. But I make nothing more frequently than this chicken recipe. Cause it's the simplest way to make spicy chicken and the recipe is very forgiving. If I want it spicy I'd increase chili powder, more lime juice if I want it tangier, and more black pepper for a more peppery flavor. You get what I'm saying right?
Use the measurements I've given you as a guideline and adjust them to your liking. This is why I make my marinate first and then taste it before I add chicken to it. When you taste the marinade, it should taste a little extra citrusy and salty. It will balance out once the chicken is cooked.
Why add oil?
Since I remove the skin of the chicken I usually add some oil to help it roast and also to keep the meat moist. The marinade becomes a little thin when you add oil to it. So it's easier for you to spread the marinade over the chicken pieces.
You can skip adding oil if you're going to leave the chicken with skin on. Add a little bit of water to make the marinade thin in this case.
Air-fryer temp and time
I use a small 4qt ninja air-fryer and it heats up very fast. Because of that, I don't preheat my air fryer. If you have a bigger air-fryer that takes longer to heat up then you might need a little bit more time to cook your chicken. It usually takes me 15 – 20min on 375F for two chicken leg quarters. You might need more time depending on the size of the air-fryer and the size of the chicken legs you use. To prevent the chicken from under or over-cooking, I highly recommend using a meat thermometer. Insert the meat thermometer into the thickest part of the chicken. When it reaches 165F, your chicken is perfectly cooked.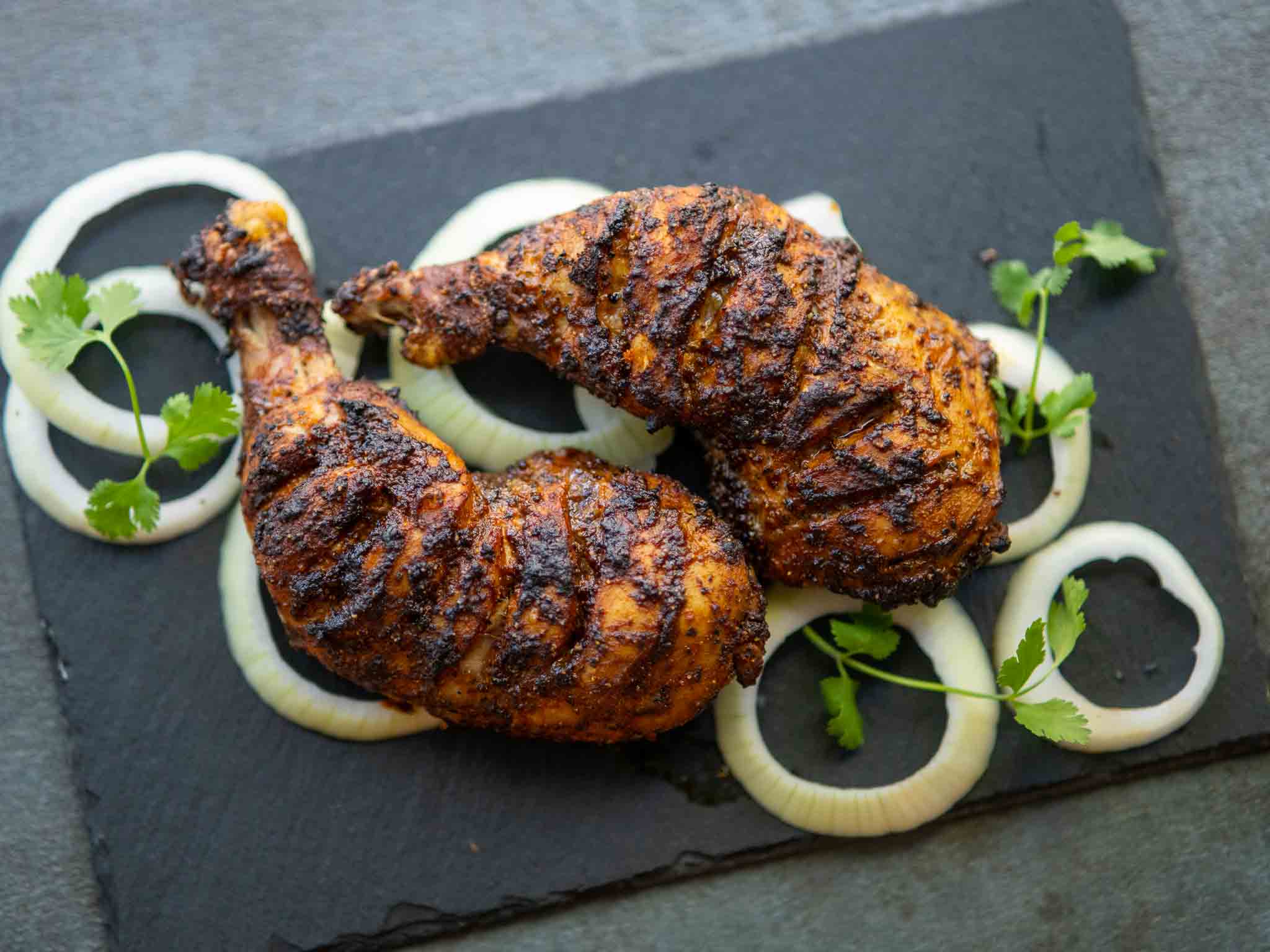 What to serve it with?
A salad would be perfect along with a lime wedge and some mayonnaise to serve with these spicy chicken legs. I also like it with Sri Lankan yellow rice and red lentil curry and arugula salad. Another option would be some steamed vegetables along with a slice of sourdough bread.
Products I use (amazon affiliate links)
Try this Air-fried spicy chicken legs recipe for a quick healthy meal and let me know what you think in the comment section below. Happy cooking!!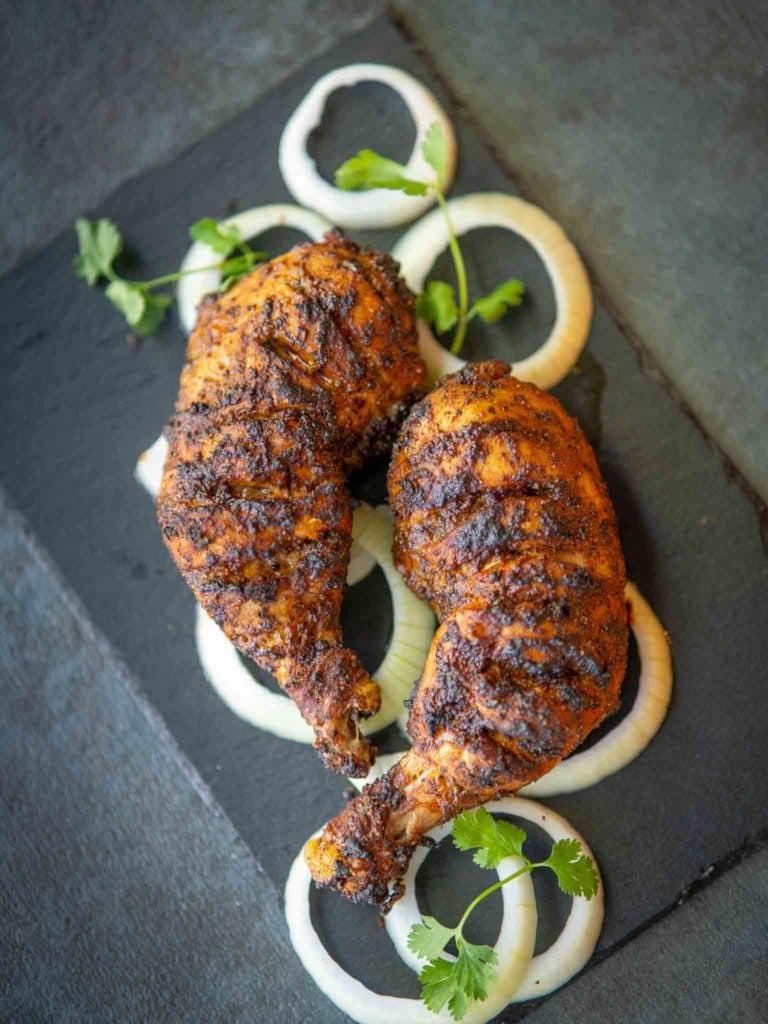 Air-Fried Spicy chicken legs
Description
Simple Air-fried chicken legs recipe with a spicy, citrusy kick. You only need a handful of ingredients and very little hands-on time. 
Instructions
Remove the skin of the chicken leg quarters*. Put about 7 - 8 gashes in each leg quarter on the front side only. Pat dry the chicken pieces with paper towels.

In a separate large bowl, mix paprika, black pepper, garlic powder, salt, lime juice, and oil.

Add chicken pieces in and coat the chicken pieces very well with the spice mix. (use gloves!) Cover and leave it for 20 - 30 mins on the counter or 2 hours in the fridge. 

Place chicken pieces in the air-fryer basket. Set the temp to 375F and timer for 15 mins and press start. Air-fry until the chicken is fully cooked, the internal temperature reaches 165F when you test with a meat thermometer. *( Time may vary depending on how big or small the chicken pieces are and the size/brand of the air-fryer. Always check the doneness before you serve)
Notes
You can leave the skin on if you'd prefer that way. In that case, you can skip adding gashes or add fewer gashes since the skin can shrink as it cooks and become crsipy.
You can use this same recipe to make chicken drumsticks, thighs and wings as well.
Air-fryer time and temp may vary depending on the size of the air-fryer you use and the size of the chicken pieces.
Chicken, Spicy chicken, roast chicken, Roasted chicken, Sri Lankan fried chicken, Sri lankan roasted chicken, Chicken leg quarters, Air-fried chicken, Chicken recipes