I first made this all-in-one Yellow Rice dish with chicken and vegetables for my husband's birthday and now it takes frequent turns in my kitchen cause everyone loves it. So easy to make and takes way less time than making rice and chicken separately. That's a definite win for me!
My family loves yellow rice. Coming from Sri Lanka we always had Yellow Rice for celebrations and special events. It's so fragrant even your neighbors would know that you're cooking something good. With yellow rice, you want to serve vegetable and meat dishes on the side. But I wanted to make yellow rice with all-in-one meat and veggies. That's when this easy dish came into my mind. Fewer dishes to wash, fewer ingredients to prep, and more time to enjoy with your loved ones.
Ingredients info, substitute, and where to find them
Chicken:
I use chicken drumsticks. They're moister and more flavorful and the bones add a lot of flavor to the broth. You can also use bone-in chicken thighs but I recommend removing the skin as it can add a lot of fat to the broth and by that, it can make your rice feel greasy. I do not recommend chicken breast. They can dry out quickly when you cook the chicken twice and also the meat might not hold well together when you pressure cook.
Basmati rice:
Use good quality basmati rice. There's a huge difference between cheap bad quality basmati and good-quality basmati. Bad ones tend to break and stick together and would lack fragrance. Whereas good quality ones cook evenly and have a nice floral fragrance and a good nutty flavor. Also, make sure you wash your basmati rice very well until the water runs clear. This is the secret to getting good fluffy rice grains that aren't sticking together.
Whole spices:
Cardomom, cloves, and cinnamon are a must in this recipe. You can use ground spices as well but trust me, freshly ground whole spices are very high in fragrance. If you're using ground spices use 1/4 – 1/2 tsp of each.
Curry leaves and pandan leaves:
These herbs have very unique fragrances and are a must in Sri Lankan dishes. Curry leaves are available in almost all Indian grocery stores and in some Asian grocery stores. Pandan leaves can be tricky to find sometimes. I buy them from a Vietnamese grocery store. Some Asian stores carry them in the freezer section. You can get dried leaves from Amazon as well (I'll add a link below)
All the other ingredients I use in this recipe are pretty common in most countries and can be found in many grocery stores. So I'm not going to explain them one by one. If you have any questions please ask in the comment section below. I'm happy to answer.
Can I deep fry/bake chicken?
Yes, you absolutely can! I know, not everyone loves air fryers as much as I do. If you decided to deep fry, make sure to get the oil nice and hot before you add chicken to the oil. Since the chicken is already cooked, you only need to fry your chicken for just a few minutes until the skin become crispy. Make sure the chicken is a little dry on the outside before frying, otherwise, the oil will splatter.
If you want to bake it I recommend turning the broiler on low and broiling it for a few minutes until it catches some brown color on the outside.
How to serve it
I love to serve this with a creamy potato curry which is my husband's favorite way to have this "Yellow Rice with Chicken and Vegetables" dish. A simple lettuce salad with a creamy tangy dressing/sauce goes really well too.
Products/ingredients I mention (Amazon affiliate links)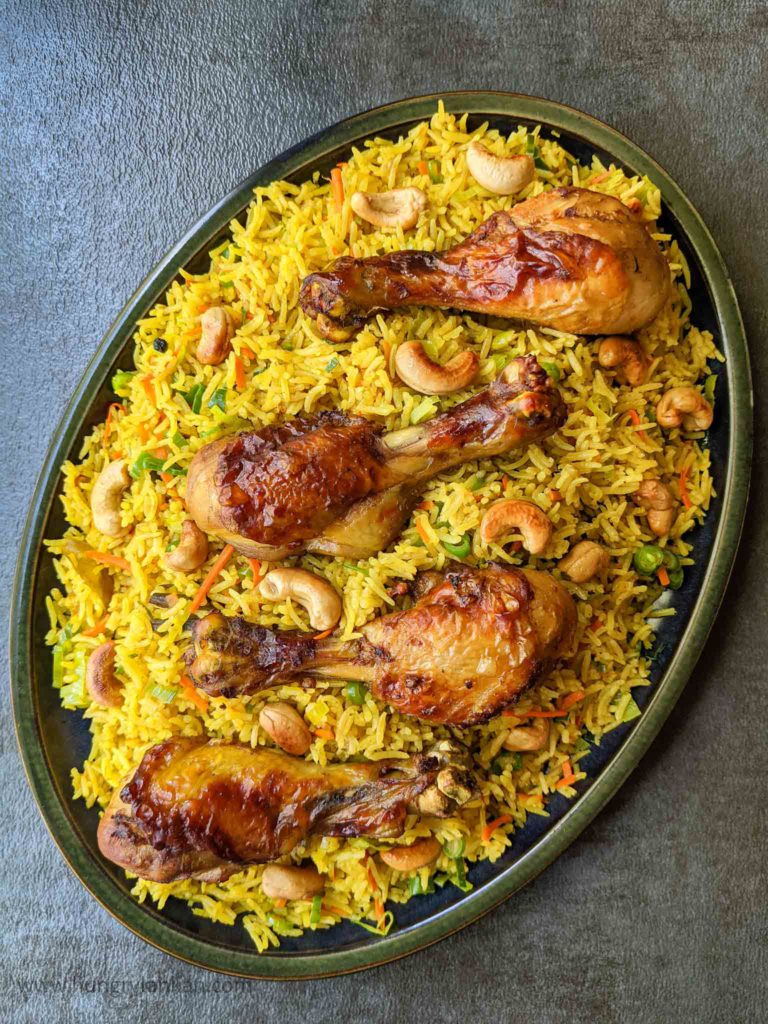 Yellow Rice with Chicken and Vegetables
Description
Don't let the long list of ingredients and the steps overwhelm you. This chicken and rice dish is so easy to make and very beginner friendly. And I guarantee it will bring a smile to everyone's face when you serve this.
to make rice
For the vegetable stir-fry
Other
Instructions
Add cardamom pods* and cloves into the mortar and pestle. Crush them until they become a coarse powder. Remove cardamom shells if necessary. Add ginger and garlic cloves. Crush them into a rough paste. (do not make it into a smooth paste. It can burn quickly in the instant pot)

Turn on the saute mode in your instant pot, and set the temperature to medium. Heat butter. Add cinnamon stick, whole black peppercorns, curry leaves, and pandan leaves. Saute for a few seconds. Then add onions. Cook onions until they become sweaty. Then add the ginger garlic spice paste you just made. Saute until they become light brown on the edges. (add a touch of water if you feel like the mixture is sticking too much to the pot)

Then add turmeric powder and salt (you get the chance to adjust the salt in a later step). Add chicken pieces in. Saute for about 30 seconds. 

Add water. Cover the pot. Pressure cook on high pressure for 8 mins. (Turn on the pressure cook mode. Select high pressure and adjust the timer to 8 mins and press start.)

When the timer is up, let the pressure release naturally. Open the lid. Remove chicken pieces to a separate plate using tongs.

Add washed-drained rice and coconut milk to the instant pot. Mix. Taste the broth and it should taste salty. if not add a little bit more salt. Close the lid and press the "rice" button or pressure cook on low pressure for 12 minutes.
Stir-frying vegetables and mixing with rice
Do these steps while the rice is cooking.

Meanwhile, heat butter in a frying pan or a small wok. When butter is melted add carrot and green beans. When they become tender, turn off the heat. Add leeks and salt to your taste. Saute. The residual heat is enough to cook leeks.

When the rice is done, let the pressure release naturally. Add the vegetable stir-fry to the instant pot. Mix everything gently without breaking the rice grains. 
Air-frying chicken
Pre-heat the air-fryer to 400F for about 6 mins. 

Sprinkle salt and add lime juice over both sides of the chicken (You can also add black pepper and chili powder to your taste if you like the chicken spicy). Place them in the air-fryer basket. Cook for 3 - 5 mins, 400F until the skin is brown.

Garnish rice with roasted/fried cashews (fried onions are also a very good addition). Serve warm.
Notes
You can remove cardamom shells after pounding them. I don't mind them so I don't remove the shell.
Yellow Rice, Rice, Chicken and Rice, Instant pot rice, Rice chicken and vegetables, Sri Lankan yellow rice, Air-fried chicken