My Sri Lankan style stir-fried Thai eggplants is one of the easiest and most delicious dishes I make for my rice and curry lunches. Try it once, I promise you're going to make it again and again.
Not familiar with Thai Eggplants?
Thai eggplants come in different sizes and even with different colors. But the most famous variety is green and white and that's what I'm using in this recipe. But you can use other varieties too (white or purple Thai eggplants for example). In Sri Lanka, where I grew up, this is a very popular vegetable and is available in almost all grocery stores. We call them "Thalana Batu" or "Ela Batu". The flesh is white, mild-tasting, and has a lot of seeds inside. Seeds can be eaten if they are very tender and still white in color. If the seeds are matured it's unpleasant to eat them and should be discarded.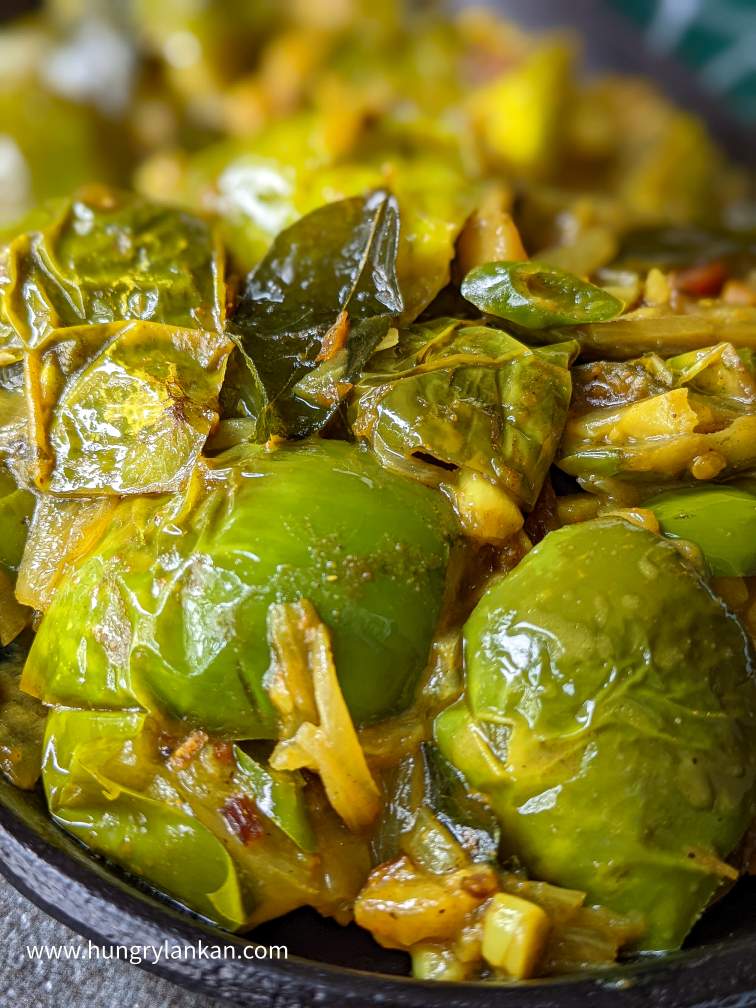 Recipe Info and Ingredients:
In this recipe, I cook Thai eggplants until they become very soft. The flesh becomes buttery and irresistible when they are cooked soft. Thai eggplants have a slight bitterness to them. So I use a little bit of coconut milk to add some sweetness to the dish. You can skip coconut milk if you don't like it. Btw if you like a Thai eggplant curry that is heavy on coconut milk, check out my Thai eggplant curry recipe.
I also add Maldive fish flakes (Umbalakada) to this recipe. You might not familiar with this ingredient. Umbalakada is dried fish (Tuna) that comes as a hard piece of block. When we need it we usually break it with a knife or grind/pound it into very small chips or flakes. we use for our curries and stir-fries in small quantities when we need to add some umami flavors. If you don't have or want this ingredient you can totally skip it. I make stir-fried Thai eggplant without adding Maldive fish flakes too.
Curry leaves and pandan leaves are a staple in our cuisines. You can find these ingredients in most Indian/Asian grocery stores. Check the freezer aisle too for frozen pandan leaves.
I use Sri Lankan unroasted curry powder in the recipe. I'll add an amazon link below if you wish to purchase. But you can use a curry powder of your choice too. Make sure it's a mild curry powder that doesn't have a strong flavor or aroma.
The green chilies I'm using in this recipe are fairly small but they're spicy. If you want the stir-fry to be mild, then use a milder chili variety. Adjust the number of green chilies you use to your preference. Add more chilies to make it hot and also for chili flavor. You can even skip them if you want.
All the other ingredients are pretty common so I'm not going to discuss them and make the post too long for you to read. Please feel free to ask any questions you have in the comment section at the bottom of the page.
What to serve with:
I love to serve this stir-fried Thai eggplants with Rice. Goes with any rice variety. My personal favorite menu is Thai eggplant stir-fried, red lentil curry, and Sri Lankan chicken curry together.
Products I use (Amazon affiliate links)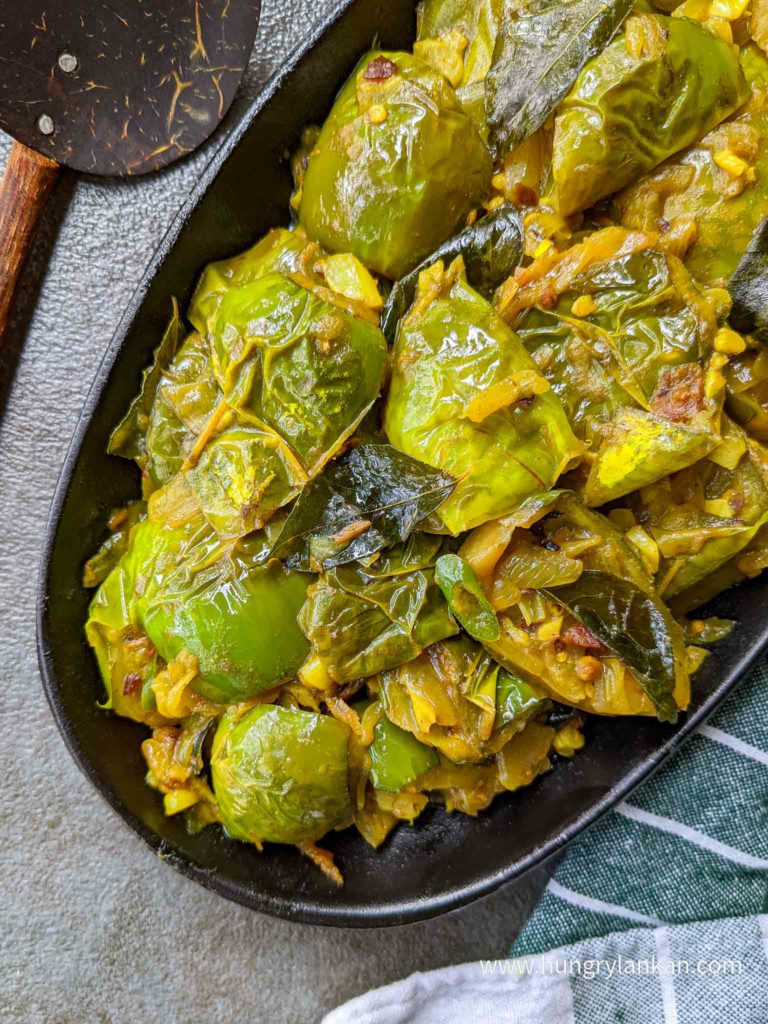 Stir-fried Thai Eggplants
Description
Sri Lankan style Thai Eggplant stir-fry is one of the easiest and most delicious dishes I make for my rice and curry lunches. Try it I'm sure you'd love it too. 
Instructions
Cut and remove the stem of Thai eggplants and cut each into four quarters.

Remove the seeds using a spoon and discard.

Put your cleaned Thai eggplants into a bowl and add the following ingredients: Turmeric powder, Curry powder, Maldive fish flakes, and salt about 1/2 tsp or so. You can adjust salt later in the process. Mix well. Set aside until you prep other ingredients.

Heat a large saute pan. Add coconut oil. When oil is heated add curry leaves and pandan leaves in. Be careful, they splatter.

Then add chopped garlic and sliced onion to the pan. Saute until onions start to become translucent. 

Add Thai eggplants into the pan along with any spices/liquid  left in the bowl. Also add sliced green chilies. Mix well with onions. Saute for about 3 minutes on medium heat.

Add about 1tbsp of water, cover, and cook until they become tender. 

Mix them halfway through and adjust salt. 

When Thai eggplants are tender, mix gently add coconut milk and cook uncovered until you get the desired texture.
Notes
I use Sri Lankan unroasted curry powder. You can substitute with a mild curry powder of your choice.
You can either leave some gravy or cook until there isn't any gravy left. 
Thai eggplants, Eggplants, Easy, Stir-fry, Thalanabatu, Elabatu, Sri Lankan food, Eggplant stir-fry