This Sri Lankan style Thai eggplant curry aka "Thalana Batu" or "Elabatu" curry turns out so creamy and buttery tender, it just melts in your mouth. Trust me if you try this once you're going to keep making it again and again.
Though these vegetables are called Thai eggplants in the western world, they are very popular in Sri Lanka too. We call all eggplant varieties "Batu". This particular one is commonly known as "Thalana Batu" or "Ela Batu" by locals. "Ela" means white color hence the name "Ela Batu". And "Thalana" gives out the meaning of smashing something. When you cook the curry you got to remove the seeds inside. A common way of removing seeds is to put them all in a bag and then smash the bag with something heavy (usually use a coconut) until the eggplants pop. That's how the name "Thalana Batu" comes in.
How to clean Thai eggplants
Up until this day, my mom uses the smashing method I mentioned above to clean out the seeds. She put the eggplants into a plastic bag, place the bag on a flat surface and then smash the bag with a coconut until they split open and seeds come out. And then transfer everything to a big bowl, fill it up with water and rinse out the seeds. This method is easy but you won't get unform pieces and it's a little messy, you get seeds all over the sink. You have to rub the seeds from the fruit with your fingers, which can stain your fingers. You can use this method or you can use my method. I cut them into quarters. And then snuck a teaspoon under the bundle of seeds and scrape the whole bundle in one go. But whichever method you use, it's fine with this curry as long as you remove all the seeds.
How to make this Thai Eggplant curry vegan
This Thai eggplant (Thalana Batu) curry can be very easily transformed into a vegan curry. All you have to is to skip Maldive fish flakes (aka Umbalakada). I use them to add a touch of umaminess to the curry. But I make this curry without Maldive fish flakes all the time. No problem at all.
Serving options:
In Sri Lanka, usually, this curry is eaten with rice and a few more dishes like other curries/stirfries/salads. Popular as a dish for lunch but good for dinner too. The curry is very creamy and has a hint of sweetness from coconut milk. To cut through the creaminess I usually like to serve something tangy and also something spicy. My favorite is Sri Lankan chicken curry which is both spicy and a little tangy. Since this is very buttery and soft in texture, something crunchy like a crunchy salad or papadam would also be a perfect addition.
Products I mention (affiliate links)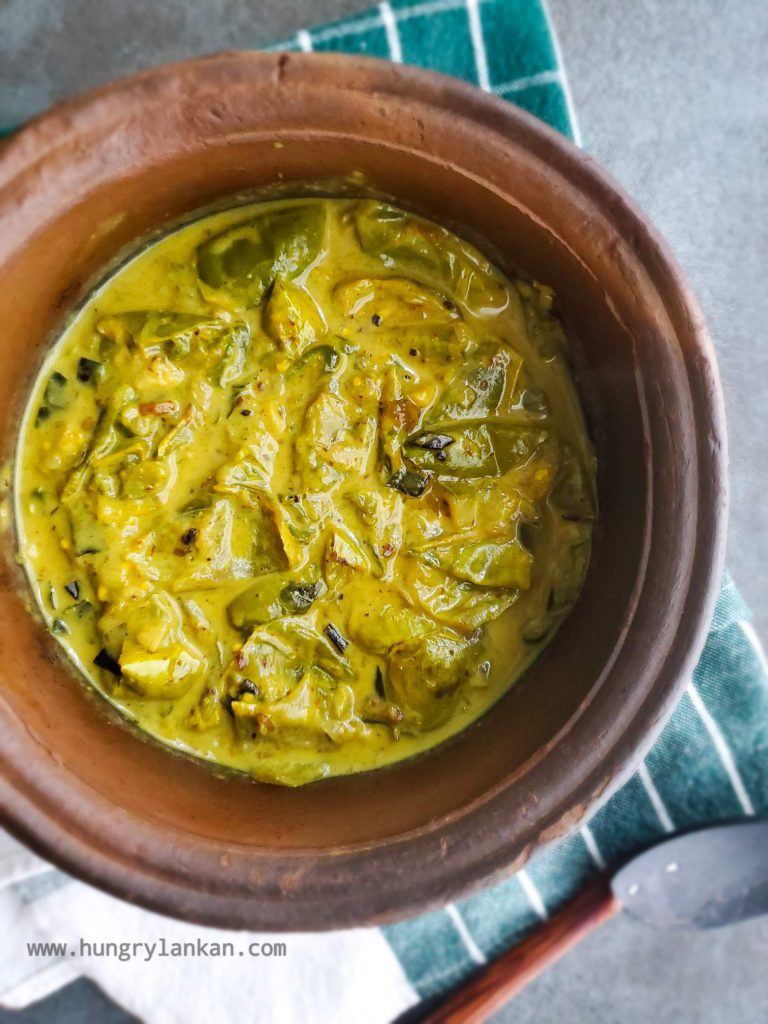 Thai Eggplant (Thalana Batu) Curry
Description
This Sri Lankan style Thai eggplant curry aka "Thalana Batu" or "Elabatu" curry turns out so creamy and buttery, it just melts in your mouth. Trust me if you try this once you're going to keep making it again and again.
Mix with Thai Eggplants
Other
Instructions
Cut and remove the stem and then cut them into quarters. Remove the seeds using a spoon. Wash them to remove any seeds left. 

Mix Thai eggplant pieces with curry powder, turmeric powder, 1/2tsp salt, and Maldive fish flakes (don't worry if you don't have this ingredient). You can use a spoon or put everything into a container, cover and shake the container to mix everything.

Heat coconut oil. Add pandan leaves (I didn't have this ingredient at that time), curry leaves, fenugreek seeds, chopped garlic, and onion, and temper them in oil until garlic start to turn light brown on the edges.

Add Thai eggplants and green chilies. Saute in oil for about a minute or until the green color of the eggplants become brighter. If you love the curry to be hot you can increase the number of green chilies you use. They also contribute to adding a green hue to the curry.

Add thin coconut milk, mix well and bring to simmer. Then reduce the heat, cover with a lid and cook until Thai eggplant pieces are tender.

Add thick coconut milk and mix everything only once (if you want more gravy, add more coconut milk, if you like a thick dry curry then add less). Cook the curry on low heat, uncovered, until the liquid reduces to your desired consistency. Do not keep stirring otherwise the flesh of the eggplants would dissolve in the curry and make it mush. Shake the pan from time to time to prevent the bottom from sticking and to mix everything.

When the curry has reduced to your desired level, turn off the heat, add a few drops of lime juice. This will thicken up the gravy a little bit and add some freshness to the creamy curry.
Thalana Batu Curry, Ela batu curry, Sri Lankan thalana batu curry, Thai eggplants, Ela Batu, Thalana Batu, Creamy Thai eggplant curry, Creamy vegetable curry, Thai Eggplants, Curry, Easy curry