Sri Lankan Gotu Kola Salad or Gotukola Sambol is my favorite salad of all time. I can eat this every day and I'd still crave more. Try it once and I promise you, you're going to LOVE this salad, even if you're a salad hater.
Gotukola
This green has many names. You might know them from either of these names: Gotu kola, Centella asiatica, Centella, Brahmi, Hydrocotyle, Indian pennywort, Luei gong gen, Marsh pennywort, Rau ma. Very common in my country Sri Lanka and we consider this as a very healthy herb with many health benefits. Gotukola belongs to the same family as Parsley. It doesn't taste strong as parsley though. But you can actually make this salad with parsley or Arugula as well.
From where can I find this green?
I live in the US and I have never seen Gotu Kola in any popular chain grocery stores. But it's commonly available in Southeast Asian grocery stores (especially in Vietnamese grocery stores) and sometimes in Indian grocery stores. They are labeled as Rau ma in Asian stores.
If you can't find Gotu Kola, use Parsley, Young Kale, or Baby Arugula. They all go so well with the salad.
What does it taste like?
Gotu kola has a very mild herbaceous flavor, with a hint of bitterness and sweetness. It can absorb all the other flavors we mix in with it. The sambol taste nice and citrusy from lime, which complements the bitterness from the leaves and the creaminess and sweetness from fresh coconut. Gotu Kola sambol also has a hint of umami from Maldives fish flakes. A little hot from fresh chilies. Unlike many boring salads, this Sri Lankan Gotu Kola Sambol is complex in flavors and is very delicious and refreshing.
How to cut Gotu Kola leaves for the salad?
Some people like to cut it finely, some like it roughly chopped. I like finely sliced since it releases more Gotu kola flavor that way and also mixes in really well with other finely chopped ingredients. To cut Gotu kola leaves, roughly arrange Gotu kola leaves horizontally on the chopping board. Then make it into a bundle with your palm and fingers and hold it on the cutting board. Start slicing from one side to the other.
From where to find grated coconut?
In Sri Lanka, we use freshly grated coconut which has the best flavors tbh. In most other countries (especially in Europe and western countries) freshly grated coconut is a foreign ingredient and is very hard to find in chain/local grocery stores. But if you have an Indian grocery store or an Asian grocery store nearby, these grocery stores most definitely carry fresh coconut in frozen blocks. All you have to do is, break a piece of coconut and then microwave it for about 30 to 45 seconds or until it is thawed.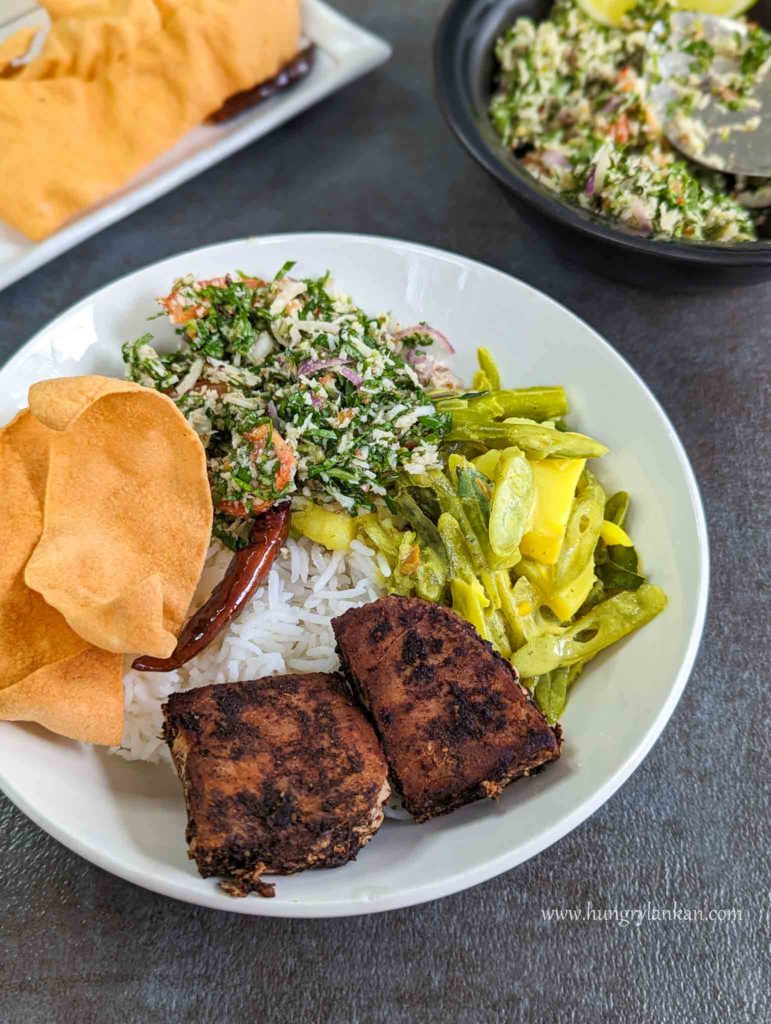 How to serve Gotu kola sambol/salad?
In Sri Lanka, we usually serve this for lunch along with rice and other curries and stir-fries. I usually pair it up with either white rice or yellow rice and a creamy curry (such as red lentil curry, creamy potato curry or green bean curry) and a protein (chicken curry, meatball curry, beef curry, fish ambul tiyal). You can add some papadums or fried dried chilies to your rice bowl for some crunch.
Gotu kola sambol is best served freshly made. But you can store leftovers for 1 - 2 days in the fridge depending on the fridge temp. When you want to serve, reheat it for about 15 seconds in the microwave, just to bring it to room temperature, or serve it cold over hot steaming rice. Do NOT overheat it as it can ruin the taste and texture of both Gotu kola leaves and the coconut.