Sri Lankan creamy meatball curry made with coconut milk. An easy one-pot recipe for all the meatball lovers. It's spicy, creamy, and goes well with bread, rice, and string hoppers.
This creamy meatball curry is a lifesaver for me. I love it because it's so versatile and very easy to make. I don't even have to thaw the meatballs. All I have to do is to take the packet of meatballs out of the freezer and dump the meatballs into the pot. It's a great substitute for any meat curry in your Sri Lankan lunch or dinner. And most of all it's a one-pot dish. Which means only one dish to wash. Yay!
What you basically do in this meatball recipe is,
temper the aromatics first.
Then roast the spices in oil.
Add the sour ingredients.
cook the meatballs in water to get them tender and infuse with the spices.
Finally add coconut milk to make the dish creamy and cook it down so your gravy becomes thick, dark, and delicious.
Essential steps, Substitutions, and tips:
You can adjust the recipe as per your taste. I personally like the curry to be spicy. So I use red chili powder and a green chili which is packed with heat. If you can't handle spice, then you can use paprika instead. Or reduce the amount of chili powder you use.
Roasting spices in oil is a must. one, it releases the essential oils in the spices to the cooking oil. two, the curry gets darker, richer in color. three, it adds a nice toasty flavor and aroma to the curry.
You can use any type of meatballs for the curry. I like the homestyle (original) meatballs. The flavored meatballs like Italian style meatballs can alter the taste of the curry.
Sour ingredients are a must in most Sri Lankan meat curry dishes. For this one I only use tomatoes. You can use tamarind paste or vinegar instead. Or use a combination of sour ingredients.
for the curry to get thicker and darker, cook the curry down after you add the coconut milk. But make sure to do it in low to medium-low heat. high heat can curdle up the coconut milk.
I hope you give this recipe a try. It's best to serve warm with rice and curries or with bread. With rice or bread and, coconut sambol is my favorite way to eat this Sri Lankan creamy meatball curry.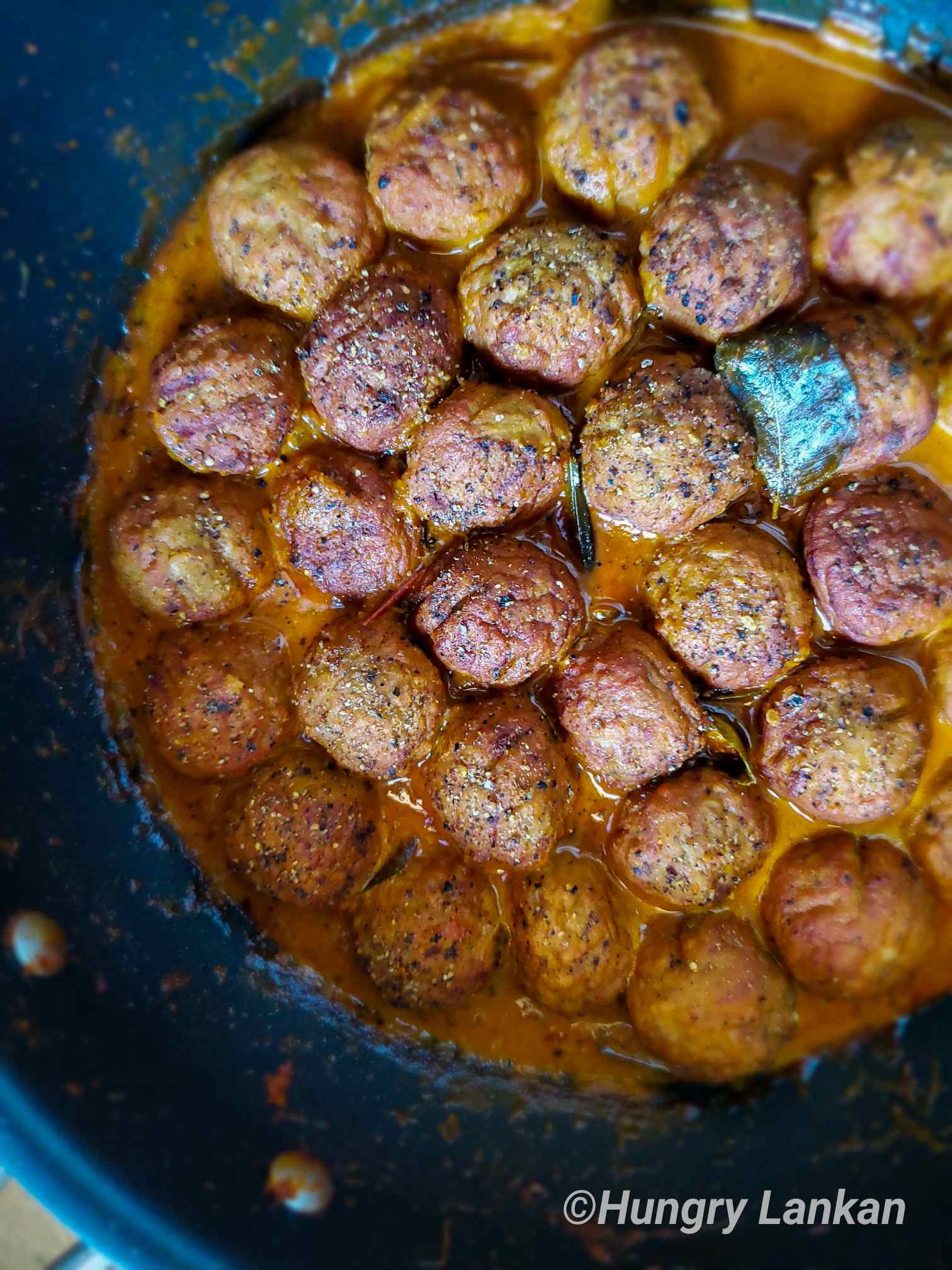 Sri Lankan creamy meatball Curry
Description
Sri Lankan creamy meatball curry made with coconut milk. An easy one-pot recipe for all the meat curry lovers. It's spicy, creamy, and goes well with bread, rice, and string hoppers.
Instructions
Crush cardamom, ginger and garlic in a mortar and pestle to a coarse paste.

Heat about 2 tsp of coconut oil. (vegetable/canola oil is fine). Then add a piece of cinnamon and a few pieces of a pandan leaf and curry leaves.

Then add your freshly made ginger and garlic paste, finely chopped onions. Fry until the onions start to get brown.

Now lower the heat and add chili powder (reduce the amount of chili powder if you can't handle heat), curry powder, turmeric, and some salt. Add a bit more oil if the mixture is too dry. Fry the spices in oil until they become dark brown.

Now add a diced medium tomato and 1 chopped chili. Mix and fry until the tomato gets mushy.

Add 1lb (approx 450g - 500g) of meatballs to the pan and mix well with the spices. If you're using frozen meatball, you don't have to thaw them. Make sure to remove the pieces of ice, if any.

Then add 1/2 cup of water, cover, and cook for about 15-20 mins on medium-low heat. If you use thawed meatballs, about 10mins would be enough.

taste and adjust salt. If it lacks sourness you can add a bit of vinegar too.

Add 1/2cup to 3/4 cup coconut milk, mix well with the meatballs and cook uncovered for another 15mins or until oils appear on the top.

Sprinkle some black pepper on the top when it's close to be done.
sri lankan, sri lanka, meatball, curry, coconut milk, spicy, creamy, meatball curry, meatballs, meat ball, meat balls