These crunchy beautiful Sri Lankan fish patties (පැටිස්/ "Patis" in pronunciation) are one of my favorite snacks since I was a kid. They are much similar to empanadas or curry puffs but filled with a spicy tuna and potato filling. You can have them for breakfast, for tea time, or whenever you feel like you want a small snack.
Fish Patties (or Patis as we call them) are so popular in Sri Lanka as a short eat. "Short eats" is the term we use to refer to snacks in Sri Lanka. So if you visit Sri Lanka you'd find many many Short Eat shops on the roadside. These shops always have glass showcases filled with fish rolls, Egg Rolls, fish buns, and more goodies. When I was a school girl I used to bring short eats for my school lunches. And I very much remember that I did not like when my teacher said that we should share our meals with friends. lol.
The Dough
This dough is very much similar to pie dough in every way. The only difference is pattie/patis dough usually has less butter and you traditionally make patties by deep frying. There are quite a lot of variations for the pattie dough recipe though. Some people like to add baking soda, some like to add eggs, and some add melted butter or margarine instead of cold butter. They all give slightly different outcomes and I think they are all delicious. For now, I thought I'd share the simplest and the easiest recipe I have that gives out the super delicious buttery flaky crust, every time. I'll share my other pattie dough recipes as well sometime later.
dough ingredients:
I only use a few basic ingredients for this recipe. Flour, cold butter, salt, sugar, vinegar, and cold water. It is absolutely necessary to keep the dough cold to make sure that your butter is not melting. That cold butter helps to transform your dough into a nice flaky crust. People use vinegar to help relax the dough by inhibiting gluten transformation. (I read that the small amount of vinegar that we use in the dough is not enough to quite do that but I'm yet to test it out.) Don't worry about the vinegar flavor, you wouldn't taste a thing. I add sugar and salt to increase the flavor of course.
Making the dough by hand
I use my food processor to make the dough cause it's much quicker. Literally needs less than 1 min. But we always made the patties dough by hand back in Sri Lanka.
add flour, salt, and sugar into a large bowl and mix to combine.
Then add the cubed cold butter. Press butter and flour together with your thumb and index fingers to mix butter and flour together. And break any large butter-flour lumps into smaller pieces.
squish flour and butter together until the flour has a coarse mealy texture to it.
Mix vinegar and cold water in a separate jug.
sprinkle the water-vinegar mixture, a little at a time, and gently mix with the flour. You only need water to hydrate any loose flour. So do not add all the water at once.
Squish the dough together using both hands to make a dough ball.
The Filling
Easy filling with potatoes, canned mackerel, and some spices and aromatics. Most of the ingredients I'm using here are pretty common in most countries. You might have a hard time finding curry leaves and pandan leaves. I get my curry leaves from an Indian grocery store and also from Amazon (linked below). Pandan is from a Vietnamese grocery store. Check their frozen aisle. You can skip pandan if you can't find any, but curry leaves are a must for authentic Sri Lankan fish patties/patis. 
To make chopping easier, I add all my onions, garlic, chilies, and curry leaves into a small manual food processor (linked below) and pulse a few times. Make sure to immediately add the mixture to the oil if you use a chopper or food processor. I've noticed that onions get bitter and more pungent if you process them too finely or leave them out for too long. 
I do not add any chili powder to the mixture since it already has a good amount of green chilies. Reduce the number of green chilies to your preference but highly recommend adding at least some or using a mild variety of chili because they add so much flavor to the mixture.
If you'd like a spicier filling, check out my fish buns or fish roll recipes.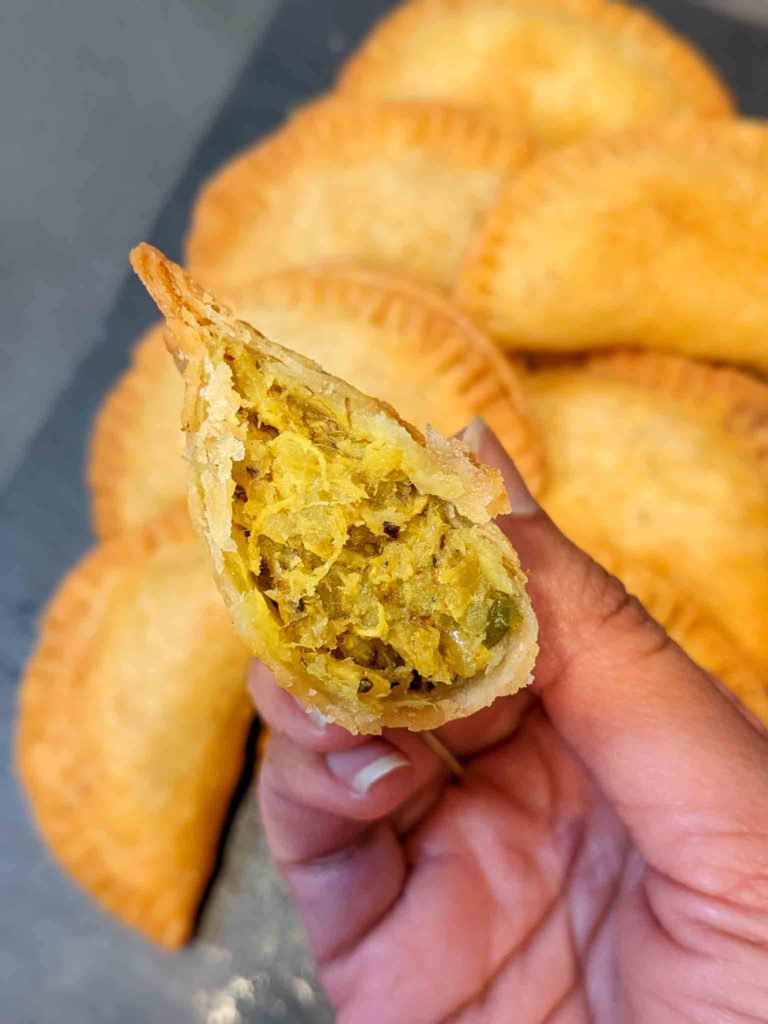 Three ways to shape and seal Patties
There are three ways that you can shape these patties. The one I've given you is the traditional method where you use a little bit of water and a fork to seal the edges. 
Another method is using an empanada mold. This is actually much quicker and easier. Make sure to roll your dough into an oval shape rather than a round. Oval ones fit better in the mold. 
The third method takes a little too long and some practice but this method creates the most beautiful edge and it seals the edges really well. I learned this edge-rolling method from making Malaysian curry puffs. The technique is to pinch the end with your thumb and index finger and roll the flap toward the patty.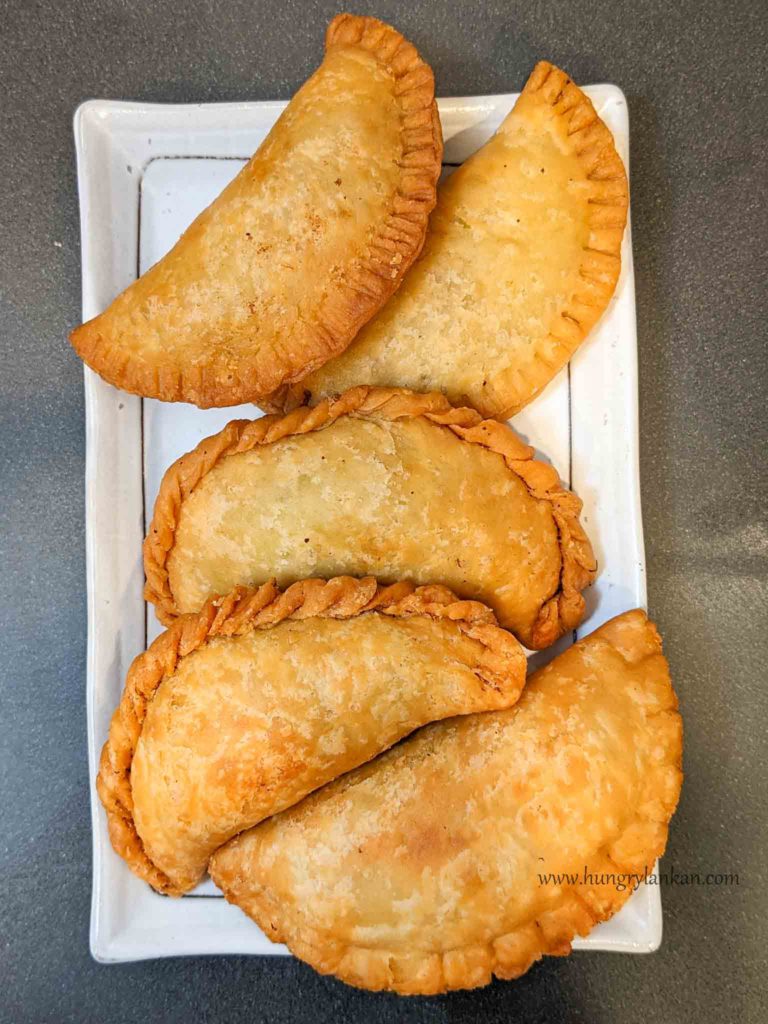 Frying Patties
Deep frying in oil is the traditional method of making Sri Lankan fish patties. Make sure you have enough oil to fully submerge the patties so they turn out evenly fried and golden. Turn them halfway through to ensure even distribution of heat. 
Fry patties in medium-low heat to avoid having large air bubbles in the crust. It will take some time to fry these patties in low heat but they'll be nice flaky and evenly golden in color. 
Do not overcrowd the pan when you fry them. Since you add cold refrigerated fish patties to the oil, the oil temperature decreases drastically. If the temperature does too low there's a higher chance that your patties dough absorbs more oil and you also have a soggy crust. 
Storing Fish Patties
You can store them in the fridge for 3 – 4 days or, in the freezer for 3 – 4 months. There are two ways you can store fish patties. Before frying them or after frying them. I like to freeze them after frying them halfway through. So I can reheat patties in my air-fryer whenever I crave one and they always come out crispy and delicious. If I refrigerate them, I usually store patties without frying and I only fry them when I'm ready to serve.
freezing instructions:
lay your fish patties in one layer on a baking sheet. Freeze the pan overnight. Transfer patties to a ziplock bag and store and put them back in the freezer. This way patties will not stick together. You can directly fry frozen patties or thaw them in the fridge overnight. I do not recommend thawing on the counter.
How and when to serve?
I love to serve Sri Lankan fish patties with Ceylon tea as a tea-time snack. They're great for school lunches or as an after-school snack. I have them as a light supper as well. Serve them warm when they're still crunchy.
Products I use (Amazon affiliate links)
Sri Lankan Fish Patties
Description
These Sri Lankan fish patties (පැටිස්) are much similar to empanadas or curry puffs but filled with spicy fish-potato filling. Fried until golden and flaky. So delicious!!
For the dough
For the filling
Other
Instructions
Make the dough
Into the food processor, add flour, salt, and sugar. Pulse a couple of times until they're mixed. Cut the butter into cubes and add to flour.

Run the food processor until all the butter is mixed with flour and there aren't any lumps of butter left. The mixture should look like fine sand or large flour grains. Do not run the food processor for too long as it can increase the temperature and melt your butter. 

Add vinegar first. And then add cold water, little by little from the feed tube, while running the food processor on low. Stop the food processor when the mixture forms small lumps and gets thicker. If flour sticks together when you squeeze some, it means you have enough moisture in the dough.

Dump everything in the food processor onto the counter/pastry bench. Press them all together using your fingers, to make a large ball.

Divide into two, and roll it into two long cylinders, about 1.5 inches in diameter. Wrap both cylinders with plastic wrap. Put it into the fridge for 1 - 2 hours or until it gets hardened. 
Make the filling
Peel and cut potatoes into large chunks. Boil them with 1/2 tsp salt (or half of the given amount if you're doubling or tripling the recipe). When you can easily pierce potatoes with a fork, turn off the heat and drain them immediately into a colander. Leave the potatoes in the colander to cool down and dry off of moisture. 

Heat oil in a frying pan or a small wok. Add cinnamon and pandan leaves and let them fry for about 5 seconds. (be careful of splattering oil when you add pandan leaves)

Then add onion, garlic, green chilies, and curry leaves* with 1/2 tsp of salt. Saute until translucent.

Then add curry powder and turmeric powder. Mix well and saute about 30 seconds until you get the aroma of curry powder and onions turn yellow in color.

Add mackerel/tuna and mash it into small pieces with the back of your spoon (make sure not to add any liquid from the cans). Mix well with the onions and saute for about 1 min on medium heat until mackerel pieces coat well with the onion mixture.

Mash your potatoes until they are small chunks ( I usually press them with a large wooden spoon. You can use a masher or squeeze them by hand). Add the potatoes to the pan and saute well until everything is very well mixed.

Add black pepper, lime juice, and salt to your taste.  The mixture should taste slightly acidic with a somewhat prominent lime flavor but it will balance out once you fried the patties.

Remove pandan leaves and cinnamon sticks from the mixture. Let the mixture cool completely before you assemble the patties.
Making Patties
Cut the refrigerated dough into roughly 35g discs. 

Roll one disc into a flat round shape, roughly around 2mm thick. Using a round cookie cutter (a jar/bottle cap would also work), cut the dough into a perfectly round shape, roughly around 3 .5 - 4 inches in diameter. 

Place about 3 tbsp of filling on one half of the round. Apply a little bit of water around the edge.

Fold one half over the other and press the edges together to seal. Press the tip of the fork over the seam to complete the seal.

Arrange patties in one layer on a plate. Refrigerate them for about 1/2 hour or until you're ready to fry them. Or store in the freezer (Check the description for freezing instructions.)
Frying Patties
Heat oil in a deep sauce pan/wok/deep fryer. Keep the oil at medium temperature around 350F/175C (see notes). Make sure there's enough oil to fully submerge the patties. Add a few patties to hot oil. Fry until they are golden brown. Flip halfway through frying.

When patties are golden brown, take them out of the oil using a slotted spoon and transfer them to a paper towel-lined plate. If you want to keep them crispy for longer, let them rest on a cooling rack. 
Notes
I use Sri Lankan unroasted curry powder. If you don't have this, use any regular mild curry powder of your choice. 
Sri Lankan fish patties, Sri Lankan fish patis, Pastry. Fish empanadas, Fish puffs, curry puffs, short eats, Sri Lankan short eats, Sri Lankan fish patis