Trust me, this is the easiest Sri Lankan cashew curry recipe you will find. Cashews become melt in your mouth soft and the curry is thick and creamy and the perfect addition to Sri Lankan festive table.
It's one pot, dump-and-cook kind of a recipe but without compromising taste and texture. I make it in the pressure cooker cause it's much much faster. But you can make it on the stove as well.
Which type of cashews should I use :
For this recipe, you need to use dried unroasted cashews. In Sri Lanka, we use freshly harvested raw cashews as well but for that, the method is different. In the USA, you'd find roasted cashews and unroasted cashews. Sometimes stores refer to unroasted cashews as "raw", but they are actually steamed to remove the shells and toxins. I want you to use these unroasted "raw" cashews for this recipe.
Ingredient substitutes:
This cashew curry is a mild curry and it doesn't have any solid prominent flavors. Because cashews have a very subtle flavor, I don't want to mask that with tons of other curry powders and strong flavoring ingredients. So the ingredient list is very short. But you have to have those I've listed.
Curry leaves and Pandan leaves:
No Sri Lankan food is complete without curry leaves and pandan leaves. They add a nice herby floral scent and flavor that is very unique. Go with coconut milk-based creamy curries very well. You can find curry leaves in almost all Indian grocery stores and in some Asian stores as well. I'll add an amazon link if you'd wish to purchase online. Pandan leaves are tricky to find in Indian stores. But most Asian stores have pandan leaves. Especially if you have a southeast Asian grocery store nearby, check it out. Don't forget to check the freezer aisle as well. Sometimes you can only find them in frozen form.
Unroasted curry powder:
This is another tricky ingredient to find in regular grocery stores. If you don't have this, use any mild curry powder you can find. Or use a mix of coriander and cumin powder with a 3: 1 ratio. Sri Lankan curry powders contain more ingredients than coriander and cumin but these two are the main ingredients.
Pretty much all the other ingredients are easy to find anywhere in the world. I'll add any additional info in the note section, below the recipe card.
Can I cook the curry on the stove?
You absolutely can. Follow the same recipe but add about 3 times water when you cook cashews. And simmer in low heat for about 11/2 – 2 hours or until cashews become soft and you can mash them with a spoon. Add water if you feel like the curry is drying out while the cashews are cooking. Some cashews boil faster than others so if you are left with more liquid than you need, remove the lid, turn up the heat and let the excess liquid evaporate.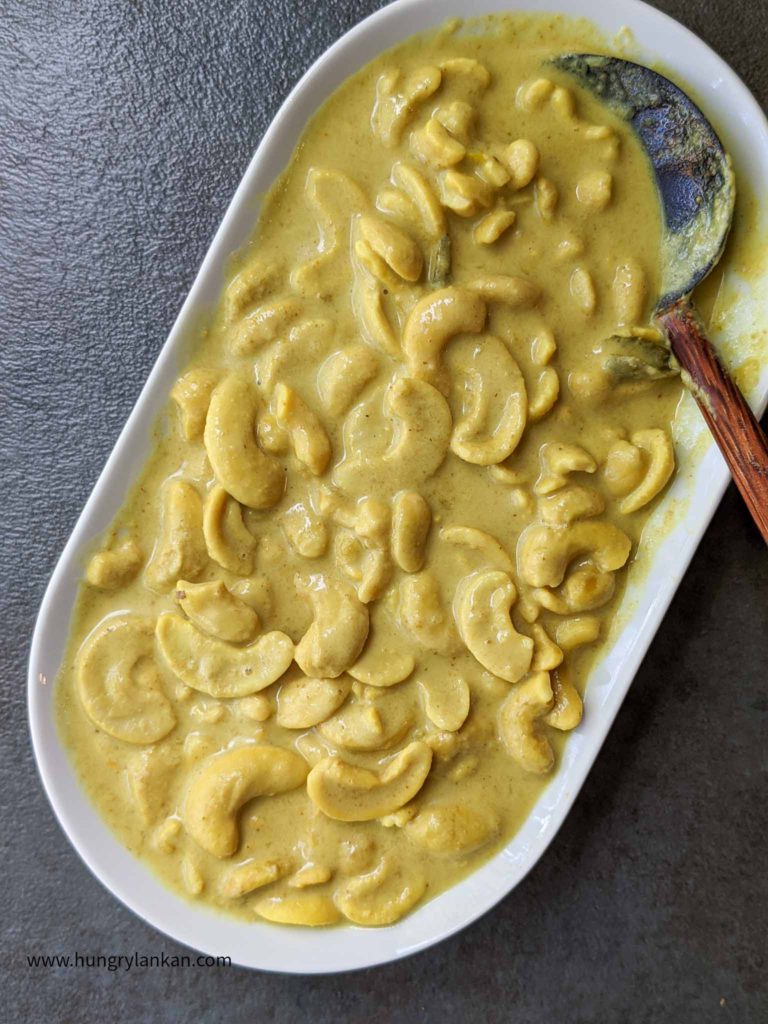 What to serve it with?
My favorite menu to serve with Sri Lankan cashew curry is yellow rice, chicken curry, and eggplant moju. (photo above with the exact menu). You can also serve this with my curry leaves rice, Sri Lankan style biryani, or even with white rice alone.
For more ideas visit my Instagram page where I post my daily meals.
I hope you enjoy making this wonderful comforting Sri Lankan cashew curry and if you do so, don't forget to leave me a comment below. Hearing back from you is the best reward I get from this.
Products I mention (Amazon affiliate links)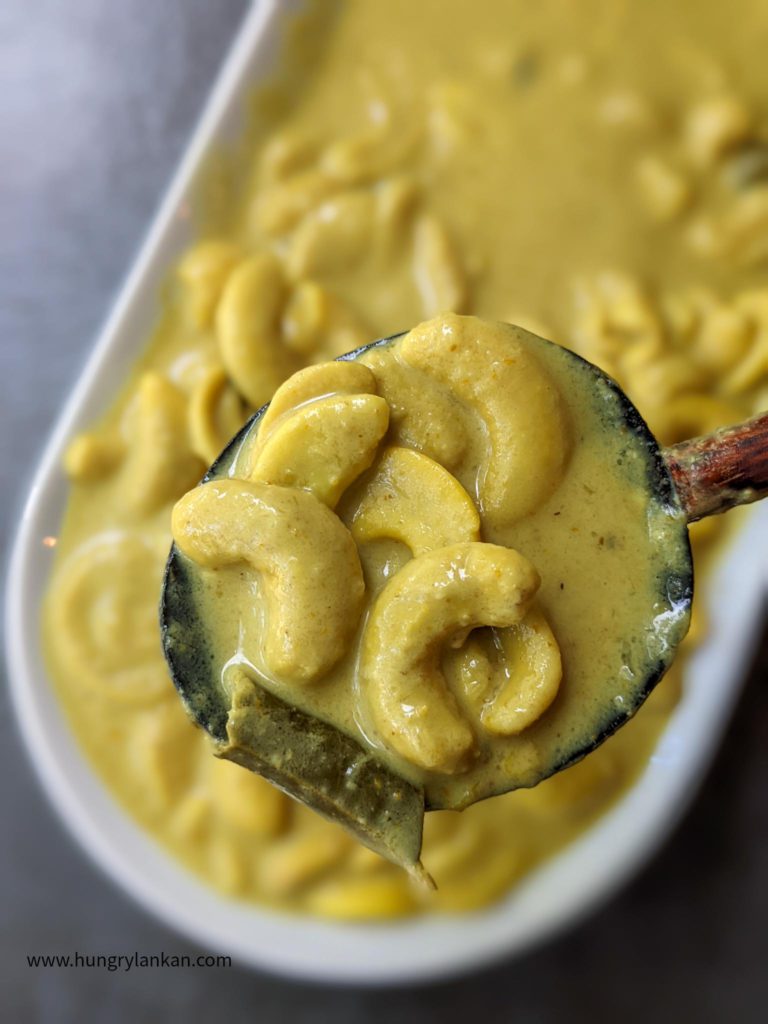 Sri Lankan Cashew Curry
Description
Easiest Sri Lankan cashew curry recipe ever! Cashews become melt in your mouth soft and the curry is thick and creamy and the perfect addition to Sri Lankan festive table.
Instructions
Put cashews into a bowl and add enough water to fully submerge the cashews. Cover and let the cashews soak overnight*.

Add cashews to a small (2.5L - 3L) pressure cooker*. Add 1 1/4 cup of water from the soaking liquid. Add garlic, onion, green chili, curry powder, turmeric powder, curry leaves, pandan leaves, cinnamon, and salt. 

Cover the pressure cooker lid, and cook on medium heat until you hear 5 whistles (got an instant pot? refer to notes below). Turn off the heat and let the pressure release naturally.

Add coconut milk, stir and simmer the curry on low heat until you get the desired thickness of the gravy and the cashews are buttery soft. 

By any chance, if your cashews are not soft enough, add some water, mix and simmer for another few minutes. Taste salt and adjust if needed. Serve warm
Notes
If you don't have time to soak cashews overnight,  soak them for at least two hours and cook the cashews longer with a little bit more liquid added (6 whistles in the traditional pressure cooker)
If what you have is a big pressure cooker, you need to add more liquid to build up the pressure. 
Instant pot mini is ideal for the amount I've given. If you have a large instant pot (6qt), you need to add more liquid to build the pressure or double the recipe. Cook 30 mins on high pressure and let the pressure release naturally.
Sri Lankan cashew curry, Cashew curry, Sri Lankan recipes, Cashew curry recipe, Kaju curry, Kaju masala, Dairy free curry, instant pot curry, pressure cooker recipes