This Sri Lankan Beef Kottu (made in the wok) is the best seller on my food business menu. And I got many requests for the recipe so I just had to share it with you all.
Kottu (pronounce as "Koththu") is my favorite Sri Lankan street food. Traditionally made on a large flat top griddle, with two dough scrapers cutting and mixing the roti pieces with vegetables, eggs, and the curry. Later on, some restaurants start making kottu using a wok as well out of convenience. . Which is the easier and most accessible method to follow when you're making Kottu at home.
Kottu making process:
The process has 3 main steps to it.
making roti/flat bread. (which I'm going to skip. I'm using pre-made frozen roti)
making the curry
making kottu using roti, curry, and other add-ons.
making roti/flatbread:
If you're making roti (we call these "Godamba roti") from scratch, that's hours of work. You have to make the dough first, then you have to let it rest for hours, and then stretch it and cook it on a large flat griddle. If you have time to do that, good for you!! You can follow my vegetable roti dough recipe here. Stretch the dough balls into large very thin rounds and cook them on a large griddle/pan until they're cooked all the way.
Or you could use frozen roti or an alternative. For me, that saves so much time with no significant difference in taste.
Making the curry:
Good beef curry is essential to make a good beef Kottu. The best flavors come from the gravy and beef pieces. Traditionally beef curry has to simmer for at least an hour for the beef pieces to become tender. To speed up the process I use my pressure cooker. You can use your instant pot too (high pressure, 35 mins). If you don't have both, then you can definitely cook this on the stove. Add more liquid to the curry and simmer it covered for about 1 hour- 11/2 hours or until beef pieces become tender. Make sure your pot has plenty of liquid. Cause you're going to be needing a lot of gravy to make the kottu.
I use 1 lb of beef to make the curry. You don't need the whole pot of curry for the Kottu making process. But this way, after using the required amount, you'll end up with enough curry to serve the kottu with. Trust me, this Sri Lankan beef kottu tastes much much better when you serve it with some extra meat gravy.
Making Beef Kottu:
The fun part!! All you have to do is to mix and cook everything together. If you have a large flat-top griddle, you can do this the traditional way. Most people, including me don't have a large flat-top griddle at home. So we can use a wok or a fry pan. Traditional kottu has more of a minced texture while in the wok method you'd find bigger pieces. Both are equally delicious in my opinion.
Which type of flat bread/roti should I use:
Traditionally we use a flatbread called Godamba Roti for all kinds of Sri Lankan Kottus. Made with just flour, water, oil, and salt. You can use my vegetable roti dough recipe if you're going to make them from scratch.
I use frozen Ceylon parotta which is a product that comes from India (probably targeting Sri Lankans though), very similar to Sri Lankan godamba roti. You can find Ceylon parotta in Indian grocery stores in the US.
Another alternative is Indian Parottas/ Parathas. These layered flatbreads work really well too.
If you can't find any of the above flatbread, use thin flour tortillas. When I was a student, this is what I used because it's so cheap. The only problem is the kottu becomes quite lumpy if you're going to serve it later.
What to serve Sri Lankan Beef Kottu with?
Definitely with some more meat curry (either chicken curry or beef curry) and this recipe actually make some extra curry to serve the kottu with. Also serving with some fresh onions adds a nice crunch. I sometimes add chili paste or serve it with fresh green chili to make it extra spicy.
Don't forget to check out my chicken kottu recipe as well!
How to store leftovers?
Kottu can be stored in the fridge for up to 3 days. When you're ready to reheat, fluff the kottu with a fork to separate the lumps. Heat on a frying pan/ wok or in the microwave for about 45sec – 1 min.
Kottu is perfectly freezer friendly. Add it to an air-tight container and freeze it for up to 3 months. When you want to serve, let it thaw in the fridge overnight. Heating on a fry pan/wok is recommended. But you can reheat it in the microwave too. Make sure to transfer the kottu to a large plate and fluff it up to break any lumps before reheating.
Products/ingredients I mention (amazon affiliate links):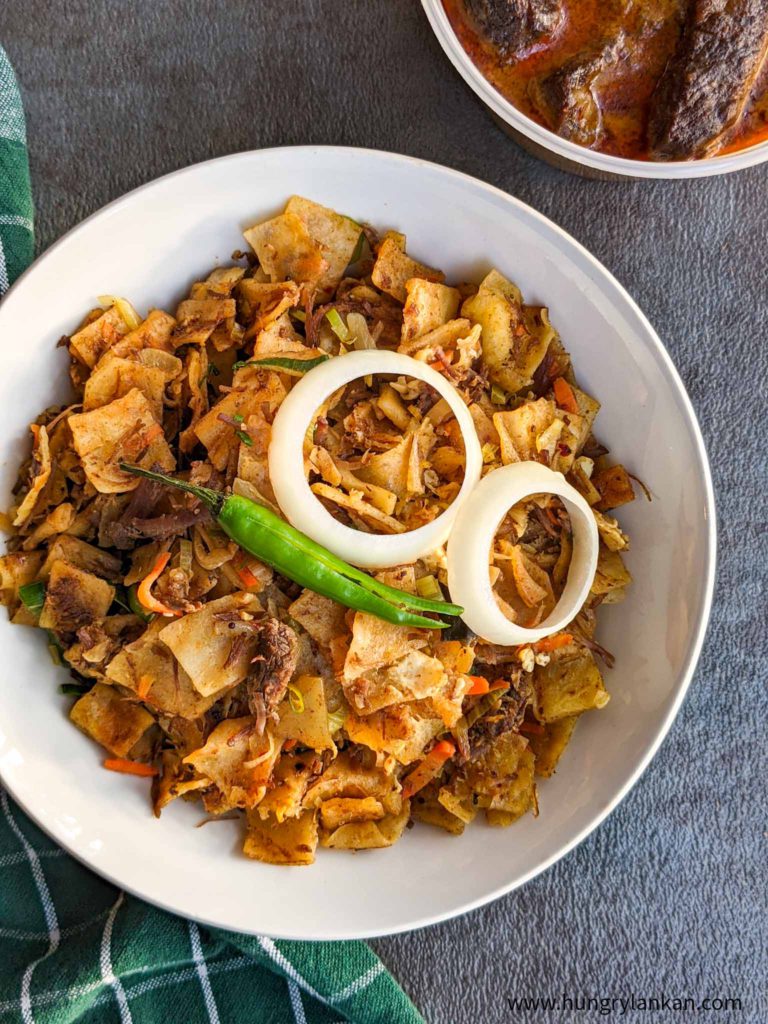 Sri Lankan Beef Kottu
Description
Kottu is my absolute favorite Sri Lankan street food. And I love making it at home. Don't let the long list of ingredients overwhelm you! It's much easier to make and I'm going to guide you through all the steps. 
Make the curry
To make the kottu
Instructions
Make the Beef Curry
Into your pressure cooker (can use an instant pot) add all the curry ingredients listed, except water. Which are beef cubes, onion, green chili, garlic, ginger, curry leaves, pandan leaves, cardamom pods, cloves, cinnamon, cumin powder, curry powder, paprika/chili powder, turmeric powder, salt and oil. Mix well with a spoon to coat all the beef pieces with spices and oil. 

Turn on the stove and saute for about 5 mins until the onions turn translucent, and liquid starts to ooze out from the beef pieces. *

Add 1 cup of water (add more if you like more gravy), mix everything and cover with the lid. Pressure cook on medium heat for 6 whistles in a traditional pressure cooker. Or 35mins in an instant pot on high pressure. 

After 6 whistles, let the pressure goes down naturally. Take about a cup of meat pieces out(without any liquid), let them cool down a little bit, and shred them into pieces using two forks. In case your meat is not tender enough* to shred, add about 1/4 cup of water and pressure cook for another one-two whistle or 6-10 mins in the instant pot on high pressure.
Prepping Roti/flatbread pieces
Thaw frozen Ceylon parotta/Godamba roti according to package instructions. (I usually follow the microwave method). Unfold them to seperate the layers. Cut them into small square pieces, around 3/4 inch in length. Doesn't have to be uniform.

Now heat the wok or a frying pan. Add roti pieces and stir-fry for about a minute until they are not sticky and wet, roti pieces have separated from each other and some pieces catch some golden brown color*. If you're using freshly made godamba roti or dry roti pieces, you can skip this step. 
Making Kottu
Cut your vegetables.  Ready your aromatics, spices, eggs, roti pieces, and shredded beef and curry in separate containers. The process goes quickly so have them all ready, prepped, and closer to your stove.

Heat butter in a wok or a fry pan. Add garlic, curry leaves, pandan leaves. Give a quick toss. Mix in carrots. Stir-fry until carrots turn tender.

Then add shredded beef and onions. Let the beef pieces fry in butter and catch some fried golden color on the edges. Some of the carrots will turn golden as well and that's good.

Then add chili flakes, green chilies, and leeks. Saute for about 10 seconds. 

Move them all to one side of the pan. Add about a tsp of butter to the other side. Add the eggs over butter and start scrambling them until they are halfway cooked. 

When eggs are halfway cooked and half runny, add the roti pieces over the eggs and mix well. This way eggs stick to the roti pieces better since they're still runny. 

Now add oyster sauce and saute really well. Taste and adjust the amount of oyster sauce to your likings.

Add the beef curry about 1/2 cup at a time and mix well. Adjust the amount of curry to your need. I usually add a cup of curry for 450g of roti pieces. 

Adjust salt if needed. Serve warm with the remaining beef curry.
Notes
some meat takes longer to become tender and some don't. It depends on the cut of the meat you're using, the size of your meat pieces, and the time you cook. So if the meat is not shreddable, add a little bit more liquid and pressure cook again for 1 - 2 whistles in the traditional pressure cooker or 6 - 10 mins high pressure in the instant pot.
I usually dry out my roti pieces after I cut them. I always find frozen godamba roti pieces are quite moist and easily breakable when I thaw them. Drying them on a pan helps them to mix with other ingredients without becoming lumpy and absorb more curry which makes them more flavorful. 
some people like the kottu wet and some like it dry and then served with curry. I like the kottu wet when I'm serving it right away. If I'm going to serve it later I keep it dry and serve it with some chicken or beef gravy to add on. If you make a wet kottu to serve later, what happens is, that the roti pieces will absorb all the liquid and will make it lumpy.
Beef kottu, Beef curry, Sri Lankan steet food, Sri Lankan food, Street food, Sri Lankan kottu, Kottu, Koththu, Easy beef kottu, Kottu parotta, Beef curry for kottu, Beef curry