Shrimp and Scrambled eggs is a protein-rich, super easy dinner dish that you can cook in under 10 minutes. This is one of my favorite weeknight dinners when I'm feeling too lazy to cook anything else. I cook some jasmine rice in the rice cooker, steam a bag of frozen broccoli and I got myself a yummy healthy dinner. You can also make this for a savory brunch too.
This Shrimp and Scrambled eggs dish is inspired by Thai omelet and Cantonese scrambled eggs. The technique I use is very similar to Cantonese scrambled eggs but I love the flavors of Thai egg omelet. Trust me this tastes so good and really easy. I'm sure you'd love it too.
How to make crunchier shrimp?
Shrimp has a thin layer of slime and if you can remove the slime you can get nice crunchy shrimp without making them mushy. There are many ways to do this. What I usually do is, rub the shrimp with a little bit of salt and sugar until they become slimy and frothy. And then rinse it off.
You definitely have to wipe off all the water in the shrimp. Especially if you're using frozen shrimp as I am. Wash the thawed shrimp (or use the water bath method to thaw them) and then using a paper towel, dry off your shrimp completely. You can wrap them up in a kitchen towel too.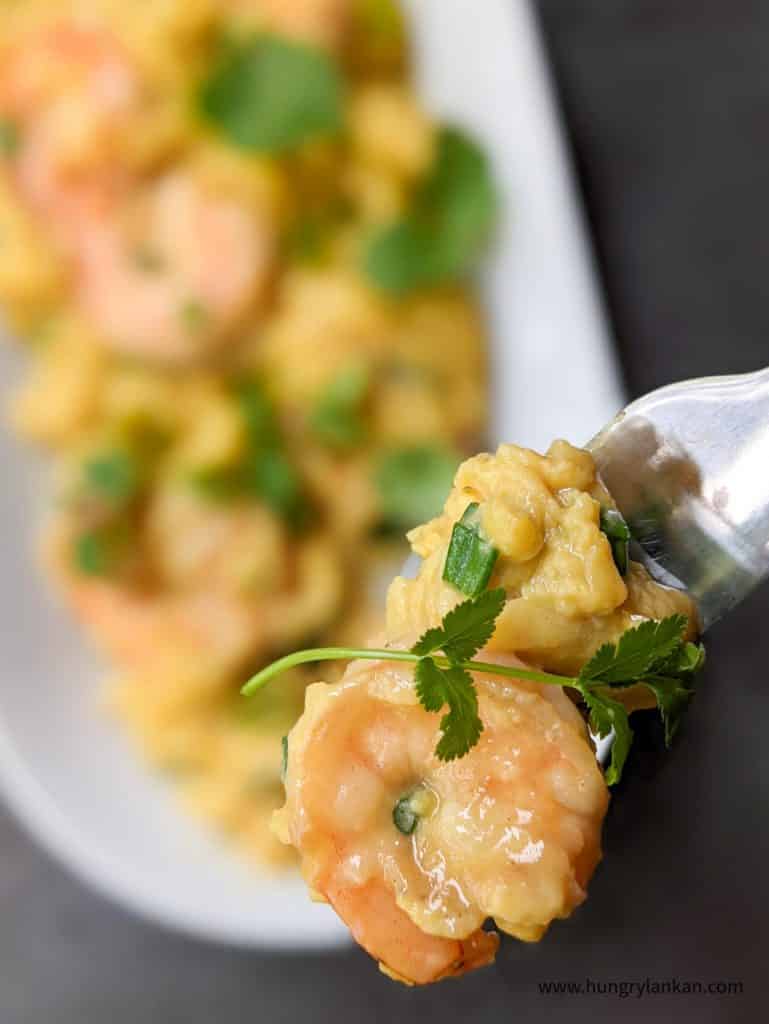 Where can I find Asian ingredients?
Most of the common ingredients can be found in local Grocery stores and supermarkets. Or else, see if you have an Asian grocery store nearby. They definitely carry the ingredients I use and you'd probably find good shrimp too. You can also get them from Amazon or online Asian grocery stores like 99ranch or Hmart.
Amazon affiliate links for the products I use:
How to serve:
Serve with cooked jasmine rice or white rice. I usually add either steamed broccoli or stir-fried broccolini on the side to make it a complete meal. You can also serve with some sausages and some bread if you're serving this for brunch.
More Asian recipes you might like:
Chicken with peppers and cilantro