Thai basil fried rice (or some people even call this "Drunken Fried Rice/ Drunken man's fried rice) is one of my favorite fried rice dishes of all time. It's spicy, peppery, super easy, to make, and it's ready in less than 20mins.
I'm very much a spice loving person and I missed having spicy food when I moved to the US. I didn't eat out much around that time because one, we (me and my husband) were new to most of the other cuisines and we always picked the wrong one out of the menu. Two, we were so used to having spicy food, every food we tasted feel bland or sweet for some reason. For that matter, we didn't enjoy eating out as much as we were in Sri Lanka.
And then one day one of our family friend wanted to buy is lunch and he took us to a local thai restaurant. He should get the credit for introducing us to this delicious plate of food. We have tried thai buffets before but that day is the day that I got to know that thai people love spicy food as much as we Sri Lankans do too.
The name of the dish we had was "Drunken man's fried rice". So I googled everywhere for a Drunken man's fried rice recipe. There were many recipes for Drunken man's noodles (Pad Kee Mao) but not for the fried rice. And then I thought about the ingredients we had in the dish and the most similar dish I found was Thai basil fried rice. So I tried out few recipes and few sauce mixes and this is the final recipe I settled down on.
Chilies
The recipe is easily customizable for your likings. If you can't handle the heat, then reduce the number of chilies you use and more chilies for more heat. I use Thai red chilies and they are hotter than the general red chilies. But you can use any chili of your choice. Also, they don't have to be red chilies, green chilies work fine too.
Thai Basil
The other important ingredient here is Thai basil. You can use either Thai basil or holy basil for this. Basil adds a nice peppery tone and a flavor and aroma that is similar to licorice. You can find this ingredient in most Asian grocery stores. If you can't find this ingredient, still this fried rice is something worth trying. I made this the last time visited Sri Lanka for my family. And I couldn't find basil but they still they all loved it.
Sauces
The sauces here plays a major role. You might feel like it's too much but trust me it's not. This fried rice is on the wetter side. And it's perfectly balanced with the sweet, and savory. If you're making it for the first time you might feel that I'm adding too much sugar. But believe me, it's all going to balanced out by the chilies and other sauces. If you don't want to add too much sauce you can reduce the amount of sauce mix that goes in but keep the ratios the same.
You might also like to checkout my creamy Sri Lankan coconut milk salmon curry.
Affiliated links for the products and ingredients I use in the recipe: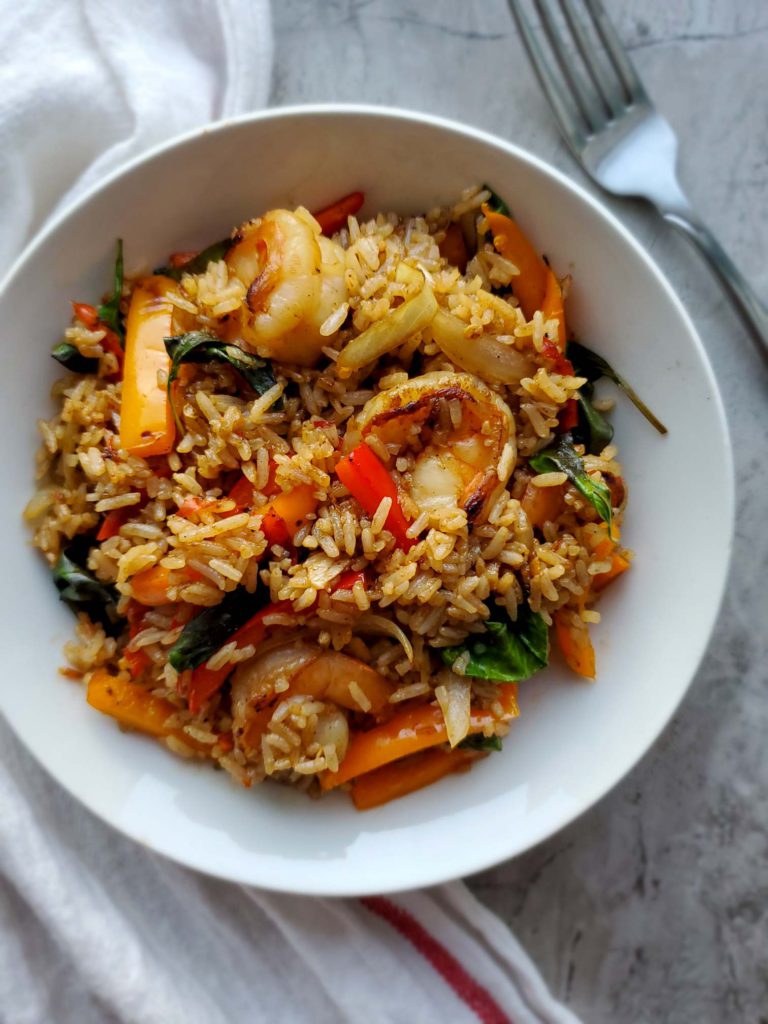 Thai basil fried rice
Description
Thai basil fried rice is one of my favorite fried rice dishes of all time. It's spicy, peppery, super easy, to make, and it's ready in less than 20mins.
For the sauce
Other ingredients
Instructions
pound garlic and fresh Thai red chilies on a mortar and pestle to a rough paste.

Reduce the number of chilies if you can't handle heat or if you make this for kids. 

In a separate bowl mix all the sauces and sugar together. Stir with a spoon until all the sugar is dissolved.

In a wok heat your oil and add your shrimp mix for about a minute (you can use any other protein of your choice) and then add garlic and chili paste. Mix well with the shrimp.

When the shrimp is almost fully cooked, add your thick slices of onion. Also, add your bell pepper slices (you can adjust the amount of your onion and bell peppers as you like)

Mix well for about to 30sec to a minute on high heat. Do not cook until the bell peppers and onions get soft. They have to remain somewhat crunchy in the final dish.

Add your rice and mix well again for about a minute. 

Then add your sauce mix. Mix for few seconds until everything incorporates.

Finally, add your Thai basil leaves and mix well everything together for about 10seconds and turn off the heat. Serve hot
Thai fried rice, Basil fried rice, Thai basil fried rice, Spicy fried rice, Thai food, Thai, Basil, Easy, Fried rice, Drunken man's fried rice