This Indian Kidney Bean Curry has to be my favorite Vegan curry that I like to make for weeknights when I want something warm, delicious, and easy.
This famous Indian curry is also known as Rajma Masala, and it is one of the most comforting Indian dishes that I love. It's creamy without any cream added cause of all the starch from Kidney beans, a little tangy, a little spicy, and a whole lot of delicious.
This might not be the most authentic Indian recipe you'd see for Rajma Masala or Kidney bean curry. But I promise it's so good and so delicious. Make it for your next Indian-style dinner or whenever you want to make something comforting and easy. I promise you'd make it again and again.
Can I use canned Kidney beans for this recipe?
Yes!! If you have canned kidney beans in your hand, do not worry about making your own cooked beans. Canned beans work perfectly well for this recipe. But you have to transfer beans to a colander and wash them thoroughly to remove the slimy brine. The brine can make the curry slimy and thicker.
I'd like a smoother gravy. What can I do?
This curry is smooth but it does have softened pieces of onions and tiny pieces of tomatoes. I don't mind those little pieces in my curry tbh. But some people prefer restaurant-style smoother gravy. For that all you have to do is, instead of adding chopped onions and tomatoes, you can add pureed onions and tomatoes. When you puree onions, do it with a little bit of oil to avoid making them taste bitter. Or saute both onions and tomatoes in some oil and then puree both of them together.
How to serve this curry?
The best way to serve this delicious vegan Indian Kidney Bean Curry is with freshly cooked Basmati rice and some fresh onion slices. Those fresh onions add the crunchiness the dish needs so do not skip them. You can also add some butter (of course vegan butter works really well) on top for more flavor.
Another way to serve this is with some dinner rolls or soft bread. Add some cilantro or mint chutney and maybe some chaat masala and fried green chili for more flavor.
I also love to serve this with butter naan or garlic naan. They go so well together.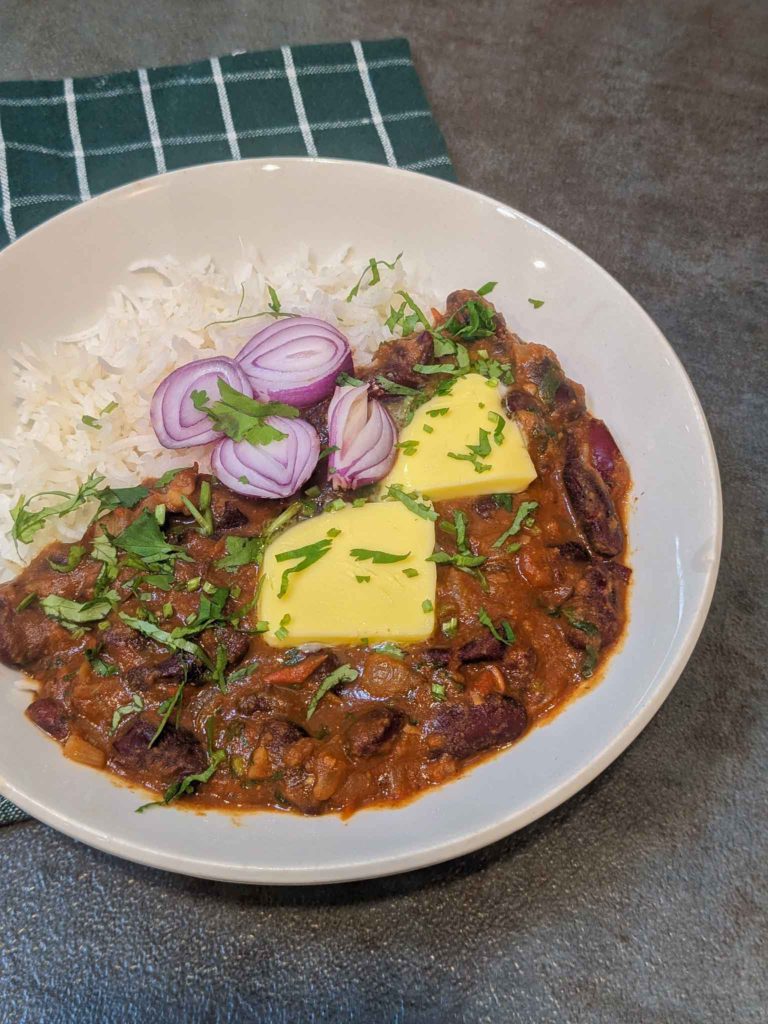 Indian Kidney Bean Curry (Vegan)
Description
My favorite Indian vegan curry that I like to make for weeknights when I want something warm, delicious, and easy. Even my meat-loving husband loves this so much!
To cook beans
To make the curry
Instructions
Cooking beans
Soak beans for about 8 hours or overnight. (see notes for no soak method)

Add soaked beans with water to a traditional pressure cooker or to an instant pot. Add salt. Cook for 5 whistles in a traditional pressure cooker. Or 10mins on HIGH pressure in an instant pot (You can choose the pressure cook option and adjust the timer or press manual setting and set the pressure to high and timer to 10 minutes). Let the pressure release naturally.
Cook the curry
In a large pot, heat ghee/avocado oil. Add cumin seeds, bay leaf, and cinnamon pieces. 

Then add onion and saute it for about a minute. Add ginger and garlic paste. Mix in with the onions. Saute until onions turn translucent. 

Add tomato and tomato paste. Mix well and cover the with a lid. Cook on medium-low heat until tomatoes become soft and mushy. 

Add coriander powder, cumin powder, chili powder, turmeric powder, garam masala powder, and about 1/4 tsp salt (you can adjust the salt later). Saute until most of the water evaporates and the mixture becomes thicker. This will get rid of the raw taste of spices and will deepen the flavors.

Add cooked beans along with the water. Mix and cook until the curry thickens up to your desired texture. Mix gently from time to time. Taste and adjust salt.  (If the curry becomes too thick you can always add some water to it and bring it to a simmer).

When the curry is thickened up to your desired level, turn off the heat. Add chopped cilantro on top. (You can also add some split green chilies for color and heat if you like). Serve hot with Basmati rice, some sliced onion, and a piece of butter.
Notes
If you're making ginger and garlic paste at home, add an equal amount of ginger and garlic by volume and grind it into a paste. Since freshly made ginger garlic paste is stronger than store-bought ones, you'd only need about 1 tbsp of the given recipe.
To cook Kidney beans without soaking: Add kidney beans to the instant pot with water. 1 cup of unsoaked beans needs 4 cups of water. Pressure cook on HIGH for 40 minutes.