Chopsuey is a quick one-pot stirfry dish that is so easy to make and so versatile. I have made this Chop Suey with scallops since that was what I had in hand. But you can use chicken, prawns or any other meat. Or you can also leave the meat out and make it vegan. For serving I have used some chicken fried rice I quickly made with some spring onions and leftover chicken. But it's perfect with just plain warm rice. 
Vegetable choices: 
I used approx 2 1/2 cups of carrots, broccoli, green beans, and cabbage this time. But you use any vegetables that you have in your fridge. Some common vegetable options are carrots, sugar snap peas, beans, cabbage, mushrooms, bean sprouts, bamboo shoots, cauliflower, Bokchoy. Chopsuey is such a forgiving recipe so feel free to experiment with ingredients.
Few more notes before you go to the Chop Suey with Scallops recipe:
🔸 Don't overcook the veggies when you blanch them. They just need to be tender. You'll lose the color of the veggies otherwise. 
🔸 Keep the wok on high heat all the time.
🔸 Turn off the heat when you see the gravy is just thickening up. It will thicken up more with the residual heat. 
Pin this to your favorite Pinterest Boards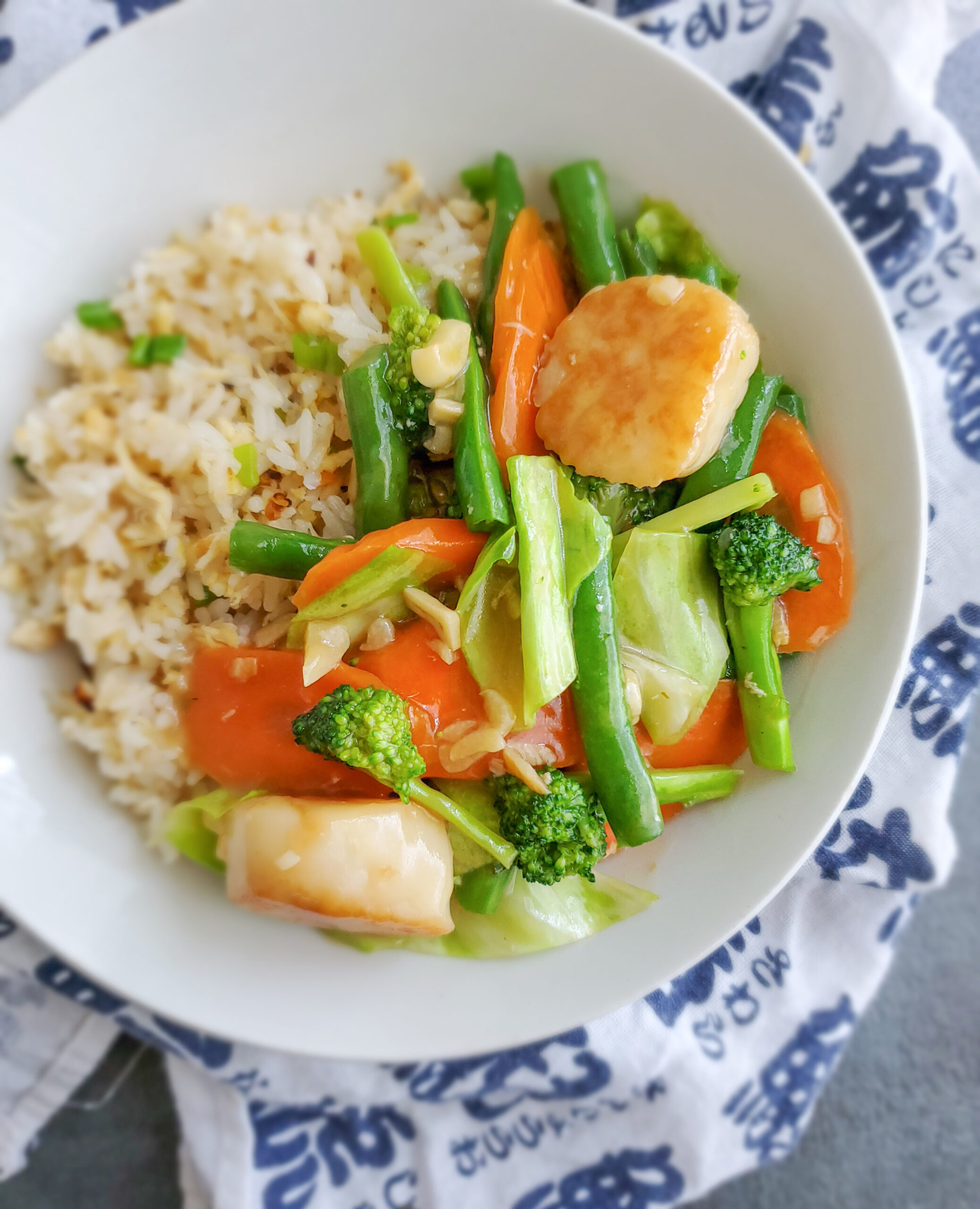 Chop Suey with Scallops/ Chinese vegetable stir-fry
Description
An easy and healthy 20min clean-out-the fridge recipe that is packed with veggies and serve over rice.
Instructions
Blanch all the vegetables except cabbage in a pot of boiling water. Remove them onto a plate when they are just tender.

Heat oil in a wok on high. Add your scallops, sprinkle some salt on the top and let it fry for few mins. Do not stir. Now turn the other side and let that side get brown as well. Remove scallops from the wok.

Add chopped garlic to the wok and stir until they are just cooked.

Add all the vegetables and scallops. Mix and cook on high heat for a few seconds. Add Chinese cooking wine around the wok and mix.

Then add oyster sauce, chicken broth, and cornflour slurry. Mix well and turn off the heat when the slurry starts to thicken up. Add a bit of salt if needed.
Notes
Serve hot with plain rice or fried rice. If the broth thickened up more than needed, add a bit of broth to thin it down.

Chinese, chop suey, chopsuey, chopsy, fried, rice, fried rice, wok, scallops, stir fried