Sharing Chinese-style chicken and peppers stir-fry recipe for those who are looking for a quick healthy and delicious weeknight meal. Taste better than take-out dishes and my family loves when I make this.
I love all kinds of Asian-style stir-fries. Most of my stir-fry recipes need very little effort. I can use whatever ingredients I have in my fridge. This recipe also belongs to that same category. Even though I make it with a mix of red and green peppers, you can use any peppers you have. Sweet peppers, bell peppers, banana peppers, jalapenos, anaheim peppers, you name it. I use snow peas, but you can use broccoli, celery, or even green beans as a substitute. This recipe is very adaptable.
Ingredients and where to find them:
All the ingredients I'm using here are very common in Chinese cooking. So if you have a Chinese grocery store nearby, you can definitely buy all these ingredients from that store. I will also include amazon links below to get them online.
Shaoxing wine: Aka Chinese cooking wine. Very similar to dry sherry. So if you can't find Shaoxing wine, dry sherry would be a great substitute. This is what gives you that unique flavor you get from Chinese restaurant dishes. So don't skip it.
pixian doubanjiang : aka chili bean paste. You can use any doubanjiang but I personally like Pixian brand. Widely used in Sichuan cuisine. Available in Chinese grocery stores and online stores. Or use any doubanjiang you can find. Lee Kum kee brand is another widely available one.
Light soy sauce: This is light in color but saltier. I like the brand "Pearl River Bridge". You can also use regular soy sauce that's available in supermarkets.
Dark soy sauce: I add this mainly for color. So if you don't have this ingredient, skip it. Please do not substitute it with light soy sauce as it can make the dish saltier.
Corn starch: This helps to keep the chicken moist while cooking and also adds a slight crispness as well—a pretty common ingredient in most grocery stores. You can also use potato starch as a substitute.
Garlic powder: optional but adds so much flavor to the chicken pieces.
Do I have to have a wok?
No, you can definitely make this in a frying pan. but make sure it's safe to high heat. Don't use a nonstick pan as they are not good for high-heat cooking.
What to serve it with?
Jasmine rice is the best to serve with this Asian-style chicken and peppers stir-fry dish. You can also serve it over thin noodles. A great dish on its own too.
If you like to try similar recipes, try my mushroom stir-fry (vegan), chicken and broccoli in brown sauce, stir-fried pork belly recipes as well.
Products I use: (amazon affiliate links)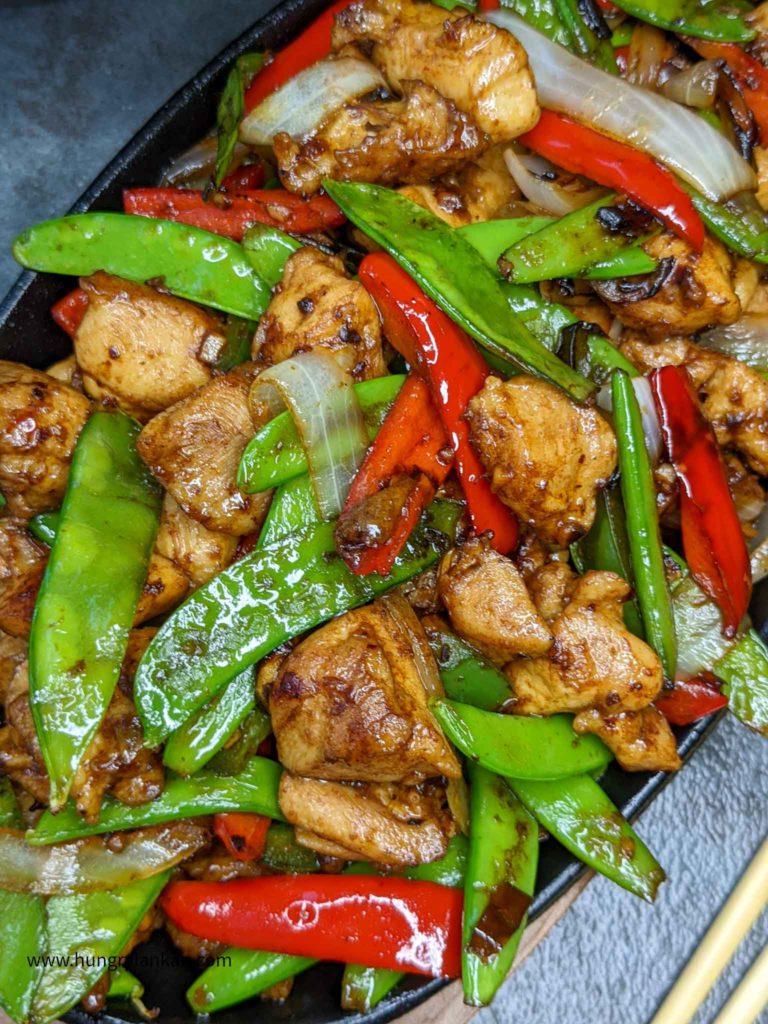 Chicken and Peppers stir-fry
Description
My stir-fried chicken peppers and snow peas recipe for those who are looking for a quick healthy and delicious weeknight meal. Taste better than take-out dishes and my family loves when I make this.
To marinate chicken
Other
Instructions
Making chicken
Cut chicken thighs into bite-size pieces. 

Mix chicken with light soy sauce, Shaoxing wine, and garlic powder. And then add corn starch and mix very well until all the chicken pieces are coated. (watch the short video if you haven't already) Let it marinate until you prep other ingredients.

Heat the wok medium-high. When the wok is smoking, add oil and swirl the oil around the coat the wok. When oil starts to smoke, add chicken and spread into one layer. Let the chicken fry for about two-three minutes on one side, without touching, so the chicken pieces turn golden in color from the bottom. Then flip and mix the chicken pieces, breaking each piece if they are stuck together, and let the chicken fry until they're done. 

When the chicken pieces are fully cooked, remove them from the wok to a plate. If the wok has too much residue from frying chicken, scrape the pan a little bit with your spatula. No need to clean it fully.
Stir-frying everything.
Heat a wok or a frying pan. Add about a tbsp of oil. When the oil starts to heat, add garlic and minced doubanjiang. Mix well until the oil turns red and garlic starts to turn golden on the edges.

Then add your onions, peppers, and snow peas. Stir-fry on high heat until snow peas catch some charred spots and vegetables become tender. 

Add the chicken back into the wok and mix in.

Finally add Shaoxing wine around the wok (not directly to the vegetables), sugar, and dark soy sauce. Mix well. Adjust salt only if needed after tasting*. Turn off the heat. Serve immediately while it's still warm.
Notes
doubanjiang is very salty so you probably won't need to add any salt to vegetables.
Cook on high heat as otherwise, you'd accumulate water in the wok with chicken and vegetables.
chicken and peppers, chicken recipe, wok, chicken chili bean, chicken peppers and snow peas, chicken stir-fry, chicken dinner, quick stir-fry, weeknight meals, weeknight dinner, easy chicken stir-fry, chinese food