Baked chicken samosa with phyllo is an easy way to make samosas without deep frying. If you live in an Asian country where samosa's popular it's easy to find ready-made samosa sheets at home. I live in the US and it's so hard to find ready-made samosa sheets anywhere here. So whenever I crave samosas I had to make samosa sheets (also call samosa Patti) at home. Which is tedious and takes a lot of time.
Phyllo dough/filo dough is a really good alternative if you want to make some quick samosas but don't want to do the process of making samosa dough or samosa sheets at home. You can easily find out these in your freezer section.
And the best thing is these chicken samosa with phyllo can be baked in the oven and they still get amazingly crunchy and super delicious.
I use lean ground chicken for these Keema (ground meat) samosas but you can use ground beef, mutton, or any other vegetable filling that you like.
The tricky part of making samosas with phyllo/filo is handling the super-thin phyllo sheets. They're extremely fragile and can dry out really quickly.
How to work with phyllo sheets:
Thaw them in the fridge overnight and then for one hour at room temperature. They're extremely breakable when they're frozen.
Keep them covered with a very lightly wetted towel. Do not use a damp towel. It would make the sheets stick together. And also don't keep them uncovered, they would dry out really quickly.
Whenever you use them, apply some generous amount of melted butter to the whole sheet using a soft pastry brush. When you bake them, those butter would produce steam and it would make the samosas puff up and would make them crispy.
Give this baked chicken samosa with phyllo recipe a try. It's such an easy and comparatively healthier way to make samosas. With this amount of keema/ground meat, you can make 12 samosas. I also included the two folding methods to make samosa triangles.
If you love crispy snacks like these, check out my Sri Lankan fish rolls and Sri Lankan egg rolls recipes too.
Affiliate Links for products used in this recipe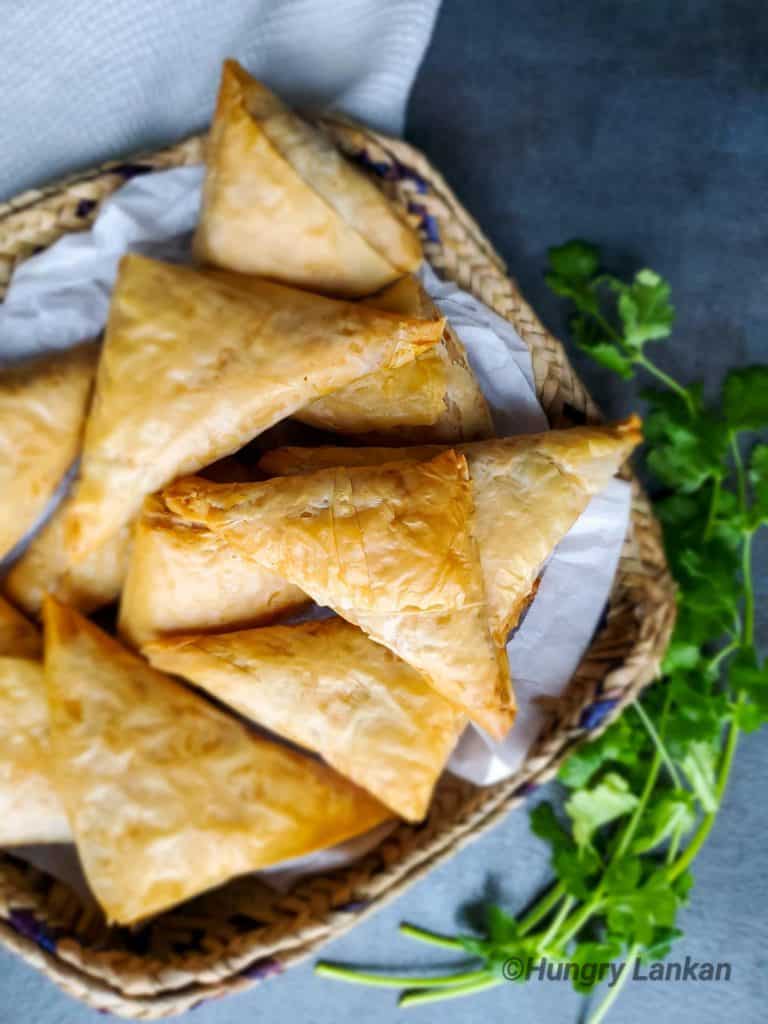 Baked Chicken samosa with phyllo
Description
Baked chicken samosa with phyllo is an easy way to make samosas without deep frying. All you have to do is to buy phyllo sheets from the grocery store and assemble. They always come out so crispy and crunchy.
For the meat mixture
To assemble samosas
Instructions
Make the keema/minced meat filling
Heat some oil in a pan. Add cumin seeds and let it sizzle. Then add curry leaves and ginger garlic paste. When the paste become aromatic, add the minced meat and cook it until there's no water left in the pan. Break the meat with your spoon to small pieces while cooking.

Move the meat to aside of the pan and add coriander powder, cumin powder, chili powder, garam masala, turmeric powder and salt. Mix well with the ground meat and cook for about two minutes.

Then add your chopped onion, mix and add 1/2 tbsp of butter. Cook for about a minute and turn off the heat. Then add chopped cilantro. Mix well with the meat and then add lime juice. Taste and add salt and lime if needed.
Assembling and baking Samosas
Preheat the oven to 365F / 185C.
Folding method 01
Take one phyllo sheet out. Keep the rest of the phyllo sheets covered with a lightly damped towel. Fold the phyllo sheet in half. Carefully apply melted butter to the whole folded sheet using a pastry brush. Then put some filling in as shown in the photo. Fold the sheet along the right black line (in the photo) to cover the filling.

Seal the folded edges (shown in the red and black line) so the filling doesn't come out when you continue to fold the samosas. The edges should stick because of the butter you applied earlier. Then apply melted butter again on the samosa. Fold the samosa along the red line.

Then apply melted butter again. Make sure you apply butter after each fold you do.

Place the folded samosas on an oiled baking sheet. Brush the samosa with melted butter.
Folding method 02
Take a phyllo sheet and apply melted butter all over the sheet using a pastry brush. Then place the filling in left middle as shown in the photo. Shape the filling into a triangular shape so it's easier to fold the samosa. Now fold the upper 1/3rd and the lower 1/3rd of the sheet to the middle along the black line I have shown in the photo.

Fold the left corner along the left black line. Apply some butter. Then keep folding along the black lines that I have drawn in the photo. You can use this folding method to make samosas that have equal sides.

Make sure you apply butter as you fold.

Place all the samosas on a baking sheet. Apply melted butter once again on all the samosas. Bake in a 365F / 185C preheated oven for about 25 - 30min or until golden brown and crispy.
samosa, chicken samosa, phyllo samosa, baked samosa, indian samosa, sri lankan samosa, healthy samosa, samosas