Try my recipe for juicy, moist, and delicious Air-Fried Tandoori Chicken. One of the easiest and yummiest dishes you can make for your Indian-style dinner.
Well you guys, I don't have a Tandoor (a traditional Indian clay oven). Many people don't and I assume you don't either and that's why you are here right? So this is not the most authentic way you or the most common way to make tandoori chicken. But I promise they come out just as good as the restaurant-quality tandoori chicken. And if you ask my family, they'd say these Air-Fried tandoori chicken drumsticks are better than the restaurants'.
A few good tips:
The key to making the juiciest chicken is the yogurt in your marinade. Yogurt is a natural tenderizer. Calcium and lactic acid in yogurt help to slowly break down protein which makes the chicken so tender. So if you have time, marinate the chicken overnight, or if you don't then at least do it for 2 hours in the fridge.
Add some ghee to the marinade. Ghee helps to add that authentic smoky flavor and smell when the chicken pieces are cooked. Your marinade will smell like raw ghee before you cook but trust me it's going to smell amazing after it's done. Ghee also helps the chicken to catch some charred color and flavor when you air-fry. Well, this is my secret ingredient for this air-fried tandoori chicken recipe, now you know it too.
Use a thick yogurt or curd. This helps to have a good coating of the marinade on your chicken drumsticks.
Make the marinade separately. So you have the chance to adjust the salt, lemon and spices to your taste.
Some store-bought tandoori chicken masala already has salt added to it. Check that before you add any salt.
Kasuri methi/ Fenugreek leaves have a strong herby flavor. If you're new to this ingredient I recommend trying the recipe with a little less than the given amount. Rub them between your palms to grind the leaves.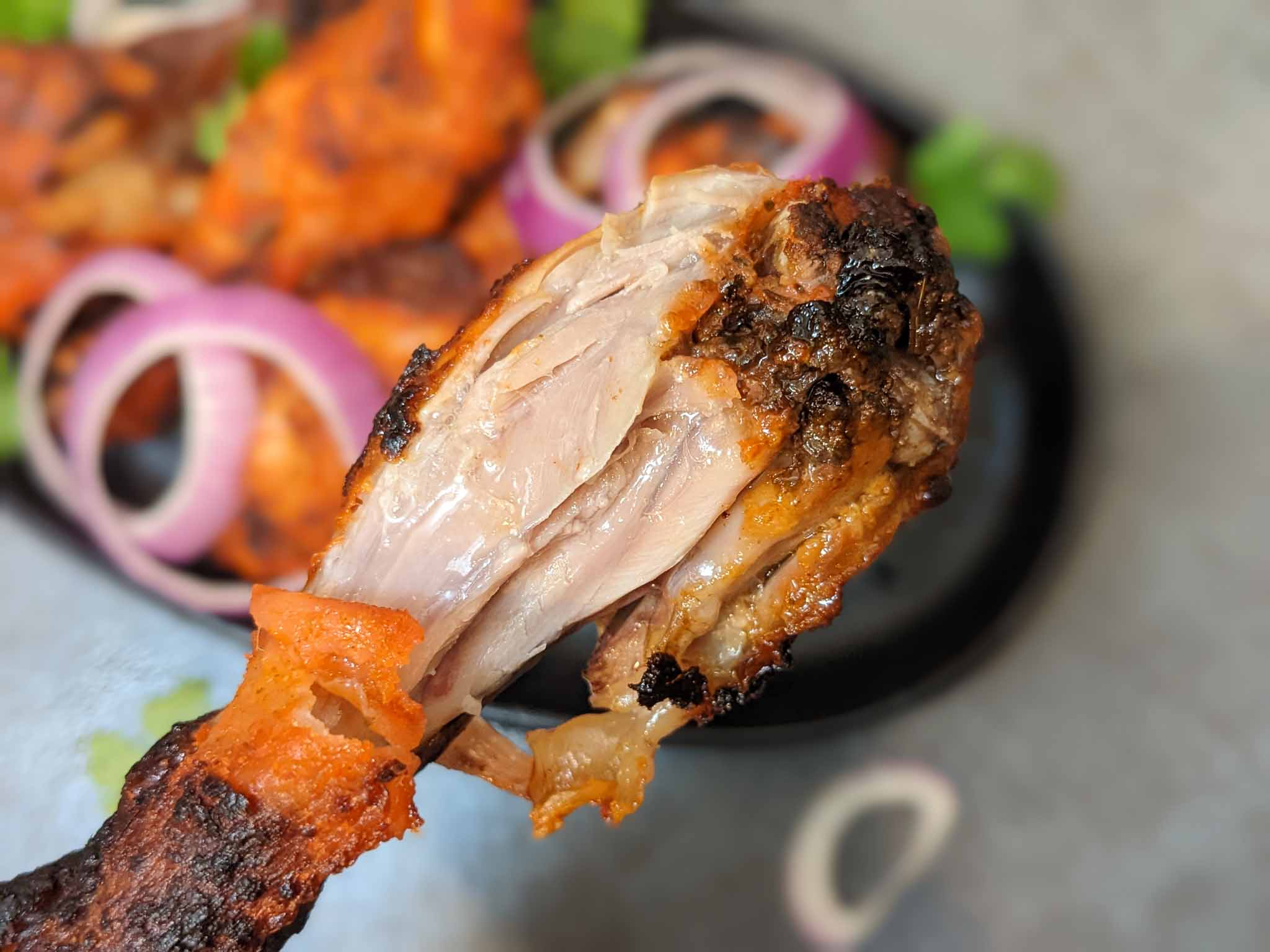 How to serve Tandoori chicken?
My favorites are naan, cumin rice, or aromatic yellow rice served with cucumber tomato salad and green chutney or a yogurt-lemon dressing. I always garnish chicken with some fresh red onion rings and cilantro.
If I make it for a party I serve this along with Biryani, naan, and other Indian curries as well.
Products/Ingredients I use (Amazon affiliate links)
Air-Fried Tandoori Chicken
Description
Tandoori chicken is so easy to make in the Air-fryer with this fool-proof recipe. A simple marinade but you'll end up with the juiciest chicken in the world. Less than 20 minutes of cook time is needed. What else can you ask for?
Instructions
Add tandoori masala, coriander powder, yogurt, ginger garlic paste, ghee, food coloring, lemon juice, and fenugreek leaves into a large bowl. Mix and taste it. Add salt to your taste (some tandoori masala has salt already added to it. Add accordingly). The mixture should taste tangy and a little salty. 

Remove chicken skin if needed. I usually push it down. Put 2 -3 gashes on the thickest part of the chicken drumstick.


Add chicken to the bowl and mix well with the marinade. Apply to the gashes as well. Cover the bowl and let it marinate for 3 hours or overnight if possible. 

Pre-heat the Air-fryer at 390F for 3 - 10 minutes depending on the size of your air-fryer (I do 3 mins for my 4qt air-fryer). Lay the chicken pieces in one layer. Air-fry for 8 mins at 390F.

Flip the chicken over and Air-fry for another 6- 8 mins or until they reach the internal temperature of 165F.

When they're done cooking take the chicken out from the air-fryer. Let it rest for 5 minutes before serving. 
Notes
Some store-bought tandoori masala already has salt added. So adjust accordingly. The masala I use is from the brand "Achi" and it already has salt but not enough.
Tandoori chicken, Air-Fried Tandoori chicken, Air-fried indian style chicken, Air-fried chicken, Chicken recipe, Spicy chicken in the Air-fryer, chicken recipe, Ninja air-fryer recipes