Salmon coconut milk curry or Salmon "Kiri Hodi" is an adapted version of classic Sri Lankan fish coconut milk curry or "Malu Kiri Hodi".
Fish plays a big part in Sri Lankan cookery. Being a small island in the Indian Ocean, Sri Lankans have access to fresh fish and seafood all year around. When I was in Sri Lanka we used to have some kind of a fish dish two-three times every week. Sometimes even more frequently. You wouldn't miss fish and seafood at every party, every occasion.
Then I moved to the US in my 20's and that's when I realized how blessed I was to live on an Island all my childhood eating those amazing fish. If you go to a Sri Lankan fish market you'd be overwhelmed by the varieties of fish you can choose from. I missed having various kinds of fish dishes. I still do. Especially this coconut milk fish curry or as we call it "Malu Kiri Hodi". Malu = Fish and Kiri Hodi = milk curry. I adored this dish as a kid.
Cooking the fish
If you're someone who hasn't tasted fish coconut milk curry before you might say that the fish is overcooked. But that's exactly how we Sri Lankans like to eat some fish curries. If you're a person who likes to eat your fish very tender and just done, then skip adding fish in the first step. Make the curry as usual following the same steps given, and then add fish when you add thick coconut milk and turn off the heat when it's almost done.
Ingredients:
For this curry, Garcinia cambogia(goraka) is a must. It gives out a very unique sourness that no other sour ingredient can. If you really can't find this ingredient, some tamarind paste or a bit of white vinegar would work just fine. Also, be generous with the number of pandan leaves and curry leaves you add. They help to reduce the fishy aroma from the curry and also gives out a subtle green hue. The curry powder I use here is Sri Lankan unroasted curry powder. But you can skip this ingredient or substitute it with any other mild curry powder you like. Don't use too much though it would over powder the fish and coconut milk flavors.
Serving suggestions:
My favorite way to have this Malu Kiri Hodi/ Salmon coconut milk curry is with String hoppers and Sri Lankan coconut Sambol.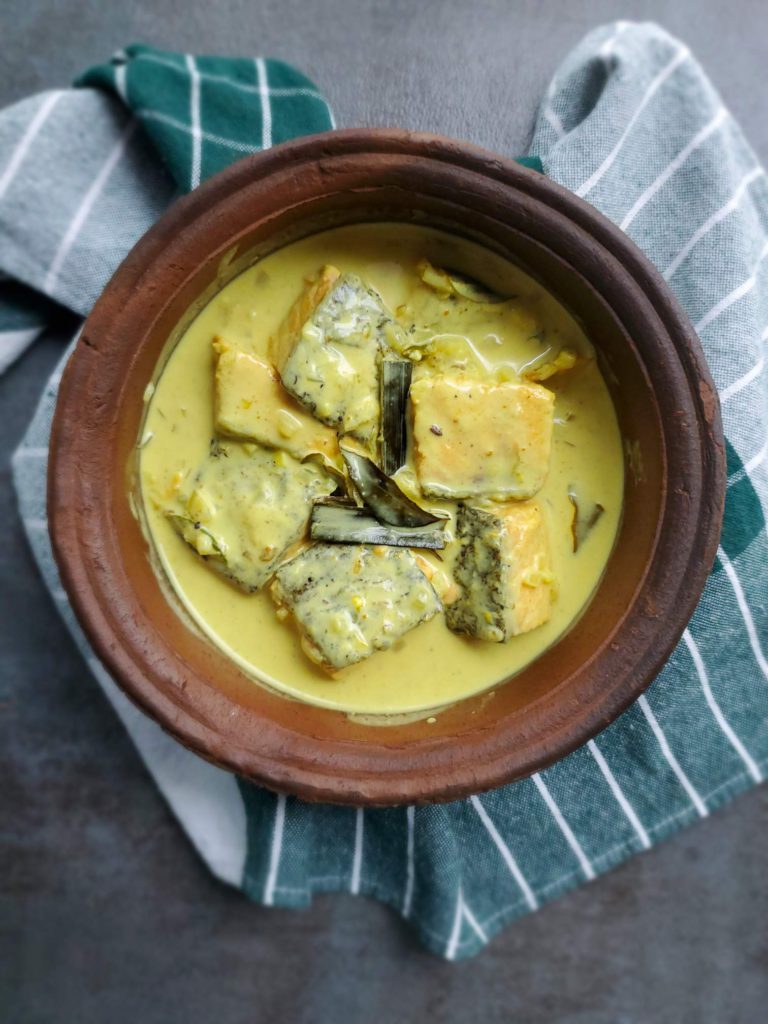 Salmon Coconut milk Curry
Description
Salmon coconut milk curry or Salmon "Kiri Hodi" is an adapted version of classic Sri Lankan fish coconut milk curry. A delicious creamy dish that every Sri Lankan loves.
Instructions
Clean all the fish scales and cut the fish/fillet into large chunks (approx 2.5inch). or you can remove the skin too.

And then add all the ingredients into a pot except thick coconut milk and lime juice. (If you like your fish to be delicate and moist, then you can make the curry first and add the fish later and turn off the heat when it's just done. But in Sri Lankan fish curry, we cook the fish pieces until they're firm). Use a bigger pot than you think you need. The amount of thin coconut milk may vary depending on the pan you use. Arrange the fish into one layer and add enough thin coconut milk until the fish cubes are halfway submerged.

Cover and cook on medium heat for about 10-15mins until the curry is aromatic and onions are soft and fish pieces are cooked. Keep an eye on, because the curry can bubble up and spillover. If it's about to spill then remove the lid and turn down the heat. Also, carefully flip the pieces after 10mins so they cook evenly.

Taste the curry and adjust salt if needed. Also, remove the garcinia piece if it's already sour enough for your liking.

Then add the thick coconut milk, mix and slowly bring the curry to simmer.

Simmer for about two-three minutes while continuously stirring the curry without breaking the fish pieces so the coconut milk won't curdle. The easiest way is to move the fish pieces to a side and then stir the curry from the middle.

When the raw coconut milk flavor is gone, turn off the heat, let it cool down for about a minute, and then add your lime juice.
Malu Kiri hodi, Fish curry, Salmon, Creamy fish curry, Coconut milk curry, Kiri hodi, Malu, Salmon, Dairy free, Easy curry, One-pot