Sri Lankan coconut pancakes (pol pani pancake/පොල් පැණි පෑන්කේක්) are a delicious breakfast/tea time snack made with spiced sweet coconut filling wrapped in a thin crepe. One of my childhood favorites. And they're very very easy to make.
I don't know how this sweet dish got it's name. But these Sri Lankan coconut pancakes are far different from the common american pancakes that everyone knows.
The sweet coconut is traditionally made with Kithul treacle. Kithul is a palm family tree that is native to some south Asian and southeast Asian countries. Kithul treacle is made out of the sap from Kithul trees. Sri Lankans use this treacle as a substitute for sugar and make many different sweets out of it.
The filling:
The filling is consists of very few ingredients. Grated coconut, Kithul treacle, spice (commonly cardamom), and a touch of salt. Living in the US, I don't have access to good, affordable Kithul treacle. So the alternative I use here is dark brown sugar and a bit of water to dissolve. But you can use Kithul treacle if you can. And I love cardamom flavor with sweetened coconut so that's what I use. You can use any other spice you like. Some people use cardamom and nutmeg together. Some use cardamom and cloves together. And some use Ceylon cinnamon. It's totally up to you. Make sure you powder the spices, so you don't bite into them. I also slightly roast my coconut to remove excess moisture from them. One, it absorbs the sugar syrup better that way. Two, it increases the shelf-life. If you can't find fresh coconut, desiccated coconut also works.
Pancake:
The pancake is simply a thin crepe made with coconut milk, flour, eggs, salt, and a bit of turmeric for the yellow color. I throw everything into the blender and blend. I find it's easier and makes a nice lump-free batter. But you can definitely whisk it in a bowl until there are no flour lumps left.
Other Tips:
I highly recommend using a nonstick pan to make the pancakes. And don't use too much batter. What I use is an 8-inch fry pan. And for that 1/3 cup of batter is enough for me. And make sure you lightly oil the pan before you make each pancake. Also, make sure you use medium heat and let it cook all the way through before you transfer the pancake to a plate. If the pancake easily loosens up when you shake the pan, that means it's probably done. You have to wrap the pancake with coconut as soon as you took the pancake out. That way the pancake is easier to roll keep rolled nicely.
even if you love sweets or not, I'm sure you're going to love these pancakes. They're such an easy breakfast or a tea-time snack to make. Please give it a try. And if you love them, please don't forget to rate the recipe and leave a comment for me. I'd love to hear back from you.
You might also like :
Some items that are mentioned in the recipe (Affiliate Links)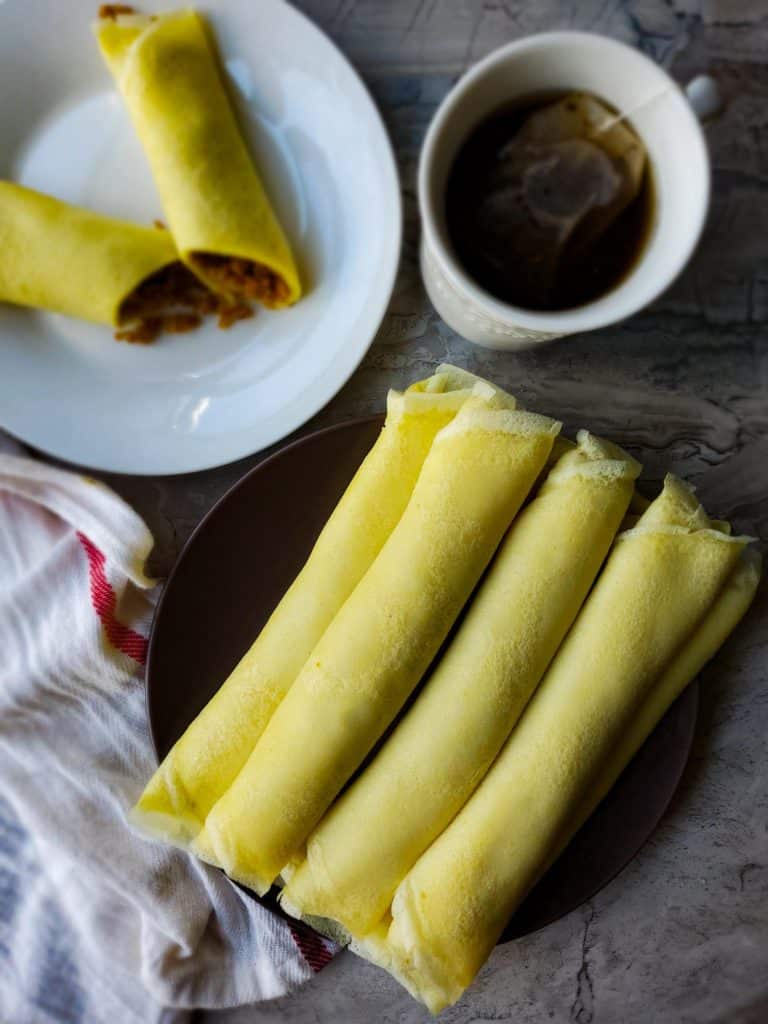 Sri Lankan Coconut Pancakes
Description
Sri Lankan coconut pancakes are a delicious breakfast/tea time snack made with spiced sweet coconut filling wrapped in a thin crepe. One of my childhood favorites. And they're very very easy to make.
For the sweet coconut filling
For the Pancake Batter
Other
Instructions
Making the filling
Open the shell of your cardamom pods and take the seeds out. Put the seeds with 1/8 tsp of salt into a mortar and pestle and grind them to a powder. Salt makes it easier to grind

Into a pan, add your fresh grated coconut and slightly dry roast them to remove excess moisture. Do not wait till they get brown. You just want to get them a little dry so they absorb the sugar syrup well. And they don't go bad as quickly as otherwise.

In a pan, add your dark brown sugar, powdered cardamom salt mix, with 2 tbsp of water. Mix well, turn oh the heat and let the sugar dissolve and heat up. Do not keep mixing. If you mix, the sugar will crystalize back. So let it just dissolve and heat up. Keep an eye on this. It heats up quickly and if you keep waiting the sugar will burn. Swirl the pan if the sugar doesn't heat up evenly.

Turn off the heat when the sugar is completely dissolved and syrup is heated through. Then add your dried coconut to the syrup and mix well. Let the mixture cool down. If you made this in a pan which retains the heat for longer, then transfer the sweet coconut mix to a different bowl.
Make the pancake batter
Add all the ingredients listed under "for the filling" into a blender and blend to get a smooth lump-free batter. Add flour if the batter is too runny and add a bit of coconut milk if the batter is too thick. The consistency should be a little thicker than heavy whipping cream.

Heat a small non-stick frying pan and add two-three drops of oil. Then wipe out the oil with a paper towel. Keep the heat on medium-low. The pan shouldn't be too how when you add the batter.

Add ⅓ cup of batter to the pan and swirl it around to spread it. Let the pancake cook until it looks cooked all the way through.

Shake the pan to loosen up the pancake from the pan. It should loosen up very easily. If not, leave it on the heat for a few seconds. Transfer the pancake onto a plate when it's done.

Place some filling on the pancake, closer to one side. Cover it up with as shown in the photo. This way it makes it easier to roll.

Then gently but somewhat tightly, roll the pancake. Do this step when the pancake is warm and flexible. While you roll the pancake you can pour batter into the pan for the next one.

Serve it as breakfast or as a sweet snack for tea. 
Sri Lankan pancakes, Sweet coconut pancakes, Coconut crepes, Sweet crepes, rolled crepes, Sri Lankan breakfast, tea time snack