This Sri Lankan canned mackerel curry is a flavor bomb and hits all the right notes. It's tangy, creamy, spicy, and umami yet so easy to make. A very good sauce of protein, omega 3 fatty acid, and vitamin D. And did I tell you it's very budget-friendly?
Canned mackerel and canned sardine curry are very popular curries in Sri Lanka. It's so versatile, quick and easy, affordable and you can serve with many other dishes (check out serving ideas). There are many ways that people make canned mackerel into a curry. Depending on the other dishes I'm serving with, I have a few of my ways I prepare canned mackerel. The one you're seeing here is the curry I specifically make when I need a good amount of gravy.
Ingredients and substitutions:
Most of the ingredients I use here are pretty basic and can be found anywhere in the world. If you live outside of Sri Lanka, you might have a hard time finding some of the ingredients which are Sri Lankan unroasted curry powder, curry leaves, pandan leaves, and dried Garcinia Cambogia (goraka). If you have a Sri Lankan grocery store nearby or an online grocery store they would definitely carry these ingredients. Curry leaves are usually available in Indian grocery stores. For pandan leaves look in the frozen section of the asian grocery stores.
Curry leaves, pandan leaves and cinnamon sticks are mostly aromatics that we use to mask the fishy smell of the mackerel. So it's okay of you can't find all of these ingredients. Some bay leaves, cardomom and cloves would be good substitutes.
Garcinia cambogia has a very unique sourness that contributes to the curry. If you can't find this ingredient use about half a teaspoon of tamarind paste/pulp. You can taste the curry and adjust the sourness while the curry is simmering. And not to forget you're going to add lime at the end for freshness, which also adds to the sourness
Sri Lankan roasted curry powder is only available in Sri Lankan grocery stores. Rarely can be found in Indian stores too. If you can't get your hands on this curry powder, use a mild curry powder of your choice.
Do I have to remove the bones in mackerel?
Not at all. They're a very good sauce of calcium. They're very soft, very brittle, and when you make the curry they actually dissolve into the curry. No point in removing the bones unless you absolutely want to. For me I really like them and I even eat them directly from the can.
Is it okay to consume the liquid in your mackerel can?
Absolutely. It's basically water that has flavored with mackerel over time. Some have salt added. So it's okay to consume unless you have a problem with having salt and trying to reduce the amount of salt in your food. In that case, you can buy a mackerel can that has no added salt in it. But even if you remove the liquid and just use the mackerel pieces in the curry, it's still going to turn out great. Add about 1/2 cup of more thin coconut milk as a replacement.
What's thin coconut milk?
In Sri Lanka, the majority of people use fresh coconut milk that is freshly squeezed from grated coconut. So basically you add a very little water and then (some people blend the mixture a little bit) and then squeeze out the coconut milk which is thick and we call it thick coconut milk or first squeeze (aka "Miti Kiri"). And then we add a little bit more water to the grated coconut and squeeze out the second batch of coconut milk and we call it thin coconut milk or second squeeze. (aka "Diya Kiri"). Some people also go for a third squeeze which produces a very thinned out liquidy extract and that can also be used in some recipes.
if canned coconut milk is the best option you have (I use canned coconut milk too..), you got to know that canned coconut milk is way thicker than freshly squeezed coconut milk. In this case, you have to add some water to thin it out. To make thin coconut milk out of the canned coconut milk add 2 parts of water to 1 part of coconut milk from the can. To get the right consistency of thick coconut milk, add about a tbsp of water to a cup of milk. But you can use coconut milk directly out of the can too. it would make the curry a little bit creamier.
Serving Ideas:
The amount you make here is enough to serve 5-6 people. My favorite menu to pair with this Sri Lankan canned mackerel curry is String hoppers or Sri Lankan flatbread with coconut sambol. It also goes well with Rice, Sri Lankan coconut roti, Paratha, and Sri Lankan Godamba roti.
Products I use (affiliate links)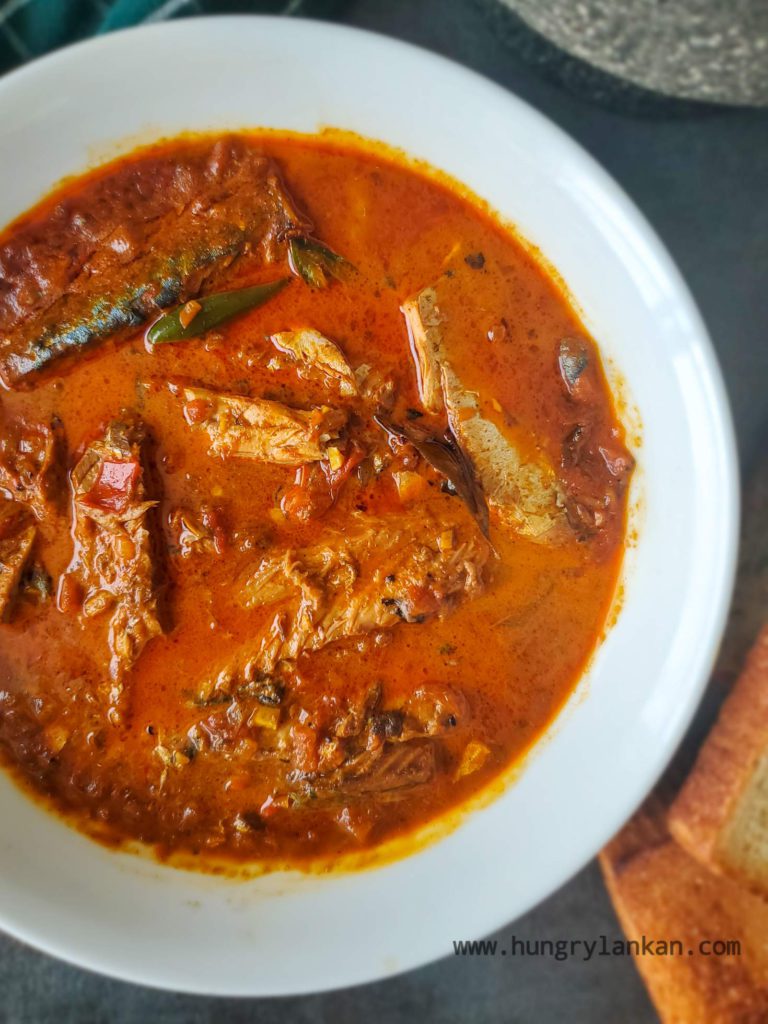 Sri Lankan Canned Mackerel curry
Description
This Sri Lankan canned mackerel curry is a flavor bomb and hits all the right notes. It's tangy, creamy, spicy, and umami yet so easy to make.
Instructions
Add some oil into the pan. Add your chili powder first. And then add curry powder, turmeric powder, and ½ tsp of salt. (Do not wait until oil to heat up to add your spice powders.) Slowly roast the spice powders in oil until the oil heats up and you get a nice aroma. Make sure you stir continuously to ensure that spices roast evenly and no burning on the bottom.

Now add fenugreek seeds, a piece of Garcinia cambogia (goraka), curry leaves, pandan leaves, cinnamon pieces, minced garlic, and finely chopped onion. Sautee the mixture until onions become translucent.

Then add your diced tomatoes along with coarsely ground black pepper. Mix, cover with a lid, and cook on medium-low heat until tomatoes become mushy.

Halfway through cooking down tomatoes, open the lid and mash the tomatoes with the back of your spoon so you won't get big chunks of tomatoes in the curry.

When the tomatoes are nice and mushy and cooked down a little bit, add the can of mackerel along with the liquid inside. (read the recipe description for more info). With a thin-edged spoon or spatula break the mackerel pieces into large chunks. I break 1 piece of mackerel into 4 large chunks. Don't worry about bones. They are very soft and dissolve into the curry.

Add thin and thick coconut milk and split green chilies, cover with a lid and let the curry simmer in low heat for about 12-15mins. Don't increase the heat, it would curdle the milk. Reduce the amount of thin coconut milk and increase thick coconut milk, if you want a thicker, creamier curry. (Use canned coconut milk? Check out the recipe description)

After about 10 mins, taste the curry and adjust the salt. If the curry is too thin for your liking cook it for about 5 - 7 more mins without the lid. Otherwise, continue simmering for another few mins with the lid.

When the curry has reduced to your preferred level, turn off the heat and squeeze a small wedge of lime for freshness. It would turn bright red/orange as the curry cools down and the oil comes on the top.
Sri Lankan canned mackerel curry, Sri Lankan canned fish curry, Sri Lankan salmon curry, Creamy canned mackerel curry, Mackerel curry, Sri Lankan fish curry, Sri Lankan fish recipe, Tin maalu curry