Pineapple Fried rice is one of my favorite fried rice dishes and I always order it whenever I get a chance to go to Thai restaurants. I love the aroma of fruity pineapples and all the flavors that goes with it. This fried is sweet (but not too sweet), salty, and umami has a nice mild curry flavor that goes really well with pineapples. If you love fried rice, you should definitely try this recipe!
Cooking Rice for fried rice
The best rice to use for any fried rice is refrigerated leftover rice and I think many people already know this. But for people like me who don't plan anything ahead, you can cook your rice the day you make fried rice too! If you use a rice cooker, use 1 cup jasmine rice: 1.25 cup water ratio. If you use an instant pot, use 1 cup rice: 1 cup water ratio. In both cases add about a tsp of oil to keep the grains separated. When the rice is done cooking, let it rest for about 10 minutes so they absorb all the extra moisture around the grains. Then spread all the rice on a large cookie sheet and leave them to cool down. This will dry up the rice grains and will help you to make good fried rice that is not all mushy.
Can I make this with other proteins?
Yes! But you need to change the recipe a bit! If you use seafood (Shrimp pineapple fried rice is sooooo good), cook them first and then remove them from the wok/pan to stop them from overcooking. Same thing if you use beef or pork or even chicken breasts. All these proteins can overcook very quickly and can become rubbery and tough. So cook them first and remove them to a separate bowl and add them back in when you add your rice.
The reason I use boneless skinless chicken thigh pieces is that they have a higher fat percentage and they don't overcook as fast as other proteins. So you can cook them with the rest of the ingredients without worrying about overcooking them.
Which curry powder should I use?
I use a mild Madras curry powder which I got from an Asian grocery store. You can use any mild curry powder that you can find in your local supermarket but make sure they are not too strong in flavor or have no added chili powder.
Can I use canned Pineapple?
Yes, canned pineapple works well for this recipe too. But I notice that they are a little softer in texture than fresh pineapple. So when you add canned pineapple do not mix it too much with rice or add them when you add roasted cashews. Also, make sure to drain and dry any syrup or liquid that they're in. The syrup can alter the taste and also the texture of the fried rice.
I hope you give this recipe a try. It's one of the easiest and most delicious dinners you can make for your loved ones. I make this pineapple fried rice for parties and special dinners and my friends and family love it when I make it. Leave a comment for me if you give the recipe a try. Do not forget to watch the video!!!
Love Thai food? Try my Thai Basil fried rice, Pandan chicken in air-fryer, Thai style salmon belly recipes as well.
Recipe Video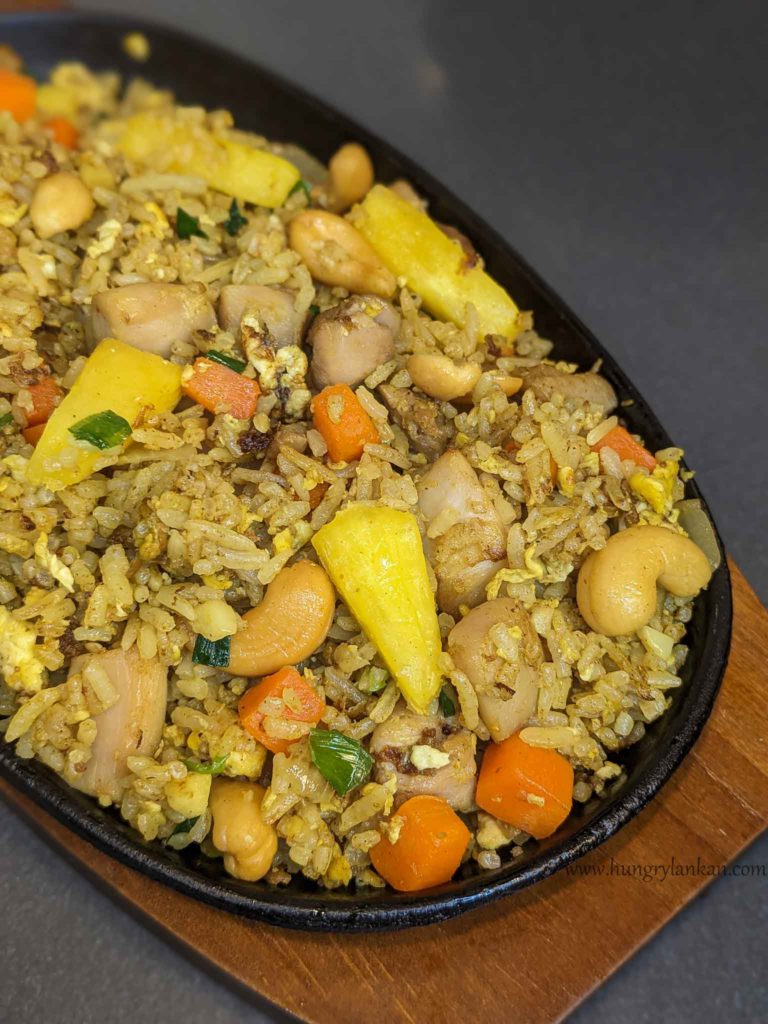 Pineapple Fried Rice
Description
This Pineapple Fried Rice tastes exactly like what you get from Thai restaurants but with more protein. My family loves when I make this!!
Instructions
Mix soy sauce and chicken. Set is aside.

Heat wok. Add oil. When the oil starts to heat up, add the marinated chicken. Spread it in one layer and let it sit for about 30 seconds until they turn lightly golden on the underside. Then saute them until all the chicken pieces turn light brown in color. (They might not be cooked all the way through at this point but they will continue to cook as you cook the rest of the ingredients)

Now add carrot and garlic. Saute until garlic turns light golden on the edges. 

Add the white part of spring onions and onions. Mix well with the rest of the ingredients. 

Move everything to one side of the wok/pan. Add the eggs to the pan and scramble them. (if the wok is too dry, add a little bit of oil before you add eggs).

When eggs are halfway cooked, add rice. Mix rice with everything in the wok.

Add soy sauce, fish sauce, curry powder, white pepper, and sugar. Mix with rice. Add pineapple pieces and mix again.

Finally, add cashews and the green part of the spring onions. Lightly toss everything. Best serve immediately.
Notes
Restaurants usually use less chicken than this. So you can use one chicken thigh or even half a chicken thigh if you prefer.
If you're planning on using a different protein please refer to the recipe description for more info. 
fried rice, Pineapple fried rice, Thai fried rice, Curry fried rice, Chicken fried rice, Thai food, Thai pineapple fired rice, Best fried rice, Thai street food, Fried rice recipe, Best pineapple fried rice recipe