If you're looking for easy, no-fuss, one-pot meals, save this one because you're going to love this Meatball curry with potatoes recipe. Perfect for a busy weeknight meal when you don't have enough time to spend in the kitchen. Make some rice or use some bread/ naan to serve this curry and you have yourself a really delicious, warm, and comfortable meal. And you only have one pot to wash. How good that sounds?
Ingredient info and substitutes
For this Meatball and potato curry, you don't have to make meatballs at home. What I use here is a pack of frozen store-bought meatballs from the brand "Cooked Perfect" (Available in the US). I don't even bother to thaw them. You can definitely use homemade meatballs or any variety/brand of your choice. In fact, homemade meatballs or a good brand of meatballs would taste much better.
The other ingredients I'm using here are pretty basic as well. You can find these ingredients anywhere in the world. The only ingredient I think you'd have a hard time finding is Kashmiri red chili powder. I'm using this ingredient purely for aesthetic purposes. It adds a bright red color to the curry. substitute with any red chili powder or skip this. It won't be a problem at all.
I use diced fresh tomatoes in the recipe. And cook them down until they become mush so I don't bite into pieces of tomatoes and add so much flavor to the curry. I know some people prefer their curry to be even smoother. In that case, you can use pureed tomatoes instead of diced tomatoes. Or you can transfer to a blender and puree everything just before you add your meatballs and potatoes to the curry.
Flavors
Flavor-wise, it's a little sour with tomatoes and yogurt but that is perfectly balanced with the sweetness of the onions. That's why it's important to cook the onions until they become brown in color so the sweetness in those onions comes out with the caramelization. You can add some cream at the end if you prefer it more creamy. But keep in mind this curry is already rich with all the tomatoes and yogurt we use.
Adding cilantro at the end is optional. But I highly recommend it since It adds a nice citrusy flavor and some freshness to the curry. Also, make it so pretty to serve.
When you taste at the end, if the curry is too sour for your taste (which is very unlikely to happen), you can add just a touch of sugar to balance that out.
Serving suggestions:
I love to serve this Indian-style meatball curry with some plain rice or Indian cumin rice. Butter naan or garlic naan would also be a really good option. I also love to have this with some crusty sourdough bread.
Products & Ingredients I use (affiliate links)
Give this Meatball curry with potatoes recipe a try. I hope you like it as much as I do. And if you have any questions please leave a comment below in the comment section. And please rate the recipe as well. It helps me to grow.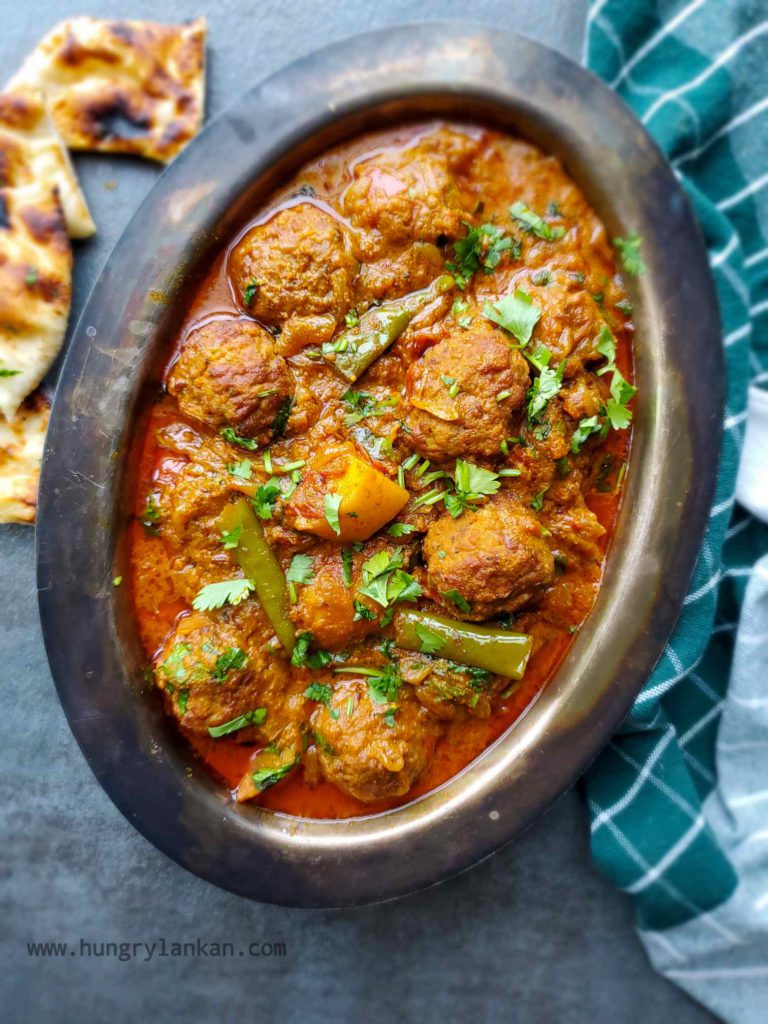 Meatball Curry with Potatoes
Description
If you're looking for easy, no-fuss, one-pot meals, save this one because you're going to love this Meatball curry with potatoes recipe.
Instructions
Get a large pan. Heat oil. Add cumin seeds. Let them sizzle for a few seconds.

Add sliced onion. Spread evenly and cook until they turn brown on the edges. Do not let them burn. Make sure you stir them and flip them to ensure that all the onions cook evenly on each side.

When the onions are brown, lower the heat and add ginger garlic paste. If you use store-bought, be careful, it would start to splatter. If this happens you can cover the pan with a lid. If you use freshly made ginger and garlic paste ( 1: 1 in weight) then you don't have to cover the pan. Let it cook for about 15 seconds.

Then add your ground spices (coriander powder cumin powder, red chili powder, Kashmiri chili powder, turmeric powder) and about 1 tsp salt. This curry is quite hot so if you don't like it to be hot then reduce the amount of chili powder you use. Saute for about 10 seconds until you get the aroma of the spices.

Now add diced tomatoes. Mix well with the spices. Cover with a lid. Cook on medium-low heat until they become completely mushy. Stir from time to time to prevent the bottom from sticking and to ensure even cooking.

When the tomatoes are nice and mushy and the mixture looks quite thick, then add your yogurt. Keep the heat in the low setting as the high heat can curdle the yogurt. Mix well with the rest of the ingredients. The mixture would turn orange in color.

Now add your meatballs (no need to thaw as long as they're separated) and potatoes. Mix well.

Add water about 2 ½ cups. You can add more later if you want a lighter curry. Also, add a few green chilies broken. Stir to combine. Cover with a lid and cook on medium-low heat until potatoes become tender.

Halfway through taste the curry and add salt if it needs any more salt. Add more water only if the curry seems dry.

Check for the doneness of the potatoes as well.

When the potatoes are well cooked and fork-tender, turn off the heat. If you feel like you have more liquid than you need in the curry, turn up the heat and cook uncovered for a few minutes. Finally, add chopped cilantro on the top.
meatball curry, meatballs, Meatball and potato curry, Potato curry, Potatoes, Meatballs, Indian meatball curry, Indian kofta curry, Kofta curry, quick recipes, easy curry, Easy recipes, Beginner friendly curries